Metatrader 4: Login in to Forex Trading Account
After you launch MetaTrader 4 for the first time, you will see screen like this: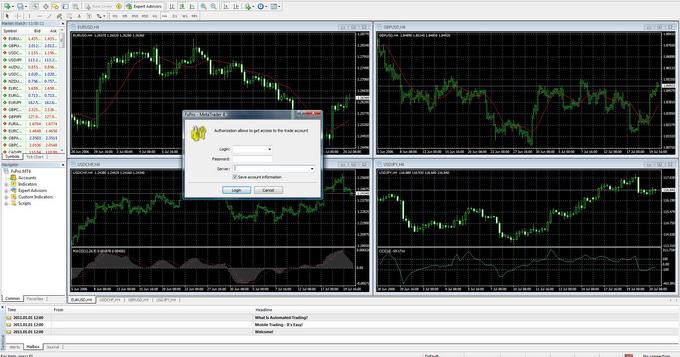 Pic.10 - First start screen
Next step, you have to fill in Authorization form. Login and password you can find in the e-mail "Trading account details" for trading account and "Demo Account details" for the demo account.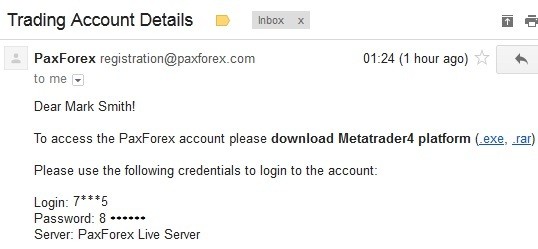 PaxForex Trading account Details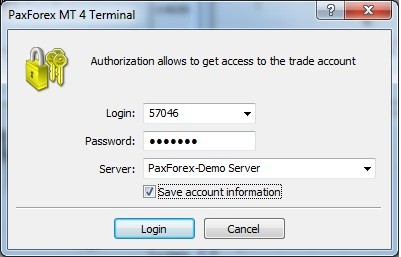 PaxForex Demo Server for demo accounts.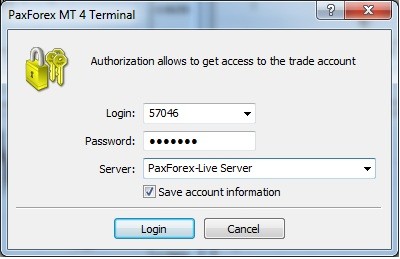 Pic.11 - MT4 Login form
PaxForex Live Server for Live accounts.
Type your Metatrader Account login in "Login" field
Type your Forex Trading account password in "Password"
In field Server choose:
PaxForex Demo Server - for Demo Accounts
PaxForex Live Server - for Live and Bonus Accounts
Click Login button
If the authorization process was successful, you will be able to start trading on your demo/trading forex account. In the bottom right corner you'll see label showing that your connection status is ok.


In case if you enter incorrect information (login, password or choose incorrect server) in the Authorization form, then in the bottom right corner will be shown the Invalid forex account label, see below:

In case if you couldn't manage to solve the problem by yourself, PaxForex support team could help you.
If for some reasons you don't have registered Forex Account, please press Cancel button in Authorization form. And willing buttons below.
How to switch between Forex Accounts
You can switch between demo and trading forex accounts at any time you want by selecting the main menu of MetaTrader 4 "File ->Login" then enter login and password for forex account which you want to connect. In field Server, choose PaxForex-Trading or PaxForex-Server.