Lesson # 16: How to identify support and resistance levels
Support and resistance levels are the basis of Forex technical analysis. It is they change the distribution of the sellers and buyers of any currency. There are many different support and resistance indicators in the internet but they all have the same working principle in common. Let's talk about it more.
According to the market laws of supply and demand:
If the demand (willing and able to buy) is greater than supply (willingness and ability to sell), the price increases;
If supply exceeds demand, the price falls.
Simply put, the levels of support and resistance are the lines where the orders of large market participants are concentrated.
Resistance is a level located above the currency price. Support is located below the price level. Support and resistance indicator for MT4 trading platform is specially designed in order to help traders indicate those levels simply.
At the picture below, you see a blue line at the price level of 1.2838, which is the current resistance indicator level for EURUSD. At the bottom of the image, you can see the red line at the price level of 1.2705, which is the present support indicator.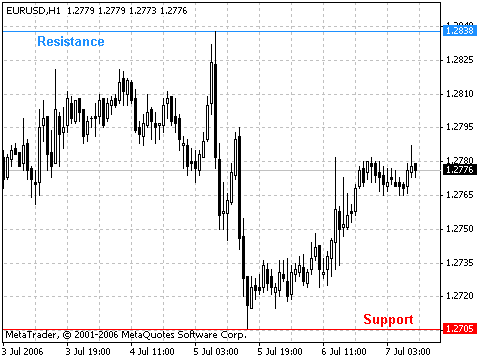 At the support level, prices are controlled by buyers (bulls), who try to prevent them from further decline. On the contrary, at the resistance level, prices are controlled by sellers (bears), who try to prevent them from lifting.
Support levels indicate the price at which most investors are counting on its rise. Resistance levels indicate the price at which the majority of investors believe that it will decrease.
The study of the level of resistance and support is very important for one more important part of technical analysis - determining the strength of a trend.
For example, if the uptrend is close to the level of resistance, and then rolled back a bit, again grew and "struck" this level, it is possible to make a definite conclusion that the trend is strong, and the price of the asset is likely to grow further.
That is the behavior of the trend gives a clear signal to buy. Accordingly, if the downward trend from the second or third attempt to "hit" the support level, this trend is also strong and it is a signal that it is necessary to sell, so the price is likely to fall even lower.
The method of analysis of resistance and support lines helps traders follow the change in the trend - its reversal or strengthening. These levels are particularly important for the correct making of protective stop orders.