MT4 - Online Forex Trading Platform
The Forex Trading Platform is one of the most essential elements forex traders must take into account, when joining any online forex trading company. The MetaTrader 4 platform would serve the purpose as the traders' working area, thus it should be fully equipped with all best forex trading tools.
Paxforex clients are treated to one of the best forex trading platforms designed for the traders' advantage, the market leading MetaTrader4.
Available MT4 online platforms
MT4 for PC | MT4 Android | MT4 iPhone / iPad / iPod | MT4 Mobile
Forex trading experts know what they want from their forex trading terminals. With a proper forex trading system in place these tools are used to create high profits for traders.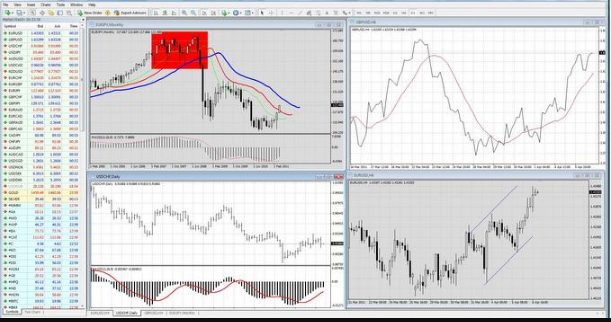 The MetaTrader 4 forex trading platform is quite impressive in providing clients several more benefits:
Benefits of the MetaTrader 4 Platform:
Simple und User friendly interface.
Customizable view, you can put any group of colors for every forex chart.
Three Major types of forex charts: Bars, Candlesticks and Line Chart.
Nine timeframes.
More than 50 built-in indicators that help traders during the analyzing process.
Ability to use as many indicators on one chart.
Multiple chart setups.
Automated trading, and real-Time data export via DDE protocol.
If traders want print outs, the platform has the ability to print "on paper" as well. Above all that, what is making everything in MetaTrader platform great is "how plain and simple" the online forex trading software is.
Forex trading Experts recommend the following features in any online forex trading software:
Speed and consistency of trading transactions
Low spreads
Allows trade at fractional basis
Easy to use and easy to understand processing
Paxforex provides their clients with the best, easiest and most comfortable workspace which can manage a wide range of financial and trading activities with speed and consistency. The MetaTrader 4 platform is perfect and excellent fit for carrying out several of these essentials trading activities. Considering that using the latest platform can allow clients or traders to analyze the price dynamics of financial instruments.
Apart from the price dynamics of financial instruments, Paxforex is metaltrader 4 forex broker and MetaTrader 4 is a complete forex trading platform. The MT4 platform allows our forex traders do several transactions and their expertise with the aid of expert advisors. These advisors are an automated trading program which is readily built into the MT4 trading system. As this platform is one of the top forex trading platforms, mt4 forex brokers create it fully customizable and forex traders are given every ability to create their own online forex trading program as well.
With the best forex trading software online on, some regulated terms and a few more of the mentioned benefits,
it's no doubt that Paxforex has the top trading system anyone serious in online forex trading could want.
Supported Languages:
Bulgarian, Chinese (simplified, PRC), Chinese (Traditional, Taiwan), Czech, Danish, Dutch, English, Finnish, French, German, Hungarian, Italian, Japanese, Korean, Lithuanian, Norwegian, Polish, Portuguese, Romanian, Russian, Slovak, Slovenian, Spanish, Swedish, Ukrainian.
Please find information about Metatrader 4 platform in the Metatrader 4 user guide.