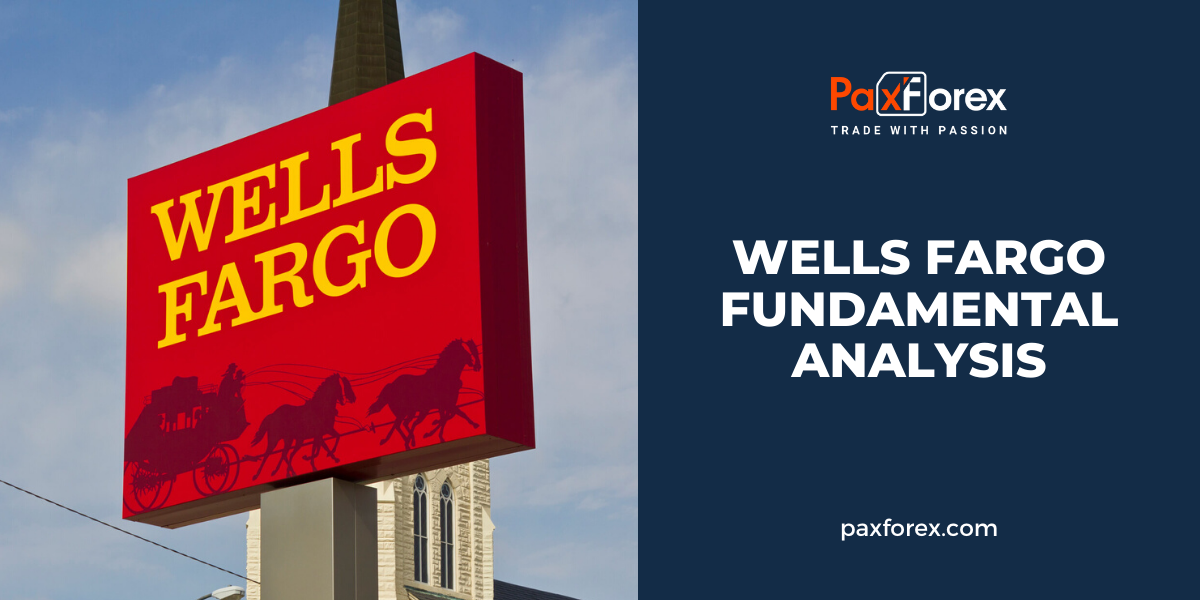 Source: PaxForex Premium Analytics Portal, Fundamental Insight
Wells Fargo (WFC) faced regulatory problems and the coronavirus crisis struck one more blow, causing Wells Fargo shares to fall sharply. With the economy just starting to improve, the risk that borrowers will not be able to service their loans is high, while interest rates and yield spreads are at record lows.
Wells Fargo made a cent per share throughout the first quarter of 2020, with reserves of $3.1 billion and an impairment loss of $950 million, estimated on a profit basis. This is much less than the 61 cents EPS expected.
Profit was $17.7bn, lower than the $19.32bn expected. Net interest income decreased by 8% to $11.3bn.
Total loan income increased by 2% to $965 bln, while deposits rose by 6% to $1.3 trillion. The bank said that the share of capital amounted to 10.7%.
Loan defaults are one of the problems, but narrowing interest spreads is another. Banks rely on the spread between short-term and long-term rates to make money. Any shifts in banks' net interest income lead to their net profit.
Bad results continue an alarming trend for Wells Fargo shares. Earnings per share have decreased compared to a year earlier in the last three quarters.
Wells Fargo shares fell June 10 after CFO John Shrewsberry foretold an increase in provisions for loan losses this quarter. He also expects a large drop in interest income this year.
According to Bloomberg, he told Morgan Stanley Virtual U.S. Financials Conference that net interest income will decline by more than 11% this year due to lower Fed rates.
Shrewsberry also said that this quarter Wells Fargo plans to get more on bad loans than in the first quarter ($4 billion). According to him, this is because of adjustments in estimates for unemployment, GDP, and other indicators.
This contrasts with more optimistic views of other banks. James Gorman, CEO of Morgan Stanley, said that they will create fewer reserves for loan losses than in the first quarter. And Gordon Smith, co-president of JPMorgan Chase, said that consumer lending indicators were "much better" than he expected given recent unemployment.
Industry veteran Charles Scharf took over as CEO of the troubled bank on October 21. In addition to Bank of New York Mellon (BK), a leading bank, who used to serve as CEO of Visa (V) and operated diverse executive positions at JPMorgan Chase.
Sometimes, the new CEO can bring a company in difficult situations to life, such as Satya Nadella heading Microsoft (MSFT) or Brian Niccol heading Taco Bell moving to Chipotle Mexican Grill (CMG).
Wells Fargo has a handful of top managers who have been in office for a very short time. John Stumpf, the CEO, resigned in 2016 amid outrage at the company's employees opening millions of fake accounts to meet sales targets. Stumpf's successor, Timothy Sloan, resigned in mid-2019 after fighting to improve the bank's image.
UBS analyst Saul Martinez said the "big overhang" was removed when he hired Scharf. But Martínez, who views Wells Fargo shares as neutral, said more needs to be done to ensure not only short-term price increases.
The Federal Reserve on April 8 allowed Wells Fargo to participate in the government's coronavirus emergency lending programs, not counting the asset limit. The Federal Reserve has set a limit of $1.95 billion for the company due to a scandal with fake accounts. Despite a temporary waiver, the upper limit of the assets remains.
One well-known investor who still supports Wells Fargo shares is Warren Buffett. At the moment Berkshire Hathaway owns 323.21 million shares. This makes it the largest institutional sponsor of WFC, in which the firm owns 7.9%.
Berkshire Hathaway decreased its stake in Wells Fargo by almost 15% in the last quarter of 2019.
However, it remains the fourth largest holding in the legendary investor's portfolio by value. Only Bank of America (BAC), Coca-Cola (KO) and Kraft Heinz (KHC) account for the majority of Berkshire Hathaway holdings.