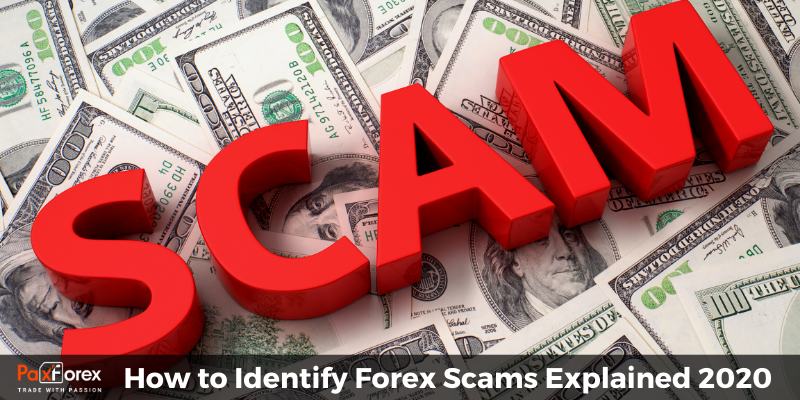 According to Autorité des Marchés Financiers 8 out of 10 traders lose money because of scammers.
It`s far from being surprising since with the growing popularity of the Forex market, the number of Forex scams trying to profit from the rapidly developing market is also growing. As Forex includes international currency exchange, new types of fraud keep appearing almost every day. Ironically, many of these scammers advertise in newspapers, television, or other media.

The Forex market itself is not a fraud. In fact, it's a great place to make money. Unfortunately, numerous cases of scams (who operate not only in the Forex market) have ruined the reputation of honest companies. That is why now majority thinks that Forex trading is scam.
Except for the big players (banks and corporations), the Forex market relies on small investors (like you and us). And most often, when opening a Forex account, these investors have little or no experience in the financial markets.
The actions of fraudsters are very simple and predictable. Their strategy is based on the belief that the Forex market is the solution to all your financial problems. In other words, invest $100 and next week you will buy a Ferrari. And, of course, there are no risks involved.
Yes, something doesn't add up. It's the right deal for most people. A small investment, high profits, low risks, no need for experience. Too good to be true? Forex requires self-education and effort. Training step by step, day by day. And there are no shortcuts.
How To Spot A Forex Trading Scam
Experienced traders usually recognize scammers with ease, but beginners may have trouble finding out the difference between what is real and what is not. It is extremely important to carefully study Forex trading and any companies that you may be dealing with before investing your own funds.
To make it easier, we have collected the most famous and completely new features of fraudulent brokers for you to spot a Forex Trading scam. Read and protect yourself and your loved ones from losses!
You get a call from an unknown number, the manager appears to be an employee of a company you do not know and starts to actively advertise services.
If you do not know this company and do not leave your contact information, then most likely you are about to be cheated.
Especially you should be alarmed by the caller's excessive perseverance and attempts to keep you at all costs. Sometimes it even comes to the rudeness - "...You are wasting not only your time but mine as well! So, shall we open an account?"
In the European Union, cold calls have long been forbidden by law. An EU resident can easily sue if he receives a call from a manager from an unknown organization and offers some services.
They offer to invest $100 and get 100% growth in a week, promise income from 1500% per annum, and so on.
All operations on financial markets are associated with high risks. A broker who values his reputation will never promise you a fabulous return. And also, with a guarantee.
Insist that you fund your account "here and now."
Depositing a trading account and other financial relationships are legal only through a payment form on the official website of the organization or by bank transfer!
Communicate with you via Skype
Or they write on behalf of managers of well-known brands in social networks (Facebook, Instagram, etc.) and also ask to deposit your account in a strange way.
Fraudsters usually offer to open an account at an unknown terminal.
Proven trading terminals: MT5, MT4, QUIK (for the stock market), TRANSAQ, CQG, ROX.
Presented by organizations that disguise their names as popular brands, just adding some trading-related words.
Absence of a website, single-page website or clone website
If a company doesn't have an official website with links to the legal address, licenses, full-service list, reviews, etc., you are likely to be tricked.
Important: Always check the site for the SSL certificate.
It is very easy to check the presence of the certificate. Click on the "lock" at the beginning of the address bar and if all is well, you will see the inscription "Secure connection".
Emphasize the profitability of managers
They offer to give funds for account management (PAMM-accounts) of successful traders but do not give a reference to real accounts of such "managers".
They try to confirm the profitability with the data given in the Excel tables.
They focus on doubtful trading instruments.
Offer you an unrealistically high income by trading on binary options or through PAMM accounts.
Three Major Types of Forex Scams to Avoid
Like we all know all Forex scams (or any other criminal activity) is extremely persistent since no matter what happens in the world, no matter what precautions have been taken, any criminal mind (let`s call it that way) always tries to find a loophole and create some new techniques. Nevertheless, we still can outline 3 main classes of Forex scams traders fall for. Keeping in mind forewarned is forearmed, let`s take a look at the description of these scams which will be pretty handy.
Forex Robot Scams
A robot is a special computer algorithm invented and programmed by humans. The robot conducts automatic routine buy and sell on the market instead of a trader. Moreover, it even manages to make money.
Here are a couple of moments to bear in mind when choosing an EA:
Do not be fooled by any promises about a thousand or two thousand percent of profit per month. That's just a lie. Any robot is based on a trading strategy. And if there were forex tactics in nature, which give a guaranteed income, then everyone would have long ago become billionaires. But this is not the case!

If the publisher says that his Expert Advisor trades equally well on any currency pair and on any timeframe, then he brazenly lies. As I said, every robot is based on a well-tried trading strategy. You should agree that the technical part of any forex tactic always indicates the timeframe, currency pair, trading time, indicators used, etc.

Never take free or cheap robots. The manufacturer will never ask 10-20 dollars for your product if it really brings money. The psychology here is simple - a person always knows the price of his brainchild. And if the price is low, then the quality will be appropriate.
You should not approach the choice of a Forex Expert Advisor lightly. After all, any carelessness will later turn into financial losses for you. Even if they are small.
Forex Signal Seller Scams
Trading Signals is a service that allows Signals Subscribers to receive recommendations for trading Forex or other markets from traders - Signals Providers. In contrast to analytical reviews, a trading signal is a specific place and time for opening and closing a position. Looking for reliable signal Seller, just like with the robots, a lot of things need to be checked thoroughly.
First off, you should pay attention to the subscription fees if there is any. If signals are free, probably you should not use them since there's no such thing as a free lunch. Moreover, there are such situations when Seller gets the payment and then disappears. so, if you are really interested in trading by signals, the best way to do it is through MetaTrader 4 since whoever is trying to sell signals is verified and being supervised.
Secondly, you should be very cautious about the signals provider working with the specific broker, meaning that he gets a percentage from your deposit or can be just a part of an advertising campaign.
One more aspect to consider is the verified track record showing the statement from the trading with these signals. Do not just blindly believe any of their "200% profit" without a statement though we cannot forget that the previous experience is not a guarantee of future gains. Yes, there are reliable and honest signal sellers but in 2020 we cannot but be cautious and skeptical.
Phony Trading Investment Scams
Nowadays there is a whole lot of fraudulent companies calling themselves "hedge funds" or "brokerage companies" aiming to get a hold of your funds. Usually, they make use of aggressive and deceptive marketing, promising fairy profits and living you haven`t even dreamt of. The only thing you have to do is send money and "enjoy the fruits" of your investment. There are two variants here:
You "invest" and the company a) disappears with your capital; b) rejects getting any funds from you and then just stops answering the phone;

You create an account with the "brokerage company", activate your account, and start to trade with the help of the expert trader. Outcomes here are very predictable - either you lose money with those trading signals or just cannot withdraw it due to dozens of fake arguments. Either way, you are left with nothing.
Keep in mind that the best thing you can do for evading any kind of Forex scams is treating it as seriously as you can and, of course, paying enough time and attention to the choice of the broker/robot/signals provider.
Why You Should Educate Yourself To Avoid Trading Scams
Needless to say, trading Forex was and always will be associated with risks, consequently, there is no way to reduce losses to zero. As per statistics, most traders open accounts with the small capital and, usually, deposit their last couple hundred dollars willing to make a fortune here and now. That is why they have issues with controlling emotions and start the capital by misunderstanding the basics of Money and Risk Management.
All in all, we can`t but mention that most of the complaints and reviews saying "the company stole my money" is not about the broker being scam but purely is due to the lack of knowledge and leverage misuse.
Spending enough time and doing due diligence any novice trader has all the chances to grow into a successful expert trader with all the skills and knowledge to spot the Forex scammers.
Three Signs of Forex Trading Investment Scams
Trading Systems and Education Without Any Proof
A wide range of Forex scam companies advertises their signals and education. Usually, if the traders are acquiring any information to confirm the effectiveness of those signals or professionalism, the question remained without a reply. Another category is traders providing their systems with no services attached. Such "businessmen" are known for their fake signals with nothing confirming them.
Email Spam Asking for Personal Info
Improper emails are one more obvious indication of an online Forex trading scam. Email marketing is quite popular today, however, if the nature of the email seems unsuitable or if the person requests for any personal information, it's apparently a scam. Forex scammers frequently employ email lists purchased on the Darknet to send thousands of emails to potential victims, proposing different trading services. Once again, doublecheck if there is some background regarding the person sending the emails – or if it's a broker, check that it is legal by going through its website. In case there is no information about any of the abovementioned, and the emails request for personal info to send you a "free e-book" or something alike, it's probably a scam.
We've already mentioned the significance of reviewing the background information about a trader or business that ensures extremely huge profits or asks for your personal information.
Make sure to always perform quick research online to check if the trader or business is legitimate.
Scam Forex brokers often alter their identity and operate under a fake name, so that their victims can't find them online. Moreover, there is such a trick among scammers to use photographs of traders found online, pretending that the person in the picture is them.
How to Avoid Forex Scams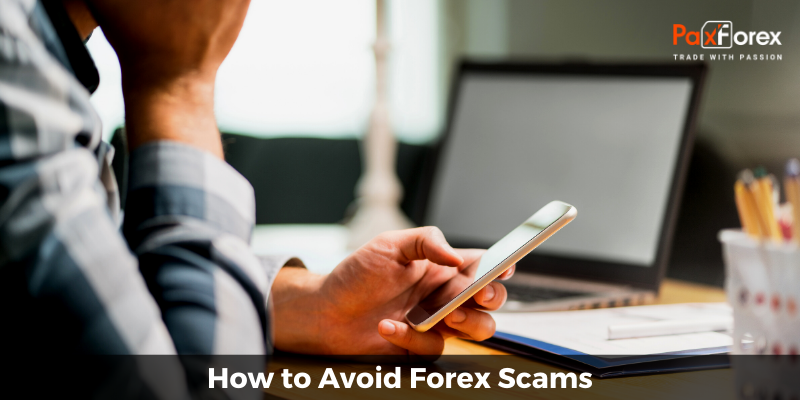 Learn from the best
When you are looking for a Forex broker, start with the best ones. Explore their limitations, what conditions they offer, etc. And even if they do not provide the type of account that you are currently looking for, you will have a good example to compare.
Explore
Never choose the first thing you get. Be picky. Rest assured, there are many brokers (including us) and you will need to read about as many of them as possible. It might be confusing first, but it worth it since the choice of a broker is the most important thing to do, so do your due diligence.
Self-training
Education plays a huge role when it comes to staying away from fraudsters. As we have mentioned above, Forex is full of people with zero knowledge of finance. That's why reading the market materials, understanding your trading profile, style, and conditions will be of great importance. Even if you feel you know it all, make sure you keep up to date.
Always be careful.
Feeling confident? That is your weakest point. Always look for better terms and do not accept less. At PaxForex, we are happy to hear from our customers about their suggestions for improving our services and products.
Further Steps You Can Take To Protect Yourself
Don't believe your caller ID. Technology makes it comfortable for scammers to false caller ID information, so the name and number you see aren't always authentic. If someone calls asking for money or personal information, hang up. If you think the caller might be telling the truth, call back to a number you know is real.
Study how you pay. Credit cards have vital fraud protection built-in, but some payment methods don't. Sending money through systems like Western Union or MoneyGram is unsafe since it's almost impossible to get your money back. Reliable businesses won't ask you to use these payment methods.
Talk to someone. Before you give up your money or personal information, talk to someone you trust. Scammers want you to make decisions in a hurry.
Don't trust unknown brokers. This fraud method is the answer to the question: they can change the technical parameters of trades, which is an obvious fraud. An example of this is when Stop Losses are removed, a gap may appear in the area of Stop Loss, which will cause an increase in losses, may change the volume of trades, or be the deliberately incorrect calculation of profits. As a rule, such companies are designed for beginners who do not check the performance of their terminals and believe that the program cannot trick.
And the most vivid fraud can be called the refusal to withdraw funds. At the same time, the pretexts may be different: problems with electronic wallets, some documents appear to be missing verification, difficulty in processing requests, bankruptcy
Questions To Ask To Avoid Forex Trading Investment Scams
Taking into account the wide range of brokerage companies, choosing a trustworthy one is quite a challenge, especially all the ads and reviews do nothing but confuse even more. To make that choice easier and to prevent you from getting onto some kind of scam we have picked some questions to clarify if the broker is a scam or not.
Are there any profits or rewards offered for creating an account?
You can easily spot a scam just seeing any of their ads stating "make $100 on a daily basis from a $3000 deposit" or "get 85% returns with our signals" or "90% winning rate." All those statements are fraudulent, no matter if they refer to binary options, CFDs, or Forex, all the same. Actually, Forex brokers should not guarantee profits at all. To make a long story short, if any of the companies promise you money, just stay away. One more scam technique that is widely used is the promotion images of fancy cars that are given away to those who are lucky enough.
Is there any cash bonus for creating a trading account?
In case you encountered a situation when a broker proposes an incredibly high cash bonus, is not regulated, and there are no details of this bonus offer, then you are likely dealing with a scam Forex broker. For instance, let`s call it ABC broker suggests at a bonus of $1,000 with their obscure promotional offer. When you try to click around attempting to find more information you are redirected to an account creating page.
Are there any automated trading systems or signals to make sure you get profits?
A lot of scam Forex companies provide robots or algorithms that are "designed specifically for the clients to do nothing and make money". Usually, this situation is met among binary and cryptocurrency trading companies and the emphasis here is "you will make money".
At the time of writing, no one has discovered a way to persistently make enormous profits with the help of Expert Advisors or signals, and even if we assume for a moment that someone did, logic says it wouldn`t be given for free, right?
So, if whatever you are offered is too-good-to-true, it`s better to stay away.
Does the company`s website contain any trustworthy information like the business`s background, headquarters' location?
In case the website has no information regarding the management team, the company`s address, and doesn`t mention ways how to get in touch with the Customer Support, rest assured it`s a scam. Fraud companies need neither names nor phone numbers/email address to be used to track them back when the scheme is revealed and they are in trouble. If you find it difficult to check upright reviews of the company, it is advisable not to sign up there. Moreover, make sure to look for disclosure documents and read them thoroughly, this will give you essential information about the company you are interested in.
Can the awards mentioned be verified?
A wide range, if not all, of scam Forex companies call themselves award-winning enumerating dozens of made-up awards. Very often the award says something like "Best broker 2015," and the link to the news regarding that is not clickable or the website cannot be trusted. Scam brokers will intentionally publish fraudulent awards from several years ago since they're more difficult to check than 2020 ones.
One more variant here is when hoax companies use the name of a reliable outlet while awards are fake. There is, for example, a company, let`s call it XYZ, that uses the names of Bloomberg and The New York Times featuring fake awards "Best Signals Provider" and so on. If those awards were authentic, you would be able to click on a link and check them or find them via Google search. By the way, The New York Times doesn't give out a "Best Signals Provider" award.
Double-check any declared awards to check their authenticity.
If a huge corporate sponsoring is advertised (e.g. athlete sponsorship), am I doing my due diligence to assure the broker can be trusted?
The last scam trick to bypass is considering a broker is reliable because it sponsors a soccer club or professional sportsman. Please note that the fact that a company is the main supporter PAYING for its label to be printed on a t-shirt is not a reason for you to trust it.
IronFX, a proven scam Forex broker, was sponsoring FC Barcelona, paying the club €3 million per season
Tips to help you avoid becoming a victim of Forex scammers:
Find out how long the broker has been providing services (preferably: 10 years or more);

Give preference to those brokers who allow to trade not (!) through MetaTrader;

Try to find a broker with medium or high trading commissions;

Specify your real personal data for registration, which you can document if necessary;

You should deposit money into your trading account, on which your life and the lives of your loved ones do not depend;

While trading and working in the terminal - open other alternative quotes to compare them;

Enter the market with limit orders with Take Profit and Stop Loss se;

Use Money Management together with low-risk trading strategies. Your goal is to save your trading account and only then to multiply it;

If you trade successfully and have multiplied your deposit - do not withdraw more than the amount by which you deposited your account for the first time. Just remember that providing a good education in the Forex market is the best way to avoid fraud.
Conclusion
Implementing all of the above recommendations will not completely rid you of Forex scams brokers, but it will reduce all the potential risks to a minimum.
It can only be circumvented if you use the information for analysis and think with your head, rather than blindly accept the advice of traders dwelling on the Internet how they supposedly make money.