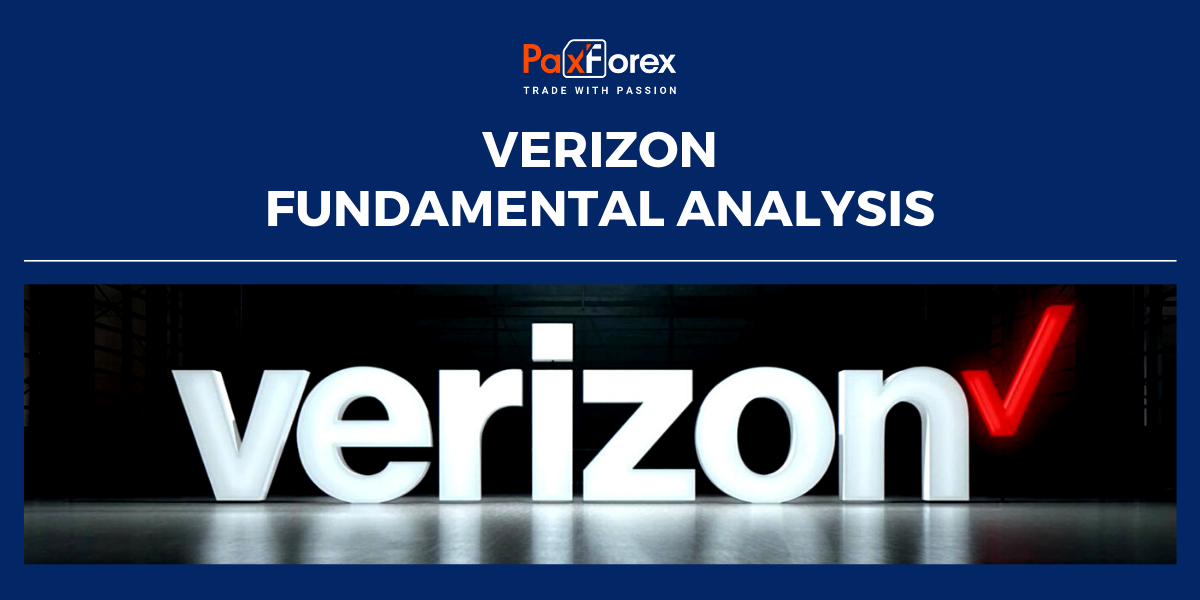 Source: PaxForex Premium Analytics Portal, Fundamental Insight
The US telecommunications giant has always been one of the most interesting stocks for those looking for long-term investment. Right now, taking into account the launch of the 5G that is gaining momentum. As the company is one of the fifth-generation technology beneficiaries, investors might be willing to watch the VZ stocks more carefully.
Taking a big step forward, Verizon agreed to acquire Tracfone, from Mexican company America Movil for $6.25 billion in cash.
Verizon postponed the buyback because it is raising capital for the approaching 5G wireless spectrum auctions. Verizon has less debt than AT&T, which acquired Time Warner and the satellite television company DirecTV, while Verizon avoided major acquisitions.
Meanwhile, the acquisition of Sprint by T-Mobile US ended on April 1. The merger makes a more robust rival for Verizon and AT&T, thanks to T-Mobile's 5G wireless spectrum packages.
Verizon was aggressive in building a 5G wireless infrastructure. Verizon is expected to establish its national 5G mobile network earlier than Apple in its 5G iPhone deployment. In 2021, Verizon is assumably to extend 5G wireless broadband access services in homes.
Due to low-interest rates, Verizon shares have shown good results after the global recession twelve years ago. The telecommunications giant took a leading position at some point. Verizon is the biggest wireless communication services company in the U.S. It even sells wired services to customers in the northeast and business services around the world.
The company has paid its obligation since it obtained 45% of the Vodafone wireless joint venture for $130 billion in early 2014. One of the triggers for Verizon's shares could be the return of the buyback program. Its credit rating should be upgraded.
Meanwhile, Hans Westberg, the CEO, has begun cutting costs by 10 billion dollars until 2021. Revenue growth remains a challenge. The problem with Verizon is that the American wireless market is saturated. Most consumers have unlimited plans for data transmission.
Verizon's June-quarter earnings and EPS outperformed analysts' forecasts, albeit against a backdrop of lower expectations due to the Covid-19 outbreak. The company's wireless business held up better than predicted.
The company made $1.18 per share, including a 4-cent tax break. Earnings fell 5.1% to $30.4 billion. Verizon Media's sales fell more than 24 percent to $1.4 billion as digital advertising weakened.
Analysts foresaw that Verizon's revenue would be $1.15 per share at $29.84 billion.
Verizon said it added 173,000 postpaid wireless subscribers, while analysts estimated losses at 100,000.
Revenue from wireless services fell by 1.7 percent to $15.9 billion compared to the analyst's forecast of $13.18 billion. The company expects revenue from wireless services in the September quarter to grow by 1 percent compared to the same period last year.
The management restored the previous forecast, which provides for the growth of adjusted revenues in the range from -2% to 2% in 2020.
5G mobile services use the high-frequency radio spectrum. Moreover, the company is likely to buy the midrange spectrum at federal auctions. It could spend over $15 billion on the mid-band spectrum, analysts say.
By the end of 2020, Verizon intends to cover 60 cities with mobile services 5G "Ultrawideband". In low-bands, its projects are based on dynamic spectrum distribution or DSS.
It is expected that mobile 5G will transmit video to smartphones at least ten times faster than current networks.
Before the coronavirus outbreak, analysts expected the 5G marketing war to amplify in 2020. The key moment will be the long-awaited introduction by Apple of new iPhones, ready to work in 5G networks.
Last year Verizon cooperated with Walt Disney in the field of streaming video services. In August, Verizon and Disney expanded their streaming partnership to include Hulu and ESPN+.
Verizon tested 5G broadband services for homes in four cities - Houston, Indianapolis, Los Angeles, and Sacramento. However, Verizon does not anticipate substantial income from 5G wireless broadband services for homes until 2021.
The company informed analysts that it hopes 5G business services to gain momentum in 2022. Yet, the multinational 5G technical standard associated with business services has been delayed because of the pandemic.
The launch of 5G wireless applications, such as self-driving aerial vehicles or remotely operated remote medical treatments, may take years.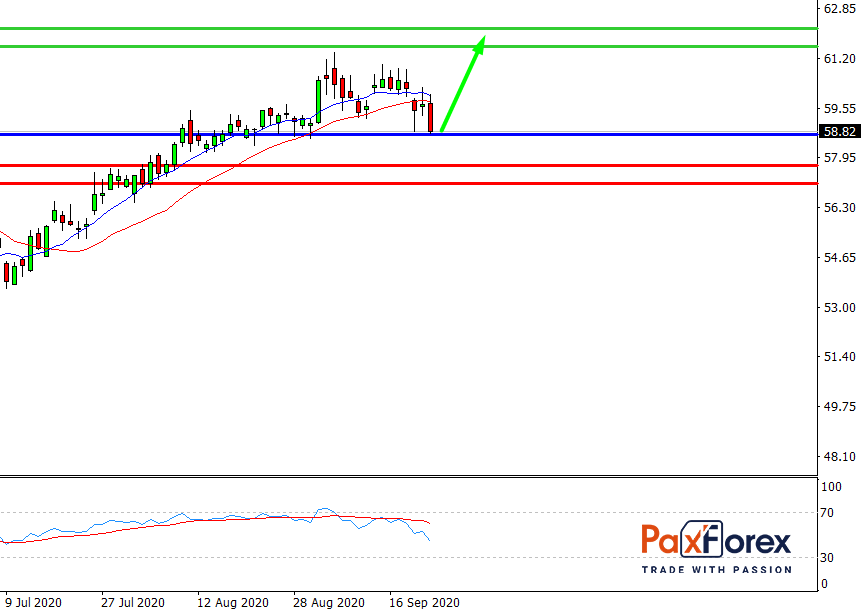 Provided that the company is traded above 58.70, follow the recommendations below:
Time frame: D1
Recommendation: long position
Entry point: 59.93
Take Profit 1: 61.60
Take Profit 2: 62.20
Alternative scenario:
In case of breakdown of the level 58.70, follow the recommendations below:
Time frame: D1
Recommendation: short position
Entry point: 58.70
Take Profit 1: 57.70
Take Profit 2: 57.10