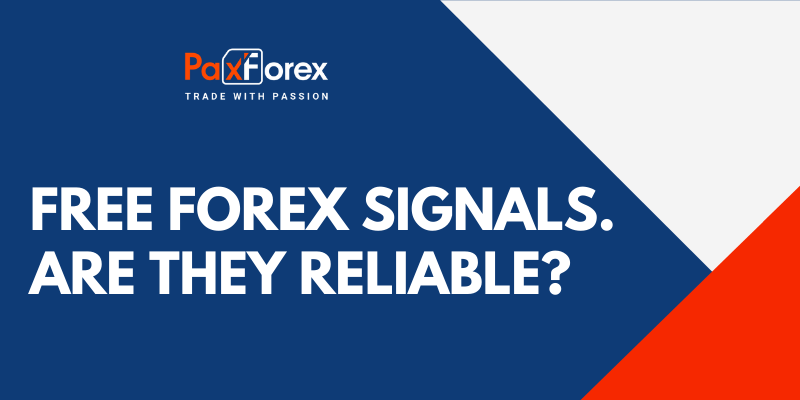 A few years ago, people spent years training to become a trader. Speaking about 2020, it's a little easier for us - there is a lot of publicly available literature, which collects and systematizes all the necessary knowledge. Moreover, famous sharks of Forex trading willingly share their experience, so you can find analytical reviews on the Internet, which allow you to make a forecast without wasting much time and effort.
Since trading analytics and Forex signals have long been part of modern trading, every year, they are becoming more and more popular. Trading recommendations are an excellent assistant for both beginners and experienced traders. But some of you might be wondering what is the Forex signal, and are they reliable? How to choose the best free Forex broker?
In this article, we will answer all these questions. We will help you start making money with the help of trading signals at Forex.
What are Forex Signals?
Today, progress has reached the point where it is possible not to go deep into the topic at all, but to entrust decision making to another person or robot. The list of services of many brokers includes providing trading signals to their clients.
Basically, the Forex signal is nothing but an incentive to place an order at a certain time and place. Someone has done all the analysis and gave you a hint when to open or close a position.
Many experienced traders are ready to provide everyone with trading signals online.
This signal is based on an in-depth analysis of the chart, the use of indicators, trading strategies, and statistics. They can be provided by a special program - it will calculate for you the moment of opening a position.
Either another trader will guide you through the process based on his experience. Today, many people blog and publish online successful results of their online trades. Many newcomers are willing to trust such experienced traders and agree to trade with them, following their advice with no doubt.
You can trade by signals in automatic and manual mode. The automatic mode implies the installation of special software, which receives signals from the selected supplier and opens corresponding positions without your participation. You may only be required to initially set the program to an acceptable risk level (determine the size of open positions according to your money management strategy).
Manual mode assumes that you receive a signal in person (e.g. as an SMS message) and then decide whether or not to open a position. Manual mode can imply certain analytics of trading signals.
Fully automatic trading, although, frees the trader from some routine actions, has several disadvantages. Among them, for example:
Malfunctions due to poor Internet connection or accidental disconnection (this often happens even with the most stable Internet providers);

Malfunctions due to the failure of equipment (computer, server);

Malfunctions due to a fault in the software used. After all, it is far from the fact that the Expert Advisor you use will react equally adequately to all possible market situations. Even if it has been thoroughly tested, it is almost impossible to foresee everything.
In this regard, as well as due to the possibility of analytics and filtering of frankly senseless signals, it is preferable, in this case, to follow the received trading signals manually.
Free Forex trading signals can be found on many websites. Some services even have the function of sending messages to your cell phone. In order to evaluate the prospects of using the service of free signals on the Forex market, it is necessary to test them. This is the only way to understand what results you should expect in trading. Open a demo account and follow the recommendations of the signal provider within two weeks. At the end of this period, you will have the statistics of the signals and their performance. If you are satisfied with the results, you can use the tactics in a real trading account. If the results are unsatisfactory, you should look for another trading signals service.
How Reliable are Free Forex Signals?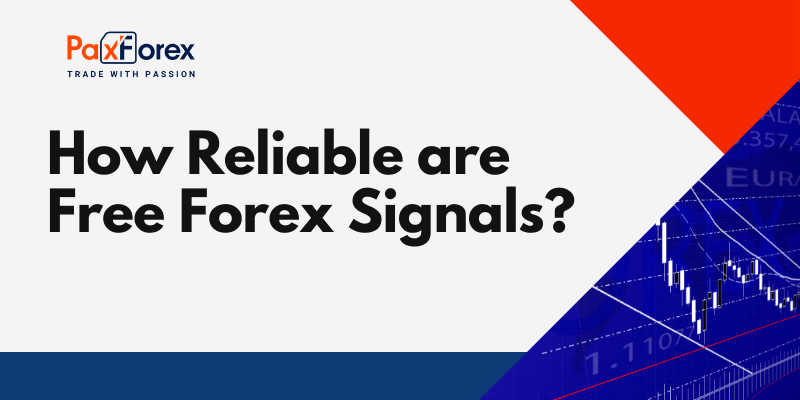 If the signal given in the process of trading is considered good, it should have such components:
The name of the asset in respect of which the signal generation is being performed;

The direction of the trade or the name of the order;

The price to enter the market;

Stop Loss and Take Profit levels. The first limits losses and the second allows you to fix profits in time;

The reason for one or more Forex trading signals should be described. An additional probable profit target may be specified;

The signal can be explained graphically. The technical analysis method is applied to display the quotes dynamics.
Hints to the trader can be calculated for long, medium, and short terms. Such classification is considered conditional. It depends on the time frame, on which the signal is generated. The higher the time frame is, the more reliable the signal is. There are countless market noises at minute time frames, which reduces the reliability of the signal. Also, even the best Forex trading signals must be confirmed not by one but by many reliable indicators and methods. It is quite challenging to do so in low time frames.
Free Forex signals, as a rule, at the initial stage of trading, fully meet the requirements of a beginner. However, it is not superfluous to say that in addition to free signals, there are also paid analogs, which provide trial versions. It is very reasonable, as no one wants to give money until they are sure of the efficiency of the algorithm and the reliability of the information. Despite the information provided to you, try to analyze it yourself and make logical conclusions from the data: this way, you will be able to quickly recognize the quality of received signals, as well as deepen your understanding of Forex.
Forex Signal Authors
Nowadays, with the advent of technologies and the increasing popularity of social media, it is extremely easy for a signal provider to share or sell Forex signals. In general, there are several types of those providing forex signals for free: it can be an affiliate (broker`s partner), traders sharing their own signals and, of course, scammers (they are always there).
As we have mentioned above, an affiliate is a person (or more) that brings new clients to the website of a broker and gets some kind of commission for that. Therefore, they often provide free Forex signals, and to get access to those you will need to create an account with the specified broker using the affiliate link for registration. There is one aspect here that makes this type of signal provider reliable is that affiliates get paid for the trades their referred clients open. Consequently, they are interested in your trading as much as possible, as well as not losing you. It makes them serious about the signals provided.
Yet, keep in mind that most affiliates have their own trading accounts and have to pay attention to both trading and signals at the same time. It means that in some cases (if not always) the signals that are about to be sent to you may be prepared without due diligence since the affiliate simply did not have time or just did not pay proper attention. So, again, make sure to test the signals on the demo account. Of course, it will take some time to get some statistics but still, it is better than rush into live trading and lose the entire deposit only because you were in a hurry to try your hand at using those signals.
The next type of authors of free Forex signals is traders that decided to post their trading thoughts and ideas. They probably do so because they want to get some good reputation and, afterward, get some clients to manage their trading accounts. Or it can be done purely because of the desire to show off, who knows. Statistically, some of such traders can be really good at analyzing the market and accurate in their predictions. What you need to do here is to test (of course) the signals and go back to the previous posts of this trader and compare them to the charts. In such a way, you will get the idea of the success rate of this trader and will know if he should be followed.
And, of course, we cannot but mention scammers. There are two types of them: the first ones bring you to the broker`s website promising VIP signals for free and then vanish once get paid the commission; the second type sends a couple of sih=gnals and then demands the payment for the next ones.
There is an urban myth among traders about that. One adventurer (let's call him Stewart) sent clients free signals. And in the first half of the forecasts, he promised price growth and advised to buy, and in the other half, on the contrary, he promised reduction and advised to sell. After a while, one of the scenarios came true. Then Stewart got rid of those traders to whom he sent the wrong forecast, and the remaining traders he divided into two groups and repeated everything. Thus, as a result of these manipulations, in the end, he still had several traders who received only accurate forecasts. At that time, he offered them to buy another signal for a solid amount of money. It is clear that this last forecast was given randomly and sent to trusting simpletons.
We would like you to understand that free Forex signals are not a panacea in trading. To use this information, you need to understand the principles of their formation. It would be utterly wrong to use trading signals in blind trading. You can succeed in trading only after you have received the necessary skills and knowledge.
We recommend using Forex trading signals only as a supplement to your strategy. Apply them with extreme care and attention.
Should Traders Use Free Forex Signals?
If you are rational about choosing free forex signals, you can and should trust those online tips, especially it can be useful for beginners. One should consider trading with the help of other people's hints as an opportunity to learn - you see what a more experienced trader does, analyze his actions, get the result, and, if it is negative, think and draw conclusions about why it happened.
Some traders prefer the manual way of online trading because they are the ones who make a decision, not the robot.
Before you give your preference to the vendor, make sure to test his signals on a demo account. And don't forget about money management - set your risk limits to avoid irreparable ones.
Do not forget that any trading signal is just information based on the analysis results. It will tell you when to trade, but it will not provide an accurate forecast of the trend. The price always has two ways, and you don't know in advance where it will go.
The best Forex signals are only those that have passed the test of time and proved to be a reliable provider of signal information. However, in combination with additional features, a user-friendly interface and a rich toolkit Forex signal providers become even more useful - these are the ones we tried to find you on our list.
The number one thing you should keep in mind is that no signal can give you a 100% profit guarantee. Trading signals, based on which half of the closed trades were profitable, are considered to be quite good. If the number of successful positions is 60-75%, it is a very accurate online trading advisor.
Finding the Best Free Forex Signals in Three Steps
We understand how challenging may be the choice of free Forex signals, that is why we have prepared for you the recommendations with only three steps to follow:
Go Online
The number one thing to do is to google the best free Forex signals providers and make a list of the ones you will find. Now, you need to do what is known as the best way to choose something - compare. Check signal providers concerning functionality, the general impression, and reliability. When you have a shortlist of the ones that seem to be reliable, you should go through the websites, and check the terms and conditions and the interface itself.
Check Recommendations
One more helpful tool in choosing the reliable signals provider is good old recommendations. You can ask your fellow traders since it will make no sense for them to send you to a scam provider. It can be done through some Forex trading forums or blogs, or even some experienced traders may recommend some sources that he uses (or was using before). It is better not to trust the users with empty profiles (on social media), since such accounts may be created by the marketing department of some signal providers to promote their own services or to jeopardize the reputation of a rival.
Look for Trial Periods
The opportunity to have a test drive is the best option for traders to see how the service is operating. Even if you have found the best trading signals in your opinion, do not rush to invest real money in them. Subscribe for a short period of time, say, 1 - 2 weeks, and trade on a demo account. Compare your trading results with those of the Signals Provider. If the difference is insignificant, you can switch to real.
It may not be the guarantee of the signals provider`s reliability (you have two more options that we have mentioned above), but, at the same time, you will be able to see if this option is a perfect match! On the other hand, we have to mention that not all well-established signals providers offer trial periods. It is just an option for you to get the insight of the service as a whole.
Free Forex Signal Service by PaxForex Featured Ideas
The PaxForex Market Analysis section provides incredible trading opportunities to the ones valuing their time. Our featured ideas are based on the advanced analysis of the market employing all the necessary tools so you get the most out of trading with PaxForex. Powered by the most experienced analytics, our free Forex signals will broaden your trading opportunities, as well as will help you increase your account balance. Here are some amazing tools we have tailored in order to make our clients a little happier:
Forex News/Blog
Here you will find valuable articles that will help you to get the more profound knowledge about trading different assets, you will discover a wide range of trading tips and strategies you have never even heard before. We will provide valuable insight not only into the universe of technical analysis but will go through a lot of fundamental aspects of trading, researching the impact of both gossip and elections on the situation on the market. And much more.
Daily Trading Signals
PaxForex Daily Trading Signals are exactly what it sounds like. It provides free Forex signals for different types of assets, including currencies, indices, stocks, and gold. These signals are proven to be pretty accurate and, what is essential for beginners, are very easy-to-follow: there is an entry point, two price targets (Take-Profits), an alternative scenario, and the comment explaining why exactly there is such a recommendation. For your convenience, there is a chart showing the important levels and a table with support and resistance.
Also, please pay attention that you do not have to go to the website each time and check the signals. Every day an email with Daily Signals is sent to each client, so you will not miss it or will not forget to check the update on the website.
Fundamental Analysis
This section is the favorite of the fundamentalists since it gives substantial food for thought, especially for long-term investors. With daily updates, you will be able to keep up to date, which is one of the most essential aspects of successful trading.
As you see, PaxForex offers a vast range of trading tools that are created to simplify the whole trading process and to boost the results at the same time. If you still haven't tested our featured ideas, you are more than welcome. We won't be an exception, so make sure to test our signals too.
Free FX Signals from Trading Central's Technical Insight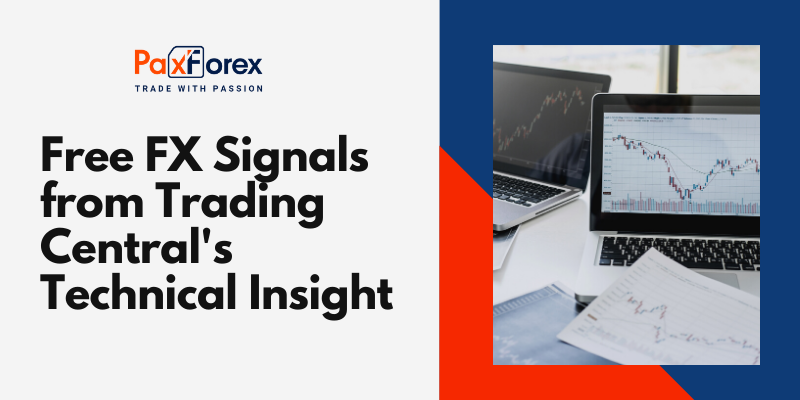 A Trading Central service is a powerful tool for both beginners and experienced traders. In one place there is information about the state of the market of currency pairs, indices, commodities in terms of technical, indicator, and candlestick analysis. The platform is used in 95 countries worldwide. The data is available in the web version and directly in the terminal window when installing the appropriate indicator. The service provides free Forex signals for certain brokers. How can you use them in your trading?
An easy way. Install an indicator of the Trading Central analytical platform in the trading terminal.
There is general information in the upper right corner. The analysts of the service suggest that the price will fall soon and offer to sell the currency pair. In the lower window, there are specific recommendations in figures regarding the order targets and the possibility of developing an alternative scenario. This information is not a pure signal, but it can be used in trading.
To understand the market, it is advisable to read the theoretical information regarding support and resistance levels. You can check the quality of signals on a demo account. It will cost you nothing because the service for clients of the broker-partner is provided on a fee basis.
This option is a little more complicated because it requires at least minimal knowledge in the field of technical analysis from a trader. It involves using the web version of the Trading Central platform. It has a wider functionality than the indicator for the trading terminal. The online version provides a large list of financial instruments by clicking on which a detailed analysis window will open.
The service interface consists of three parts. The "Technical Analysis" section contains a chart of a financial instrument with indicators and the forecast from the analytical platform with a detailed description. An arrow marks the pair's targets on the chart. In the "Alerts" block below, you can follow the readings of several indicators simultaneously. In the "Japanese Candlesticks" section, the service will notify you about the appearance of a particular candlestick formation.
Not everyone can correctly interpret the information that is available to traders in the online version of the Trading Central platform. To trade on the signals of the service, you need to learn the basic concepts in Forex market terminology and gain minimum practical experience of trading on a virtual account at least.
How to Subscribe to Free Forex Signal Providers
Before subscribing to one of the signal providers, you will need to create an MQL5 account over here https://www.mql5.com/. By the way, you can find here some good traders. When choosing a signal provider, pay attention to the key performance indicators. In the showcase, you will see the number of opened positions and the percentage of profitable ones, the level of growth, and other values for evaluation. Here you can also find the button for subscription to the trading signals.
Once the account is created and the provider is chosen, run the MetaTrader 4 trading terminal and double-click on Signals in the toolbar at the bottom of the terminal.
In the window appeared select the MT4 signals provider and how you would like to pay (if it's a paid subscription). You can pay for signals both through your MQL5.com account and right in the platform using popular payment systems. MetaTrader 4 accepts Visa, MasterCard, and UnionPay bank cards as well as e-wallets, including PayPal, WebMoney, Neteller, and ePayments. Pick a preferred option and perform the transaction.
To complete the subscription process, configure the copying of trading signal activities. It is important to determine the amount of deposit for operations with this signal, the Stop-Loss and Take-Profit levels. When all parameters are specified, the signals will start to copy on your account.
In order to increase the efficiency of subscription, you can rent a virtual hosting, so that the copy-trading will take place with minimum network delays.
How to Unsubscribe from Free Forex Signal Providers
In case you are not willing to proceed working with this very signals provider, it is super easy to unfollow. Just go to MetaTrader 4, find the Signals tab, and double-click it. Here, on the right top of the signals window, you will see Unsubscribe red tab, click it. The window asking if you are sure will pop-up. Click on Unsubscribe and that's it.
Pros and Cons of Using Free Forex Signals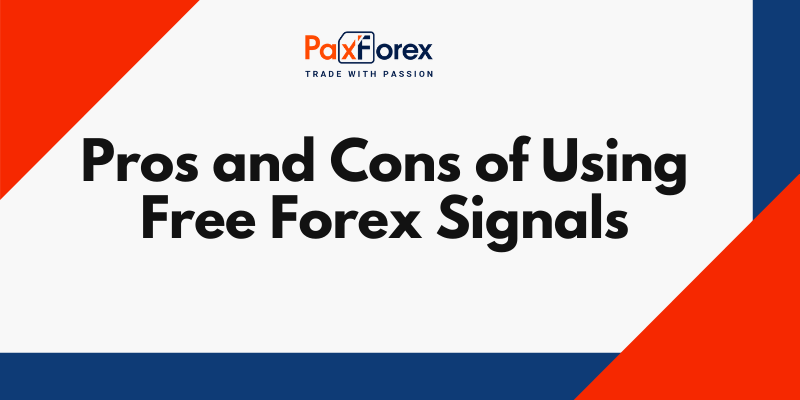 + A person who does not have any experience in Forex trading will be able to start trading right away with the help of signals. To do this, just open an account with a broker and download the trading terminal. It is definitely a great advantage for beginners, as most new traders lose their first deposit.
+ Trading using signals, you can learn the principles of an experienced trader. It is necessary to understand that signals providers work according to their chosen strategies. It turns out that the trader can adopt the experience of more experienced people. Naturally, for this purpose, you need to analyze the situation and try to understand the steps that the author makes.
+ Trading with signals allows you to save a lot of time, which many non-professional traders simply do not have.
- Often, the trader is not able to check the reputation and experience of the signal provider. Even if you find feedback on the quality of some signals on the Internet, it is not necessarily that this information will be true.
- You can not keep up with the market situation. The delay in receiving the signal, in any case, will be, it should be remembered, when choosing this type of trading.
- The signal provider may make mistakes, which can be very serious for your deposit.
- The trader will not be able to gain sufficient experience in conducting technical and fundamental analysis if he works exclusively on the signals of other specialists. Self-development and experience in trading is a crucial element on the way to success.
Conclusion
All in all, is it worth using free Forex signals? Our answer is you should try it! Each trader uses different ways to achieve success - some of them are successful, some are not. Selecting reliable Forex signals, you need to approach competently, weighing all the pros and cons. You need to remember that trading is not gambling. We do not play games, we work. So, if you consider free Forex signals as an opportunity to do nothing and make a profit, you are very much mistaken. Remember that no one will share valuable information with you purely for altruistic reasons. All signals providers have a certain purpose - most often it is to make a profit for their hints and recommendations.
Make the right conclusions, and only do it in a thoughtful manner.