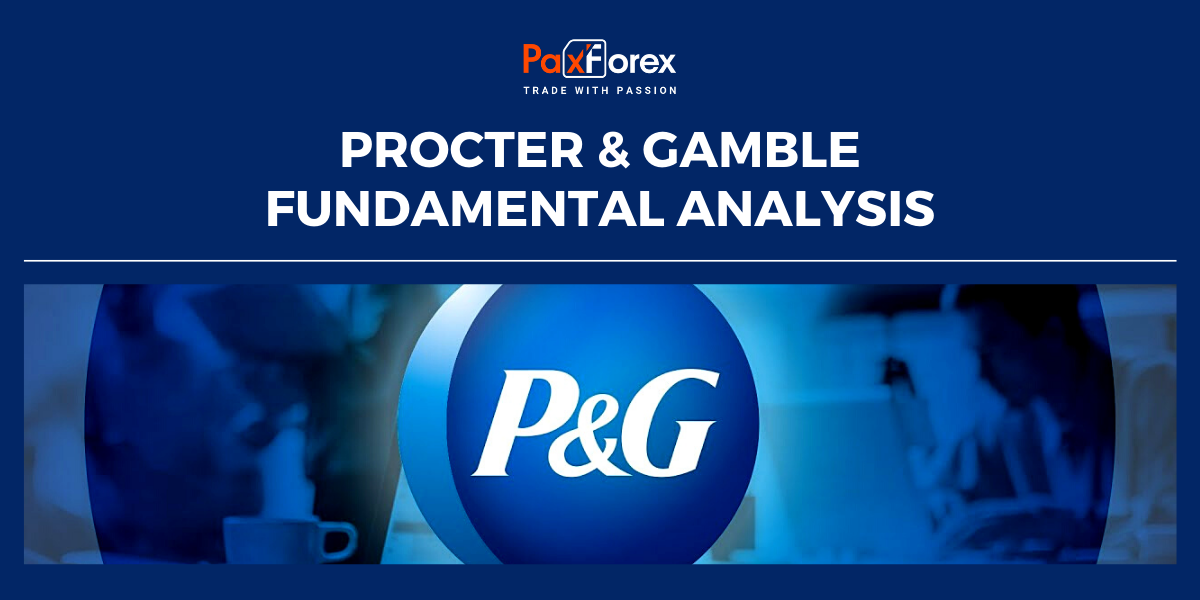 Source: PaxForex Premium Analytics Portal, Fundamental Insight
It cannot be denied that Procter & Gamble is one of the largest and most recognizable names in the consumer goods sector. But the size and pedigree do not necessarily lead to eternal success. Just take a look at General Electric.
In this case, the largest company in the business of household consumables is a great investment idea, after the company has overcome some turbulence, which required a significant overhaul of all its work.
This overhaul was launched back in 2014 when P&G announced that it was cutting 100 brands to better focus on 65, which was 95% of its profits. By 2015, this work was successfully continued, and in the same year, the company sold a wide range of its Coty cosmetics products, which was a milestone on the road to radical change.
In the same year, David Taylor replaced Art Lafley as CEO, thus creating the conditions for further development. Taylor continued the business optimization work that had already begun, but he also made his own mark. He soon shook up the established corporate culture with his willingness to hire external employees rather than promote existing ones.
He also reduced the marketing budget of the company - and the use of marketing agencies in particular - as part of the modernization of the entire marketing approach of Procter & Gamble. This change ultimately meant that P&G would use data to identify "smart audiences" and their target audience, getting rid of the old and somewhat distracted approach to advertising. It also allows for a change in how and where P&G reaches consumers, with more and more of these connections happening online.
It is a terrible change for a $300 billion company that does business for $70 billion a year. Transformations are always difficult, but they become even more complicated when the size of an organization can become a stumbling block.
But now this transformation is almost complete, and it is paying off, even when you look through all the consequences of COVID-19.
Take, for example, the new segmentation feature of Smart-Audiences by Procter & Gamble. It equips the organization to communicate with consumers outside the typical environment of a retail store. In 2017 the company acquired the deodorant brand Native, which already had a strong presence on the Internet, but was ripe for expansion. In June this year, P&G introduced a major digital advertising campaign for natives that used Facebook, YouTube, and Instagram, a program that may not have been as effectively used by the previous marketing division of Procter & Gamble, which relied on a more traditional media approach.
Then in January of this year, the company announced the acquisition of the direct sales brand of Billie razor products, adding to its range of razor products already sold in stores of razor brand Gillette. Like Native, Billie will allow the company to use detailed digital consumer data to expand its existing coverage. Procter & Gamble now even manages a specialized brand incubator called P&G Ventures, which (among other things) is designed to bring the company to new markets in which it currently does not operate, using a "direct-to-consumer" approach that does not require the cooperation of retailers.
The decision to bring in talented people from the outside, rather than hiring them strictly from the inside, also opens doors that may have remained closed before as it brings in some know-how. For example, in 2016, the company created a new role as a global media director to manage its newly reformed marketing department. Then Gerry D'Angelo, who had previously worked for Mondelez International, was appointed to this position. He proved that he has a brilliant understanding of marketing in the modern era, explaining that all advertisers must find the right balance between broad brand marketing and response marketing, designed to induce the purchase of a certain product, and then, if necessary, to adjust the message according to the media. In other words, television and the network cannot be treated in the same way.
Its leadership on this front seems to be the right one. The company Procter & Gamble was named Marketer of the Year in 2019.
These are just two of several changes that P&G company has made in recent years and which prepare the company for a brighter future, even if these changes are not in a hurry to become reality.
This paradigm shift across the company is reflected in Procter & Gamble's fiscal forecasts.
The rate of demand growth since the first half of this year - due to COVID-19 - cannot be sustained. But analysts believe that the new and improved organization has a second or even third action for the environment after the pandemic. Sales are predicted to increase by 3.6 percent this year and then gain momentum until the fiscal year 2023. Revenue is expected to grow even faster, as multi-year improvements will finally have their impact.
The company may never be a fast-growing asset. But, yes, analysts see Procter & Gamble shares as a buy. It is not the same company as it was five years ago. It is not even the same company as it was a year ago. The name of the old school was updated for relevance in the modern era, an evolution that may have been belated.
Of course, given that the stock has just reached record heights, it would be logical to wait for a more favorable entry point. Just do not wait too long.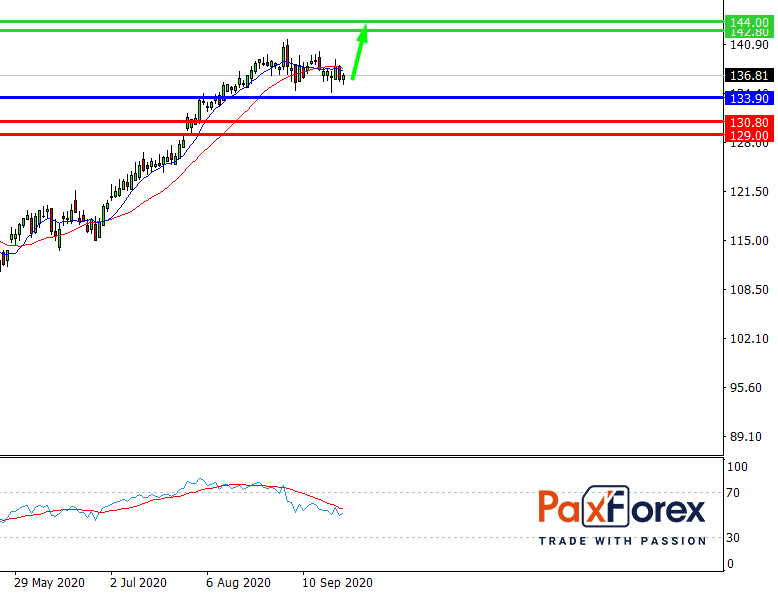 Provided that the company is traded above 133.90, follow the recommendations below:
Time frame: D1
Recommendation: long position
Entry point: 138.43
Take Profit 1: 142.80
Take Profit 2: 144.60
Alternative scenario:
In case of breakdown of the level 133.90, follow the recommendations below:
Time frame: D1
Recommendation: short position
Entry point: 133.90
Take Profit 1: 130.80
Take Profit 2: 129.00