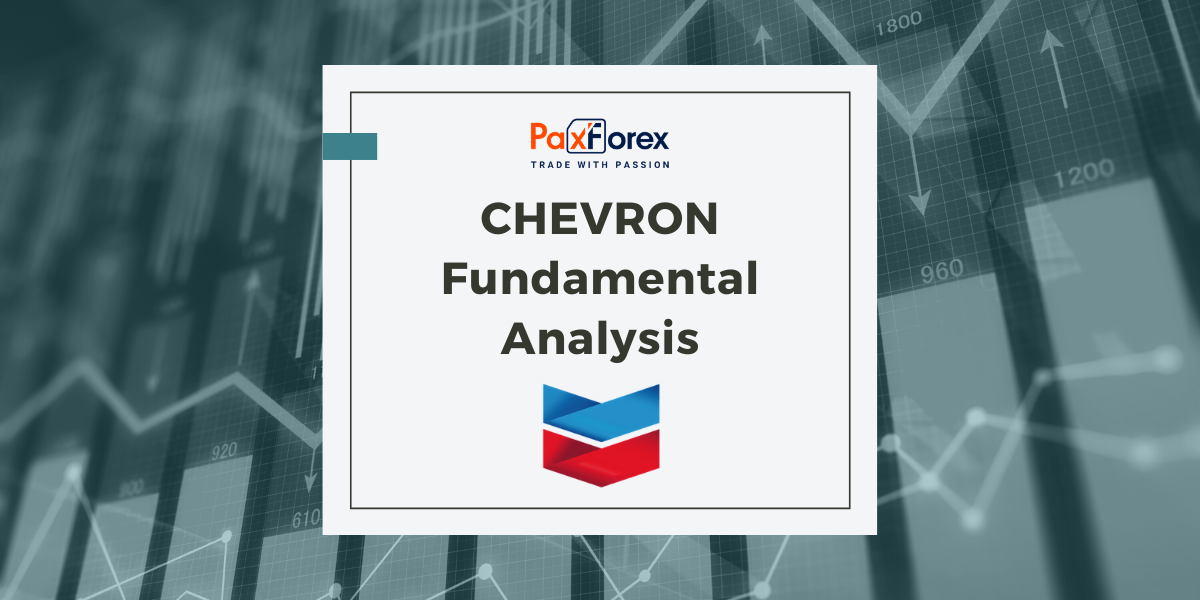 Source: PaxForex Premium Analytics Portal, Fundamental Insight
Energy prices have been heavily impacted by COVID-19. Every energy company was forced to step back and focus on basic survival, and more and more businesses were unable to achieve even this humble object. The globally integrated energy titan Chevron (NYSE: CVX), meanwhile, is being at the other end of the spectrum. Although it is weakening, it shows how financially strong it is today.
The last one to go to the bankruptcy court was Chesapeake Energy. It is an important landmark in the production, even though it was foreseen for several months since it helped start the fracking boom that has made the US the main energy exporter. Nevertheless, the growth of oil production on land in the US has also improved the balance of supply and demand in the energy sector, creating the preconditions for today's difficulties.
In fact, for many years, the energy sector has been trying to adapt to US production growth. However, with the spread of coronavirus, the situation has worsened dramatically. Global attempts to decrease the spread of coronavirus via a rapid economic downturn have affected the volume of demand, deeply unbalancing the demand/supply ratio. In fact, at some point, oil prices fell below zero.
The most important steps have been taken to reduce capital expenditure projects and assure that sufficient cash is available to persist until the market heals from the crisis. Chevron has worked hard on these fronts, but today`s situation allows it to demonstrate its multiple strengths.
Amidst the current crisis, the company had one of the most modest capital investment plans in terms of the cash flow of all its closest associates. Nevertheless, the company benefited from past expenses, so it anticipated production to increase at a healthy rate of 3 to 4 percent year on year. Meanwhile, demand fell and the company withdrew its spending plans from about $20 billion a year to $14 billion. This will affect production. The fact is that Chevron was able to take its already conservative position and become even more conservative.
But a really big story has appeared on the balance sheet of the oil giant. In the first quarter of 2020, the company's long-term debt burden increased by a huge 20%. In a short period of time, this growth would have been huge, and as a rule, it would have been a warning for investors to be anxious. Nevertheless, when put into a more extensive industry circumstance, it sets Chevron apart very well.
For example, while Chevron's growth here was noticeable, it wasn't the biggest in the industry. American company ExxonMobil (NYSE: XOM) has increased its long-term debt by 30%, so it can continue to support its more aggressive countercyclical investment program. It is crucial for comparison for these two American companies tend to carry less debt than their European counterparts, who tend to have higher debt and higher cash balances.
When times are as hard as they are today, an already high debt burden will make it undesirable to add more debt. And using a cash cushion when liquidity is a key target is also problematic. Thus, Chevron and Exxon, with their more modest levels of debt, were able to take advantage of the strength of their balance sheets during difficult times, providing the liquidity they need to survive the severe cyclical shocks in the industry. However, even after a 20% increase in long-term debt burden in one quarter, Chevron's financial debt-to-equity ratio, a very reasonable 0.25 times, is still the lowest among its closest peers. Of course, this figure is about twice as high as at the beginning of the year, but this only underscores how successful this conservative oil company was during the recession.
Put together, Chevron entered the recession in a fairly strong position. After the crisis began, the company managed to alter its already comparatively reasonable spending projects and take advantage of its solid balance sheet, while keeping an industry-leading leverage position. Probably the largest oil company on the planet today. Traders who are looking to the promising energy sector for profitable trades should include Chevron in their lists.