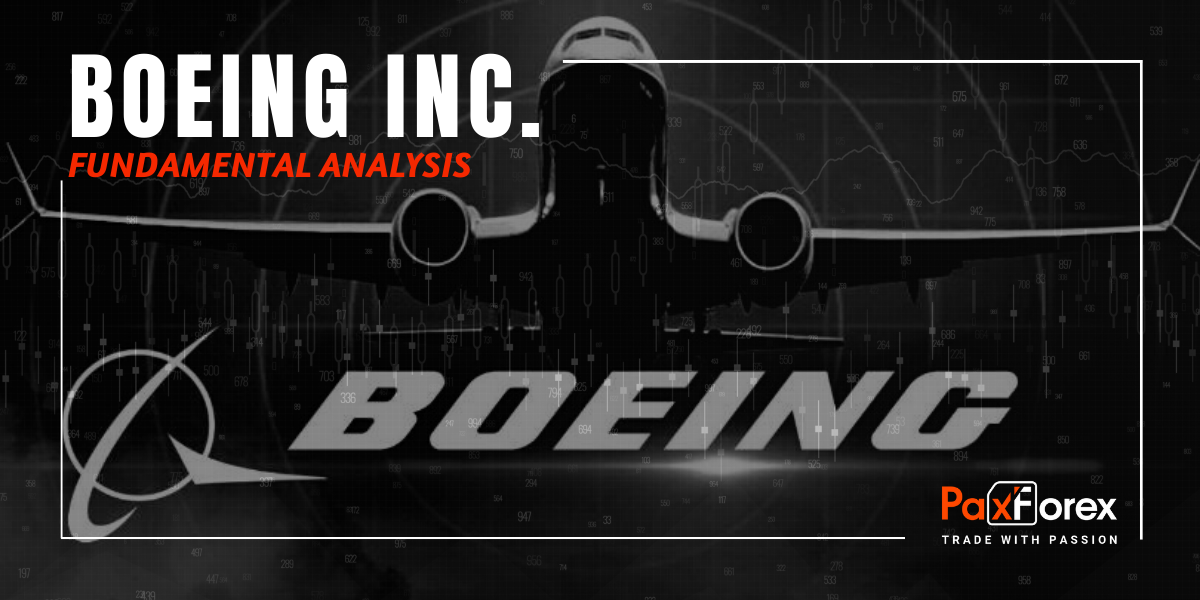 Source: PaxForex Premium Analytics Portal, Fundamental Insight
The last 18 months have been tough investors Boeing, whose shares fell in March 2019, after several fatal Boeing aircraft accidents and, more recently, due to the COVID-19 pandemic, production, and sales of Boeing 737 MAX were suspended. Until 2020, the company's shares lost about half of its value as the airline cut costs and reduced its fleet during a long period of economic stagnation caused by the pandemic. Boeing's second-quarter revenue, which is due to be announced today before the markets open, will be poor based on the consensus forecast.
Boeing delivered only ten aircraft in June and 20 in the second quarter, compared to 90 aircraft in the second quarter of 2019, even 737 MAX. The company's orders are still in jeopardy: Boeing registered 182 cancellations in June and 477 for the quarter. In June, 737 aircraft lost 179, and at the end of the quarter, the total number of unfulfilled Boeing orders was 4,552. Airbus, by comparison, is behind by more than 7,500. All the news from the Boeing commercial aircraft segment has recently been related to delays and slowdown in production. It is reported that the company will postpone its debut 777X to 2022, partly due to fluctuations in consumer demand, as well as the company is reducing the production of both wide-body and small aircraft 737 MAX. Boeing hopes that by early October, the 737 MAX will be upgraded to fly, allowing the company to resume deliveries and help slow down order cancellations. Broader macroeconomic conditions will affect the order book for some time. Boeing had at one point hoped to produce at least 55 737 MAX aircraft per month and now expects to produce 72 aircraft for the entire year 2020.
Boeing lost $4.7 billion in the first quarter, and cash is likely to be in the spotlight this time as well. The company's supply problems are mostly related to cash problems, with a lot of cash going into maintaining the supply chain and maintaining hundreds of aircraft built but not yet delivered, but little funds coming from customers. Earlier this year, Boeing brought in a new $25 billion in debt. But the company added $1 billion to the new annual interest payments. Wall Street expects a loss of $2.30 in the second quarter, factoring in compensation payments to customers for delays, severance payments and termination indemnities related to restructuring, and issues related to the pandemic. At some point, even if additional liquidity is available, Boeing needs to stop spending cash.
The company's defense business has remained largely on the back burner as commercial sales have increased, but with the fall in commercial revenues for defense and space, it is likely to account for almost a third of total revenues this year.
The defense business has had its share of miscalculations, but over the past two years, the company has won a series of high-profile tenders that should generate billions of dollars in revenue in the coming years. These programs are mostly at an early stage and will not help save this financial quarter. Boeing's growth in recent years is largely due to new aircraft sales in emerging markets, and China is a foremost customer for the company. In 2018, China accounted for almost 30% of the 737 deliveries and has been a significant part of the total supply portfolio in recent years. Tensions between the USA and China are high, and Boeing's order book could be reduced if the trade war breaks out again. Boeing got involved in tariff battles two years ago and is pushing the international fight against Canada over desired tariffs for a competitor of small jets. If China wanted to retaliate against the U.S., slowing down domestic recertification of the 737 MAX would be a powerful way to do so. As China's Comac is trying to destroy the duopoly of Boeing and Airbus on commercial aircraft by mid-decade, the country has every reason to retreat from Boeing sales.