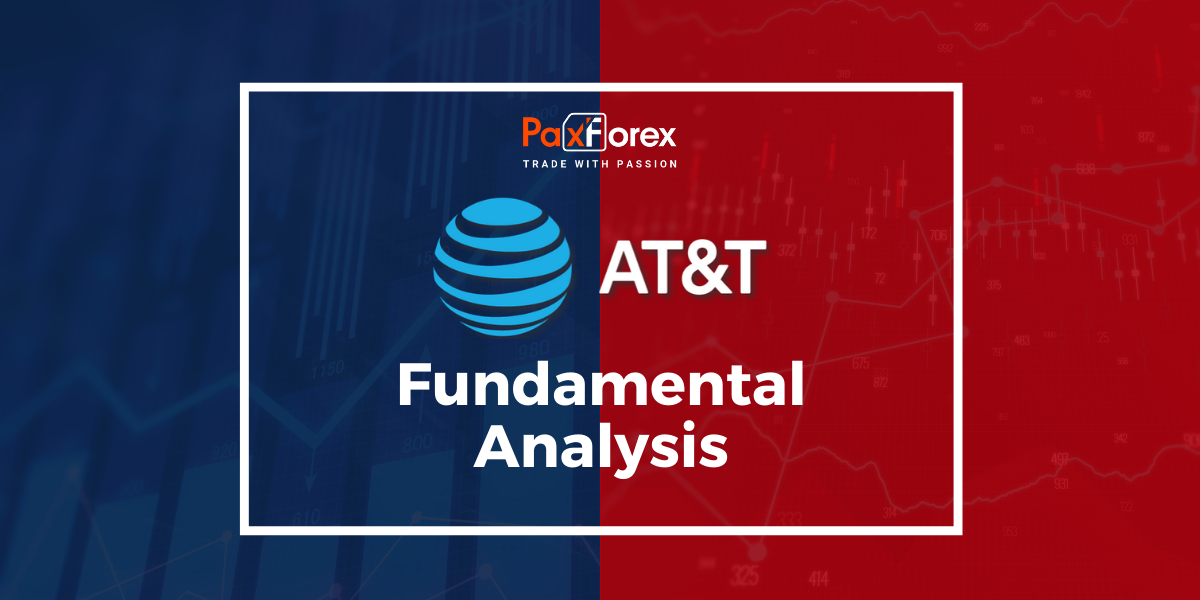 Source: PaxForex Premium Analytics Portal, Fundamental Insight
AT&T (NYSE: T) appears on the radar of many traders as the company's long history provides some security. And wireless access today is practically an indispensable service.
The telecommunications giant generates billions of dollars in revenue and free cash flow, but it is also burdened with problems. Here is all you need to know before you decide to trade AT&T.
The state of AT&T has deteriorated recently. It has spent billions building a media empire by buying DIRECTV and then Time Warner (now WarnerMedia) while accumulating significant debt. By the end of the first quarter of 2020, it was weighed down by more than $160 billion in debt. In April, it added another $5.5 billion to its debt burden to provide financial flexibility during the COVID-19 pandemic.
The pandemic has put an end to the company's debt repayment and business development plans. When AT&T reported its fourth-quarter 2019 results in late January, it was in a different position. WarnerMedia accounted for 18% of total operating profits, and AT&T expected free cash flow to be about $28 billion in 2020 after the company received a record $29 billion in free cash flow in 2019.
The pandemic caused cinemas to close and advertising to decline, which affected WarnerMedia's revenue. The division closed the first quarter with $7.4 billion in revenue, compared to $8.4 billion the previous year.
The economic impact of the pandemic exacerbated the widely publicized decline in AT&T's DIRECTV business. Subscribers are abandoning their services as the old paradigm of cable television is fading as the consumer shifts towards streaming media. The service, along with ultra-high quality video offers, lost more than 1 million subscribers in the first quarter after the total number of subscribers fell by more than 4 million in 2019.
AT&T launched various streaming services to somehow stabilize the situation. One of them, called AT&T TV, made its debut in March and pushed live TV broadcasts and sports competitions as the main argument after the cancellation of all live events. The company then launched HBO Max on 27 May. Traders will have to wait for the second-quarter results to see if these efforts have begun to bear fruit.
Along with these difficulties, AT&T had to agree with the investor-activist Elliott Management. The hedge fund demanded that the company stop making acquisitions and focus on its core telecommunications business and debt reduction, as well as implement changes in management.
Despite the difficulties, AT&T offers a convincing investment concept. At some point, the pandemic and its consequences will pass, allowing AT&T WarnerMedia to recover. The company's core wireless business continues to thrive, with revenues up 2.5 percent year on year in the first quarter as customers increasingly switch to more expensive unlimited data access plans.
Later this summer, its wireless network will provide 5G coverage throughout the country. As 5G technology offers a faster and more responsive network, consumers using it can transfer content and perform other online activities from mobile devices more efficiently than they do today. This is one of the reasons AT&T combines its HBO Max streaming service with 5G access.
In the short term, AT&T is in a difficult position: WarnerMedia's revenues are falling, and the entire company is burdened with debt in a recession caused by the pandemic. However, for a patient trader, AT&T shares still represent a long-term perspective.