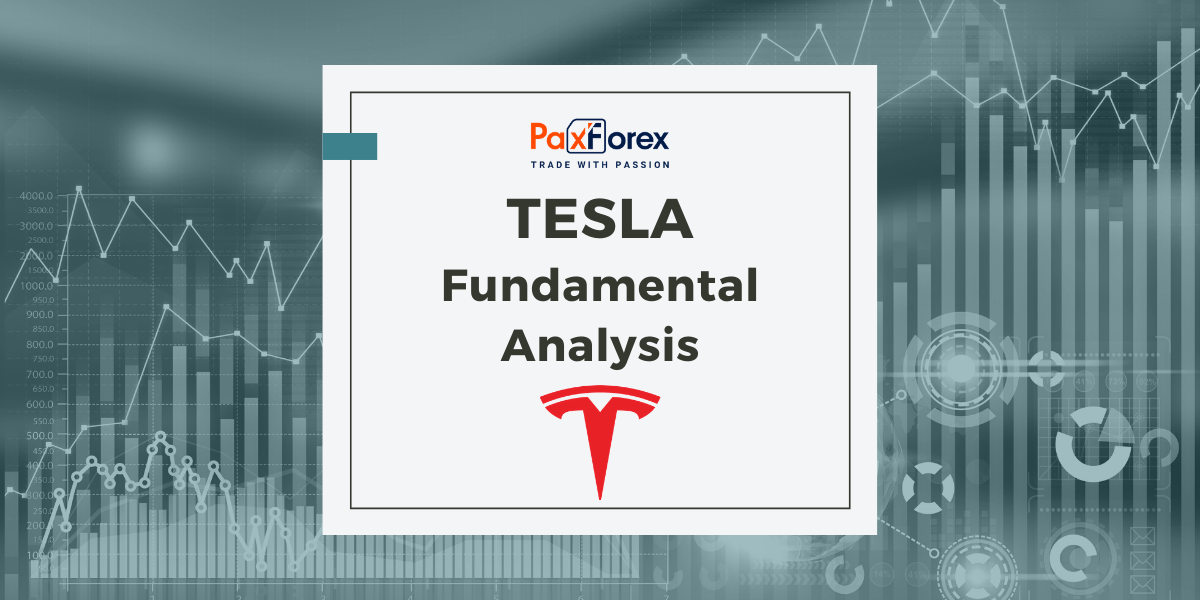 Source: PaxForex Premium Analytics Portal, Fundamental Insight
One of the fastest-growing stocks on the market today is Tesla. The company is difficult to analyze because it is not possible to evaluate the company's finances. At any given moment it seems that Tesla electric cars can simultaneously ruin expectations, miss deadlines, lose money, and gain market share.
The first thing to do when assessing an automobile company's financial performance is to look at its estimates - such as value for money - and compare them with their historical values, as well as those of other automobile companies.
With Tesla, however, there is a problem: the company has not published annual profits for 10 years, and only in the third quarter of 2019 started generating positive free cash flow. This means that indicators such as P/E ratio cannot be calculated, and indicators such as price/free cash flow ratio cannot be compared historically. Some buyers of Tesla shares claim that since it is a fast-growing, destructive company, it is impossible to measure it in comparison with mature automobile companies such as Toyota or GM. True, for a company like Tesla, which has increased its revenue by more than 400% over the past five years and its margin and operating cash flow by more than 700% over the same period, you should expect to pay more than you would pay for a company like GM or Toyota's declining cash flow. But although Tesla is now the most valuable car company in the world, with a market cap of $258.4 billion, Toyota #2, with a market cap of $175.7 billion, brings Tesla more than 10 times more revenue, cash flow, and gross profit.
Tesla aims at 25% of gross profit from car sales. That's a lot for a carmaker, but if Tesla can consistently generate 25% of gross profit, it will generate about $10,000 to $15,000 gross profit for each Model 3 or Model Y sold. On the contrary, the average gross profit of Toyota for the last fiscal year was about $5,000 per car. Thus, for the Tesla to earn a valuation similar to that of Toyota, it must be able to sell at least one-third of the number of cars that Toyota sells during the year, which would be approximately 3.4 million, or approximately 10 times the amount of Tesla sold last year.
To increase production 10 times the current level, Tesla would have to open additional factories outside of Fremont, California, a factory recently opened in Shanghai, and a planned European factory in Germany. It will take years, if not decades. Toyota already has dozens of plants around the world, including 14 in the US alone.
Also, Toyota offers more than a dozen different models, including cheap sub-compact Yaris, full-size Highlander SUVs, and Tacoma pickups, attractive to all types of buyers. Currently, Tesla offers four models: two crossover SUVs and two sedans. After all, Tesla can grow to a point where it can justify its current assessment - after all. And one cannot say where the stock price will be once the company reaches that point. Tesla shares are already so detached from their fundamentals that it is impossible to predict.