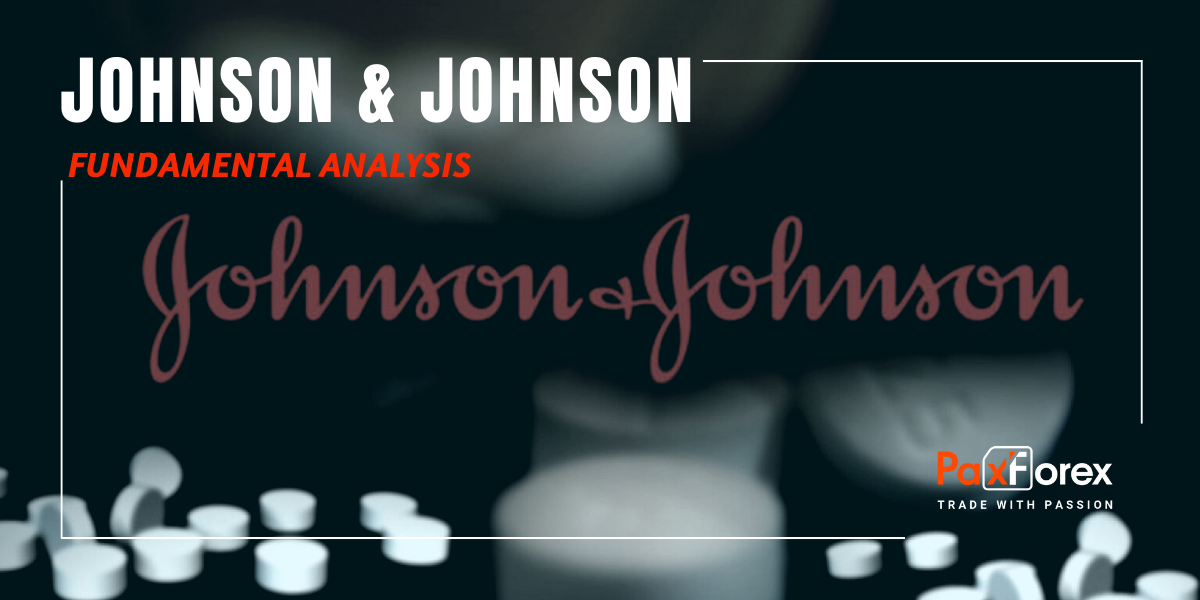 Source: PaxForex Premium Analytics Portal, Fundamental Insight
Johnson & Johnson (NYSE: JNJ) is the world's largest healthcare company with a market capitalization of about $400 billion. J&J holds leading positions in three different segments of healthcare - pharmaceuticals, medical equipment, and consumer healthcare. In March, Johnson & Johnson announced it would invest more than $1 billion in the development of a COVID-19 vaccine. It is more than the market capitalization of some pharmaceutical companies that also intend to develop new coronavirus vaccines.
Johnson & Johnson originally planned to begin Phase 1/2a of clinical trials for its COVID-19 Ad26.COV2-S vaccine in September. In June, however, the company announced that it would be able to accelerate the schedule and instead begin early research in late July. That was great news. And it was the result of strong preclinical data as well as a lot of discussions with regulators. Assuming that no other pharmaceutical company will start clinical trials before J&J, a major medical company will be the 25th company to initiate human clinical trials for a coronavirus vaccine. But, 24 other companies that develop the vaccine are ahead of the J&J Ad26.COV2-S.
Some of the leaders before J&J are large pharmaceutical companies that have quickly established partnerships to develop the COVID-19 vaccine, including AstraZeneca and Pfizer. Others are smaller bio companies such as Moderna and Novavax. All of them have outperformed the world's largest healthcare company to move more quickly to clinical trials.
However, this relatively sluggish start did not prevent Johnson & Johnson from remaining in the spotlight. When President Trump invited seven pharmaceutical companies to the White House to discuss the threat posed by the coronavirus in March, J&J came to the table. Not surprisingly, the White House favored J&J. As mentioned, the company is the largest in this business. Brand and products of Johnson & Johnson are well-known names. There are advantages to being big and famous. Johnson & Johnson can catch up quite quickly. Chief Scientist Paul Stoffels said during the company's Q2 conference call earlier this month that negotiations are already underway with the National Institute of Health to begin Phase 3 of the study ahead of schedule. He added that the study, which is being conducted late, could start in late September. It will change the schedule and put J&J only two months behind Moderna. The company has enough resources to scale up quickly. J&J is actively expanding its production capacity to supply over 1 billion doses of COVID-19 vaccine by the end of next year. It may not be as profitable as it looks. J&J has committed to selling its vaccine at cost during a global pandemic if it is approved. Big health funds will probably not see as much leap forward as other companies if they get approval for their COVID-19 vaccine. Besides, many people are likely not to realize how large a relative J&J novice is in the vaccine development world. Although the company has been researching vaccines for many years, it received its first major official approval for an Ebola vaccine from the European Commission just a few weeks ago.