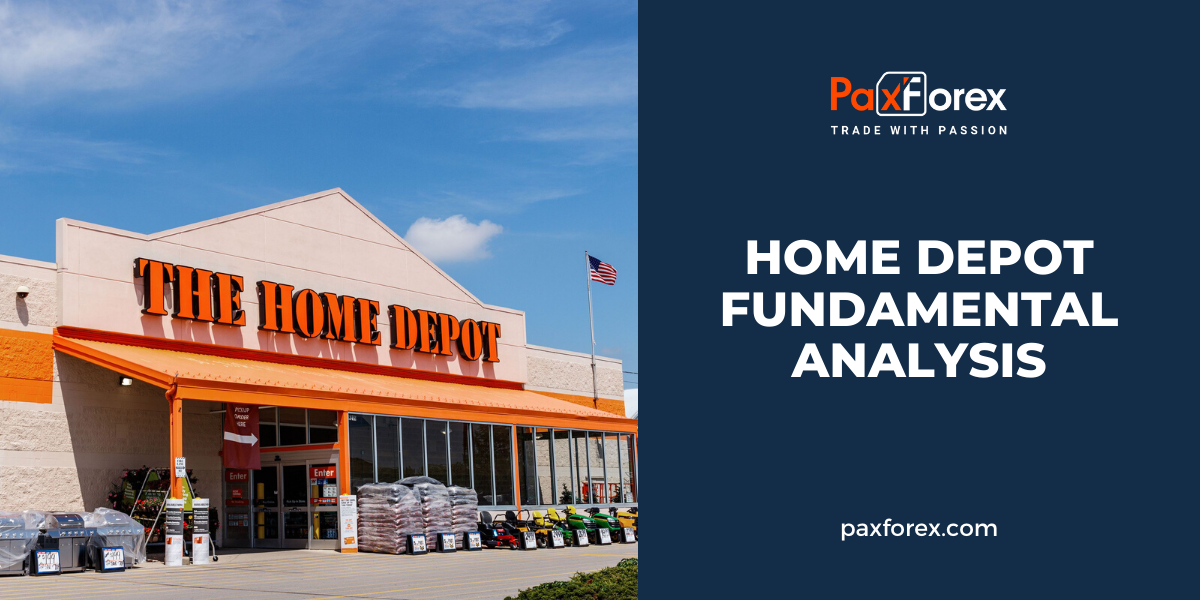 Source: PaxForex Premium Analytics Portal, Fundamental Insight
Home Depot has been attracting a lot of attention lately. This may be because shares rose by 16.5% in 2020, compared to a negative yield of 2.3% for the S&P 500. This is impressive as it is already a major retailer - and this is even more striking given that retailers as a whole are in different stages of recovery from the pandemic. Due to the spread of coronavirus, the company was forced to give up Spring Black Friday, an important season for home improvement stores. Potentially missing one of the busiest events of the year meant trouble, as evidenced by the brief drop in the share price in March and April. But in the end, there were nothing to be afraid of - years of investment in e-commerce opportunities equated to a star-studded financial 2020 first quarter for the big-box store, and management reported that in the last three weeks of April online traffic consistently exceeded Black Friday's level. The entire home improvement industry has done quite well, as so many people are at home. According to the U.S. Census Bureau, home retail sales increased by 4.4% until April compared to 2019. In contrast, retail sales and catering as a whole declined 4.3% compared to April 2019. But Home Depot's numbers were better than the U.S. average, showing 7.5% growth in comparable stores last quarter.
Total first-quarter revenue increased 7.1 percent to $28.3 billion, but earnings per share fell 8.4 percent from the previous year. Higher interest expenses were one of the reasons as the company expanded its short-term credit line and short-term borrowings, not to mention the release of a new $5 billion long-term debt at the end of March. The product line also got out of control, sales of cleaning agents with lower margins rose sharply, and the installation of houses took a large turnover within a few weeks, leading to an economic blockade. Online order fulfillment tripled by the end of April.
The company took $850 million to pay its employees' salaries and bonuses, in addition to providing additional paid leave (which will be paid as a bonus at the end of 2020 if not used). Overall, although the company's profit was lower than last year, this was not the case with free cash flow (revenue less cash operating and capital expenditures). Free Cash Flow increased by 28% YoY to $5.15bn. The management said it suspended the stock buyback program in March, but the current dividend yield of 2.3% is at a reliable level.
Home Depot rejected any financial forecast for the current quarter or the entire fiscal year 2020, even though its higher than usual growth rate lasted until May. However, as the economy slowly begins to recover in the coming months, Home Depot has a solid foundation on which to build. Retail trade, especially those related to the cost of improving housing conditions, often takes a serious blow during a recession. This current downturn is by no means normal, but the fact that Home Depot is doing a good job speaks for a solid customer base in the store, as well as the strength of the e-commerce business and the investment in flexible order fulfillment. Home Depot quarantine will not last forever, but this retailer is one of the best of its kind.