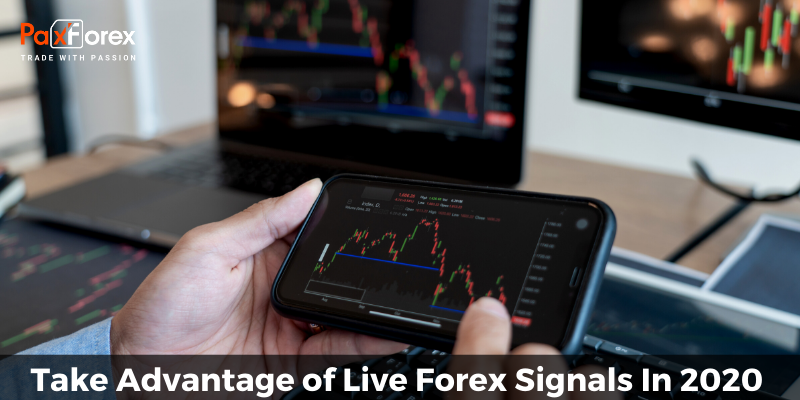 There are scenarios when a trader doesn't have the time or the energy to analyze the market. It is not that hard to understand: depending on the instrument you are trading with and the strategy you are using, the analysis stage can take a while. But trading without any analysis is the worst idea ever, so what's the solution? One of the answers is: using signals for Forex trading.
What Are Live Forex Trading Signals?
Before opening any new position, a trader has to do some prep work. This process will include establishing the reason for this particular trade being a good idea, the size of the position, the entrance/exit points and the risk prevention techniques. Although it all sounds very straightforward, strategizing your trades can get tricky.
Specifically due to the fact that there are so many options when it comes to trading. From trading style to trading strategies and techniques, possibilities are endless. So, as we have mentioned before, a certain amount of traders chose a different path, widely known as copy trading.
Copy trading is an act of sourcing information about successful trades performed by other traders and quickly using the same data to open the same or similar position on your account. This approach is called signal Forex trading, because every trade setup is basically a Forex trading signal.
Now, just as there are limitless amounts of trading styles, strategies, approaches and techniques, there are also a lot of services that offer signals for Forex trading. And selecting the correct signal source can be both difficult and risky. In order to make sure you will go with the right source, let's first take a look at who and how can benefit from Forex live signals.
The Benefits Of Live Forex Signals
As we speak of benefits, the very first one is obvious: simplified trading. Instead of spending hours reading charts, news and adjusting every possible tool, you just take the specific setup and copy the parameters. The main task here is to select a trustworthy source and ensure the trade you are copying is applicable to your case. Applicable means that it generally agrees with how you would usually trade. Because some trades can seem very promising, but they are processed with higher amounts, so in case you cannot afford to trade that big it might not turn out as good.
The next category of those who benefit from Forex signal trading are companies and individuals who provide those signals. There are several ways for providers to spread information: interactive instruments added to your MT4 terminal, live blogging and constantly updating reports.
Most brokers will offer a live Forex signal solution to their clients for free. While individual traders who make extra income by educating and selling trading setups will charge a fee. Getting live Forex signals from your broker is more or less safe, especially if you have been trading with them for a while. But getting your info from an unfamiliar service or person can be slightly tricky. Which brings us to the next segment of those who benefit from Forex signals live — the scammers.
Forex trading is a field strongly associated with financial transactions. And wherever there is money, you will find a good amount of fraud. Forex signal live providing scammers vary in the ways they deceive traders. Sometimes they would charge for fake or non-confirmed info, which will not bring any results during trading. In other cases signal con artists take money without gigging anything in return. The most extreme scenarios include account info theft, identity theft and more.
So, what are some of the steps a Forex signal trader can take to avoid running into scams? Mainly, it is the research. Consider using browser built-in tools that scan websites for activity to see how long the service has been in business for and how many customers return to using it. Scout through trading forums and comment sections to discover names of individual traders and companies that were caught in any type of fraudulent activity. Consider consulting with your broker and ask for alternatives that they can provide you with.
Whenever you do decide to pay for live Forex signals, make sure that the amount you are about to transfer will not hurt your overall budgeting. Always use secure payment channels and don't provide any restricted personal information such as PIN codes, Social Insurance numbers or CVV codes from the back of your bank card, unless it is absolutely required.
As we have already discussed the most dangerous way of sourcing Forex live signals, it would make sense to talk about the safest as well. Let's circle back to signal reports provided by brokers.
The Risk Free Source Live Forex Signals
Every trustworthy broker is invested in the success of their traders. That's why they are willingly providing tons of helpful reports, tools and materials. Forex signal live traders always have an option to take advantage of all the resources presented by the broker. It's not just the easiest way to go, it is also the cheapest, since brokers don't usually charge for information.
So, how does signal Forex trading work when you are sourcing trading setups from your broker. A Forex signal trader will start the same way as anyone else looking to profit from currency exchange. You will need to do some research about trading in general, and the approach you are about to implement, in our case — signal trading, in particular.
Then choose your trading instruments. Across most markets the word "instrument" is used to refer to assets you are interested in trading. This way currency pairs, indices, commodities and so on, are trading instruments. For those who are just beginning their foreign exchange career, it would be wise to focus on just the currencies at first. As you go on and gain more experience, you can always bring diversity into your portfolio by pairing a currency unit with cryptocurrency or a commodity index. On top of that, new traders should always focus on currencies that get the most liquidity, meaning they get traded more than any other pairings.
There are two reasons to choose liquid pairs: one, they are most likely to be profitable and two — there is more than enough information about them in easy access. Take a look at your broker's daily technical analysis report or a fundamental analysis reports summary. Chances are the currencies like USD, EUR and GBP are going to be mentioned the most. This is a classic supply meets demand scenario: as more traders use major pairs as their main instruments, the more data there is about them.
Once you have found the channel through which your broker transmits signals for Forex trading, it's time to try them in action. Which brings us to the next question: how do we know when the signal is attention-worthy or not?
What Are The Best Live Forex Trading Signals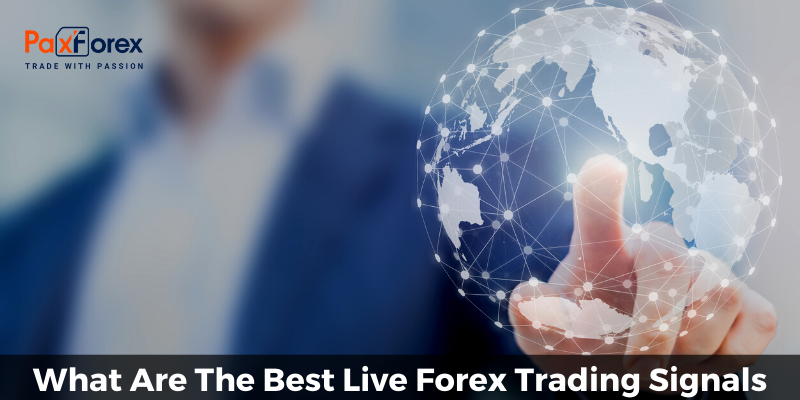 Well, first things first, all Forex trading signal posts in your broker's blog are valid. This is because signal reports are created by a team of human professionals, who prioritize their time by delivering only the cream of the crop. But this doesn't mean that you have to trade each single signal provided by the broker. You'll need to learn to pick and choose.
As previously mentioned, filter out the signals that concern your instruments. That way, if you are normally trading USD against the British pound, a signal on trading USD for Gold will be educational, but not useful. You can still take a couple of moments to read it, however, if you think you will ever be shifting into that area. There is no such thing as too much knowledge when it comes to currency trading, so do your best at learning from every piece of information you will ever find.
Next, judge on the quality of the live Forex signal in front of you. Any good analysis report or Forex trading signal will start with a few words of explanation. Every trade happens for a reason, and in order to be truly successful you'll need to both know and understand that reason.
Some say that signal Forex trading doesn't require any background experience, but for a comprehensive trading process, and most importantly — fruitful results, being aware of the basics is a must. For an example let's look at the most liquid currency in the world, the United States Dollar. There are things that are known to always affect the USD rate, such as statements by FOMC. And then there are also factors that occurred out of nowhere and affected the market dramatically (such as the COVID-19 pandemic in 2020).
Being familiar with these factors will not only make it easier for you to understand and effectively use the suggested setup, but also educate you and prepare you for all other upcoming trades. It doesn't mean that you have to become a fundamental analysis expert to engage in Forex signal trading, but having a general idea is certainly an asset.
Finally, a good Forex signal live post will include options for both a long and a short position. Depending on your intentions and account balance, you might be looking into taking a certain direction. Therefore, both bullish and bearish positions should be presented.
An exception would be when the market is aggressively moving in the opposite direction from where you planned to go. Let's say there is a strong downtrend that doesn't seem to be reversing any time soon. In such a scenario going long, or in other words, purchasing an asset would simply be illogical. So, the report will explain that going long at the moment is a questionable solution and not suggest any setups.
In terms of technicalities, Forex signals live suggestions tend to be pretty self-explanatory. You will get a timeframe suggestion best suited for the setup, specification on whether the position will be long or short, as well as a specific entry point and take profit suggestions. When you choose to follow Forex signals live, make sure not to make any adjustments. The positive result is only possible when the trade is copied exactly, although even then you won't have an absolute guarantee.
Now you know what Forex trading signals are, how they work and where to find them. So, now it'll make sense to define some of the qualities and habits of a potentially successful Forex signal trader.
How To Become A Successful Forex Signal Trader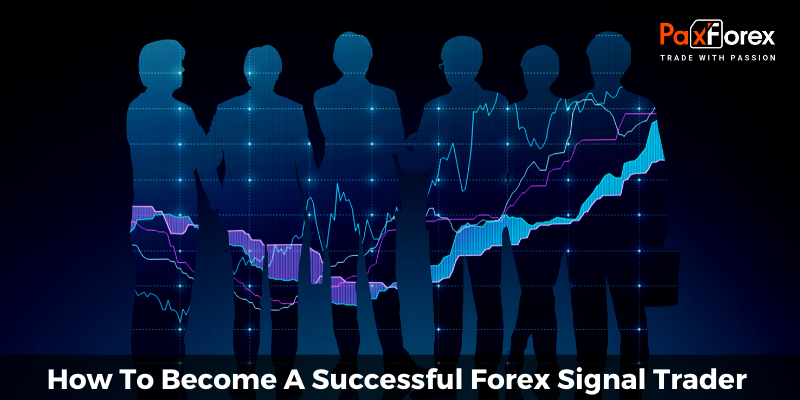 Finding signals for Forex trading is important, but there is still more to being profitable in this type of trading. Every approach to profiting off foreign exchange is designed to suit certain categories of traders. This way, scalping, for example, isn't a good option for people with low stress resistance levels or those who are looking to operate with large sums of money. Similarly, signal Forex trading calls for some specific skills and characteristics to be implemented correctly. Here they are:
Make sure that Forex signal trading is for you. It's true that copy trading doesn't require as much technical skills or in-depth knowledge as other methods. However, a good signal trader needs to fit the profile. A lot of professional traders ignore the option to copy trades, because they only trust their own analysis and don't want to rely on any other source. That's why to comfortably adopt Forex signal trading as your main strategy you might want to be relatively inexperienced and trusting.

Learn to look for a second opinion fast. Disregarding the signal provider you end up using, you will sometimes need to trouble check the info. And since live Forex signal trading is a very on-the-spot kind of process, your time researching has to be cut to the minimum. This involves both advanced scouting skills and an ability to control emotions under pressure.

Master questioning your own confidence. Of course, a successful trader is more often than not a confident trader. But at the same time, there has got to be a small "what if" at the back of your mind. This means that no matter how skilled you think you are, establish several solutions for when your expectations aren't met. For instance, the signal you sourced suggests that USD is going to gradually rise in value over the next several hours and the chart indicates the opposite. You can either choose to go against the greenback, or switch to trading a different pair entirely.

Make it a habit to keep learning. The higher is the income you gain from Forex, the more likely you are to continue exploring your options and adopt new techniques and strategies. Trader's evolution is never really over, which means that you should not allow yourself to get lazy in terms of finding new ways. Forex signal live can surely be satisfactory enough for a certain time period, but there is so much beyond its borders, and your job is to get familiar with as much as possible.

Start analyzing your every experience. While gains feel very satisfactory and setbacks don't, they are all equally valuable to you. Especially reflecting on the unsuccessful experiences can teach you to filter through Forex live signals and choose the ones that work for you. Plus, this can be a great way to check the source of your signals. Fails are inevitable part of the currency trading journey, and all we can do is to look at them as education possibilities. And in case you are too hesitant to learn from mistakes using your live account's balance, you always have an option to practice and polish off signal Forex trading in a free demo account.
Live Forex Signals: Summary
Forex signal trading will be a piece of cake for anyone who is always ready to go one extra mile. This means you shouldn't assume that copying trades is as simple as finding a source and follow it blindly. There is still research, double checking, texting, learning, failing and rising. So, be ready to have a few bumps on the road before you succeed.
The good news, however, is that Forex live signals are far less complicated that most other trading methods and approaches. So, getting a hang of it won't be too much of a deal. Just remember to move on to something more complex, when you think you are ready to achieve new heights.