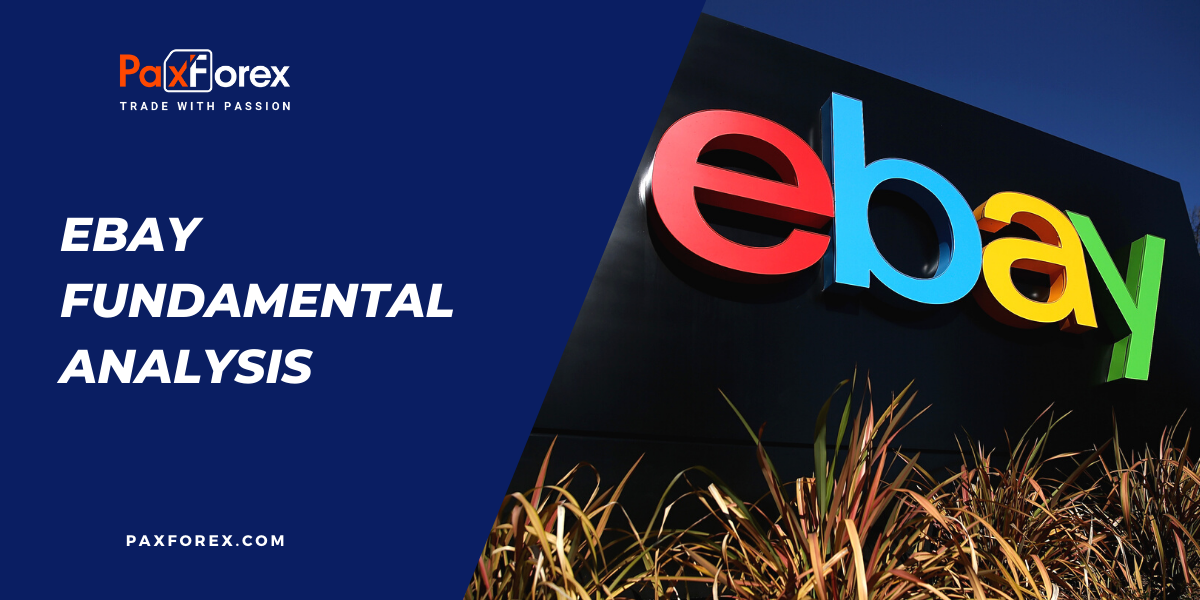 Source: PaxForex Premium Analytics Portal, Fundamental Insight
The coronavirus pandemic has dealt a heavy blow to the economy, causing significant damage to some industries while stimulating others. eBay, an e-commerce company, joined the last camp. The company managed to make money in the second quarter, thanks to increased consumer participation in e-commerce due to quarantine restrictions and self-isolation.
E-commerce sales in the U.S. are predicted to grow 18 percent this year due to the impact of the pandemic. It suggests that eBay's second-quarter numbers will be maintained. Let's analyze what awaits the company to see if it is worth considering these shares as an investment.
In the second quarter, eBay showed an impressive 18 percent year-on-year revenue growth to $2.9 billion. That increase was backed by a huge 26 percent improvement in gross merchandise volume (GMV), which outlines the total value of transactions processed through eBay. GMV approached $27.1 billion in the second quarter, a significant reversal of last year's trend.
eBay gets the bulk of its fee income from transactions processed through its platform. It makes growing GMV a key component of eBay's success.
The second-quarter growth in GMV was driven by a sudden surge in customer activity. Over the previous three quarters, the number of active buyers stopped at 174 million and increased to 182 million in the second quarter as more consumers switched to online channels during the lockdown.
Given the strong performance of the second quarter, it is not unusual that the share price reached new heights after it had remained below $50 for many years.
Can the second quarter's success continue? eBay thinks so. The company expects third-quarter revenue to be $2.6 to $2.7 billion. The business increased its annual forecast by $1 billion to reach $10.6 billion.
In April, eBay also appointed a new CEO, Jamie Iannone, previously of Walmart's e-commerce division. Iannone wants to implement much-needed technology improvements that are focused on the needs of eBay users.
He plans to upgrade the aging eBay platform using next-generation technologies, such as Artificial Intelligence, to empower both buyers and sellers. He said the plan "will be several years in duration," so it will take some time before to enjoy the fruits of his efforts.
The success of eBay in the second quarter is likely to continue at least this year. A survey of the U.S. adult population showed that 71% plan to make more than half of their vacation purchases online this year. Another survey discovered that nearly half of respondents are more interested in online shopping this vacation season than they were last year. That increased interest in vacation shopping may help eBay grow further.
But its prosperity may be short-lived if the company does not solve the problem with outdated GMV in the quarters before the pandemic. It is quite appropriate that eBay hired a former CEO of Walmart, as Walmart predicts to outpace eBay as the second-largest e-commerce player in the U.S. this year. And given that GMV works through the eCommerce platform Shopify, eBay will become the fourth largest eCommerce player in the United States.
Changing the eBay platform under Iannone's leadership is just beginning. Meantime, the company will benefit from organic growth in online stores over the next few quarters. After that, unless it provides sellers and buyers with an improved shopping experience, eBay will fall further behind its e-commerce competitors. .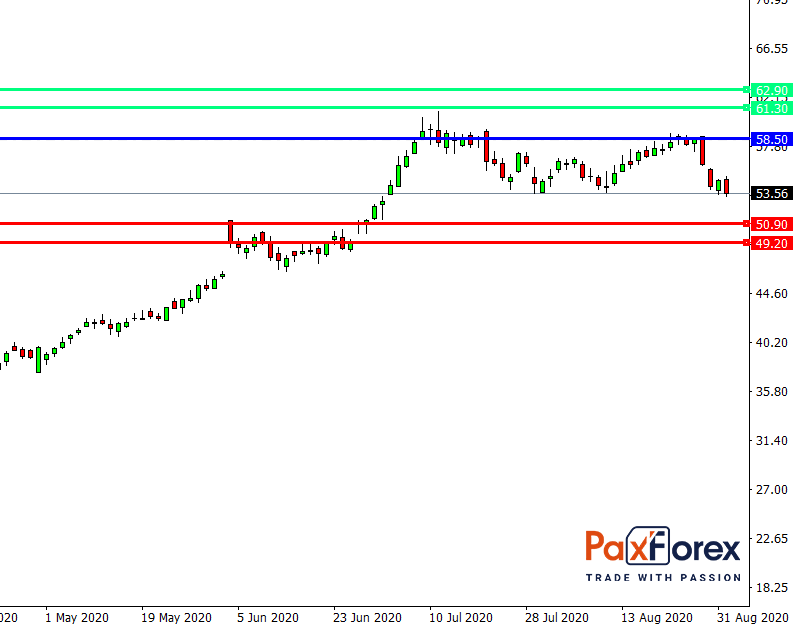 While the price is below 58.50, follow the recommendations below:
Time frame: D1
Recommendation: long position
Entry point: 54.27
Take Profit 1: 50.90
Take Profit 2: 49.20
Alternative scenario:
If the level 58.50 is broken-out, follow the recommendations below.
Time frame: D1
Recommendation: long position
Entry point: 58.50
Take Profit 1: 61.30
Take Profit 2: 62.90