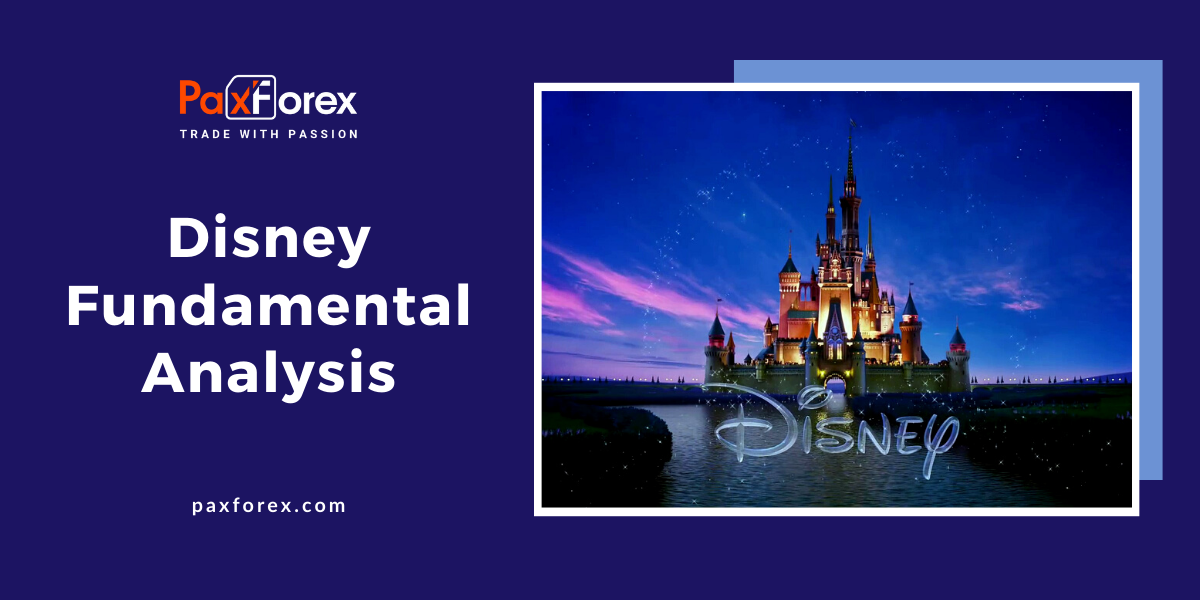 Source: PaxForex Premium Analytics Portal, Fundamental Insight
Walt Disney (NYSE: DIS) has been going through a lot lately, with some of its businesses not in the best shape. Its growing Disney+ service last week brought another hit, attracting public attention with Hamilton's big debut. Professional basketball players and footballers arrived at Disney World in Florida earlier that week to resume their sporting activities. On the weekend, Disney World opened its doors to visitors for the first time in four months.
Some media companies have succeeded during the pandemic, involving all their resources to entertain the people during the lockdown. Disney is as strong as they are when it comes to intellectual property, but that has not been enough. Shares fell 17% in 2020, down 22% from last year when they reached a record just before Thanksgiving. Closing theme parks around the world and stopping projectors at multiplex operators absorbed two of Disney's three main business segments in fiscal 2019. Disney is still a millionaire with an enviable collection of assets, but its journey back to where it was at its peak is long.
Disney - a huge media magnate, with annual revenue of 78.2 billion dollars. It would seem that the company was a highly diversified player with industry-leading media networks, theme parks, and studio entertainment segments, but the pandemic made it vulnerable on most fronts. Resorts belonging to minorities in Hong Kong and Shanghai closed at the end of January and by the second weekend in March, all the country's resorts were closed. Cinemas also closed, eliminating the profitable initial production of large-budget films.
The collection of Disney media networks, which includes ABC, Disney Channel, and ESPN's majority stake, holds better than the other two segments, but there are also pressure points. Advertisers will not spend that much money during the recession, and the pandemic itself has slowed down the production of new film content.
That's not all bad news. Disney's fourth-largest segment in fiscal 2019 - direct sales to consumers and international - almost quadrupled in the first half of fiscal 2020, overtaking studio entertainment as a new bronze medalist. Disney+ is the main reason for the rise in this segment.
The direct consumer and international segment is also the only segment that has an operating deficit during the first six months of the fiscal year 2020, but that will change with the expected losses for its theme parks and studio entertainment this fiscal year. Disney will generally publish losses in its next two quarterly reports, but Wall Street sees a unanimous return to healthy profitability in fiscal 2021.
Disney's ability to be a millionaire largely depends on the trajectory of the pandemic. We are currently seeing pressure on Disney's financial performance and assets, but the company must eventually become even stronger than it was before the COVID-19 crisis.
Disney+ will only continue to grow its global audience. Disney is lagging behind all six of last year's box office movies, and in the future, the studio entertainment segment will remain on top. Movie releases may lose some of their brilliance, but the digital distribution of fresh films in this segment will continue in the future. Disney theme parks will be back after COVID-19 ceases, and the company will continue to build amusement bars during the quiet period.
There is no denying that the situation will not look good shortly, but Disney could have a year, if not two, to become a much stronger company than at the end of last year when its shares were at their peak in price. Disney will return to the form of an iconic media leader - and a multimillionaire