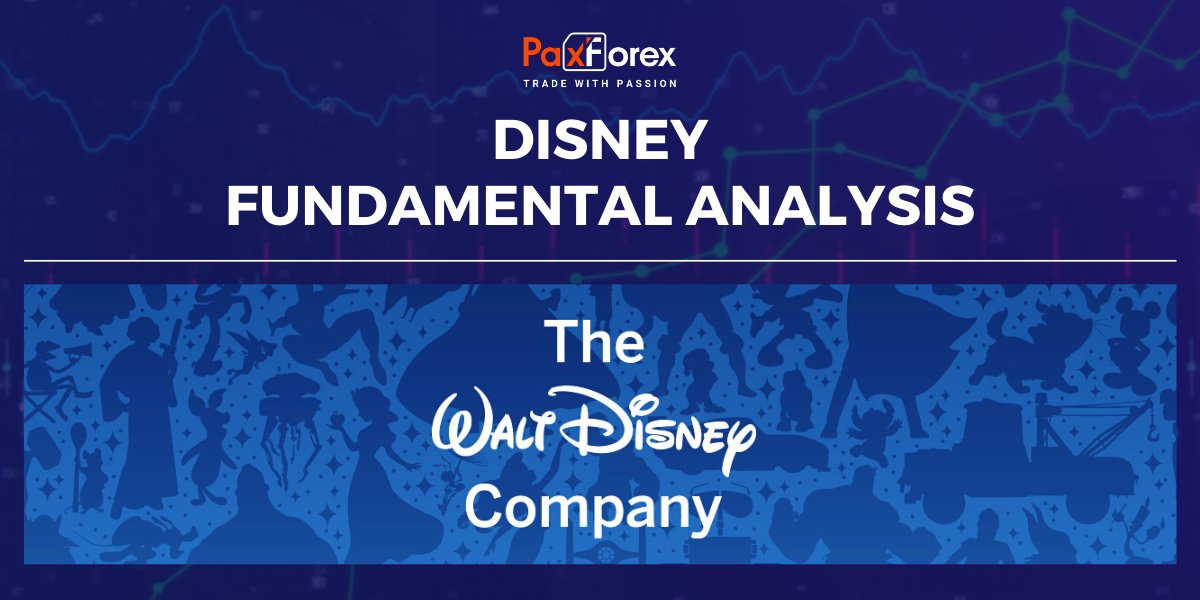 Source: PaxForex Premium Analytics Portal, Fundamental Insight
Shares of Walt Disney (DIS) rose 5% on Tuesday after the media giant reported unexpected profits for the third quarter. The wild rally on Wall Street has been going on since February, as the stock market was shocked against the backdrop of the coronavirus. Disney shares were falling in price as the company closed its theme parks and suspended travel to Disney Cruise Line. The company's quarterly results showed some of these negative effects. On May 11, Disneyland in Shanghai opened for the first time since late January, with limited opportunities. Restrictive measures in the form of mandatory wearing of a mask and measures for social distance were introduced. Tickets on an opening day were sold out within a few minutes. But Disneyland in Hong Kong, which opened on 18 June, was again temporarily closed due to new restrictions imposed by the Hong Kong government and health authorities. American parks have been shut since mid-March. Later in Fune, NBA club owners decided to restart 2019-20 games at Disney's ESPN Wide World of Sports Complex in Florida. It boosted the shares by 1.2% by the beginning of the session. The season began on July 30.
On July 3, the movie version of the Broadway hit blockbuster "Hamilton'' began to be broadcast only on Disney+. It was first projected that it would be released in cinemas in October 2021. The film featured stars such as Lynn Manuel Miranda and David Diggs. Disney reportedly paid $75 million for the rights to spread the musical around the world, which in 2016 won 11 Tony Awards and a Pulitzer Prize for Dramatic Arts. As expected, "Hamilton'' reportedly attracted more Disney+ subscribers. Following the global launch of the film, the Disney+ app was downloaded over 752,000 times within Friday and Sunday (July 3-5), as per TechCrunch, based on Apptopia data. The US accounted for 458,000 downloads. This represented 74% of the US downloads compared to the previous four weekends in June. As Disney completed its free trial week before the Hamilton debut, all downloads were paid. On July 13, Goldman Sachs began covering Disney shares with a buy rating and a price target of 137. It expects that Disney+ will reach 150 million subscribers by 2025. "As Disney+ approaches a Netflix-like scale, it will approach a Netflix-like economy," Goldman analysts wrote in their note. But July 16, Cowen downgraded the rating of the Disney company and cut the price target to 97 from 101. In the note, Cowen predicts that the pandemic will have a lasting impact on Disney theme parks and cinemas. On that day, stocks fell by 1.2%. After closing on Tuesday, Disney reported an unexpected fiscal profit for the 3rd quarter at 8 cents per share. This is 94% less than in the same quarter last year. But analysts expected a loss of 43 cents per share. Revenue fell 42% to $11.78 billion, missing Zacks Investment Research's $12.65 billion investment estimate. Parks' revenue fell 85% to $1 billion, while the studio's revenue fell 55% to $1.7 billion. Chapek said the movie "Mulan" will be released September 4 at Disney+ in the U.S., Canada, Australia, and New Zealand for $29.99. The release of the film has been delayed for several months due to the pandemic. Next year, Disney plans to originate an entertainment streaming service under the brand name Star with content from ABC, Fox, FX, 21st century, Freeform, and Searchlight. As of August 3, Disney+ had 60.5 million subscribers, compared to 54.5 million in early May. The media giant's previous forecast was for 60-90 million subscribers by 2024. It is hard to believe that Walt and his brother, Roy O., as a Disney Brothers Cartoon Studio cartoonist in 1923 Disney, released a $261 billion advertising giant. In 1928, the first Disney sound film "Steamboat Willie", the first animated film "Snow White and the Seven Dwarves" in 1937, and in 1950 - a raid on television. In 1955, Walt's amusement park was named "Disneyland in Anaheim". Second place in Orlando, Florida, was advertised in 1965. The subsequent year, Walt passed away, and Roy was left in charge. Walt Disney World opened in 1971. But the business continued to expand. During the fiscal year that ended in September, the theme park and media giant raised nearly $70 billion in sales. Disney stocks declined even more as coronavirus fears continued to shatter Wall Street, but it found a bottom line before profits were 14 percent on March 24.