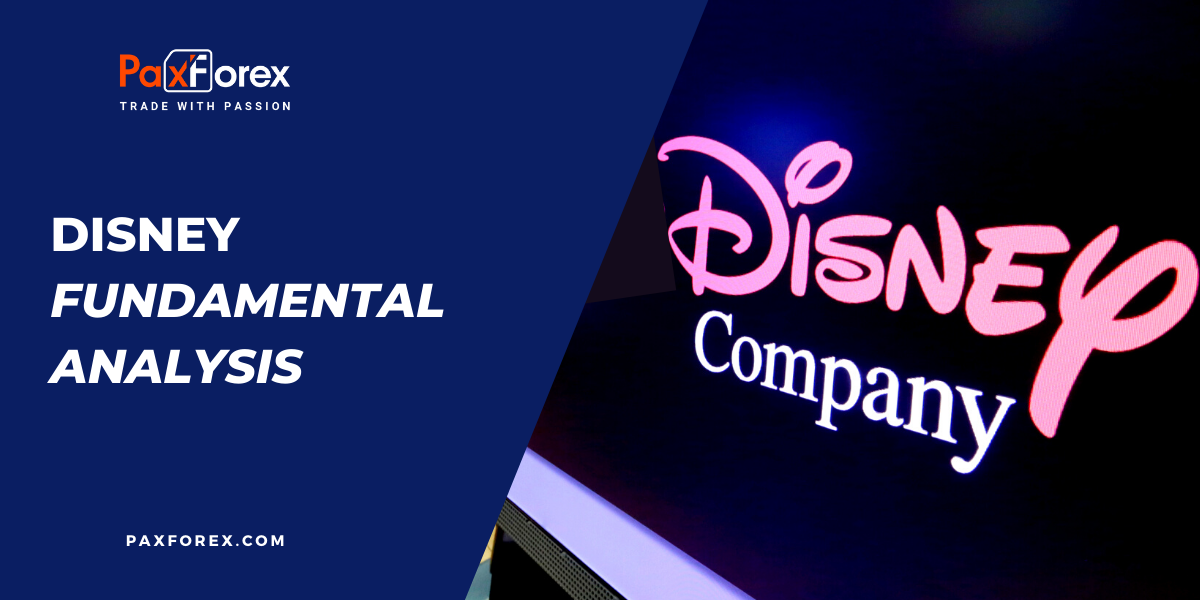 Source: PaxForex Premium Analytics Portal, Fundamental Insight
Walt Disney made an incredible comeback. Despite a significant blow to revenues and notable declines in the last quarter, thanks to a reduction in a load of parks and closed cinemas, this media giant has soared by more than 65% compared to the March minimum.
Even though Disney has started the process of recovering, it may take some time before earnings return to pre-crisis levels. Given the environment in which the company operates, Disney shares could undergo while the company makes up for the lost time.
This summer, Disney began the process of reopening its limited capacity parks. However the official restrictions at Walt Disney World have not changed, Florida Governor expressed his desire to allow a large number of guests to visit the park.
Speaking about the studio entertainment, Disney will deliver Mulan for Disney+ subscribers. It happens after repeated attempts to release it in cinemas.
Nevertheless, even if Disney World sells more tickets, the difficult circumstances will prevail. Disneyland Park in California is still closed, but for a phased reopening of the Disney District in the city center. The continued suspension of cruises also remains in force until at least October 31.
Also, Disney took a huge risk by releasing Mulan directly to Disney+, which would probably not have happened in the pre-COVID-19 environment. At $29.99, this was well above the $19.99 rent for Bill and Ted. And unlike Mulan, Bill and Ted's film was released in theatres simultaneously. Moreover, fans know that in a few months, Disney will make Mulan available to Disney+ subscribers at no additional charge. In this case, customers may well decide to watch Mulan for free but a bit later.
The expected cost of producing Mulan is about 200 million dollars. With a rental price of $29.99, almost 6.7 million subscribers will have to rent a movie at this price only to make Disney recoup. If a video-only strategy were to fail, it could cost Disney and its shareholders a lot more.
A year ago, both studio entertainment, parks, and product divisions were estimated for just over half of Disney's revenue. Now, due to difficulties in the work of both these units, they account for slightly more than 23% of earnings, and total revenue fell by 42% compared to last year's level. It led to a loss of more than $4.72 billion, or $2.61 per diluted share, in the third fiscal quarter.
However, Disney shares appear to be disregarding the pandemic. As of today, Disney shares are only 9% below their 52-week high.
Most experts expect the media giant to ultimately return to pre-crisis levels once all restrictions related to COVID-19 are lifted. However, it is not known in what time frame this recovery will take place. However, it looks like the stocks will regain quite quickly.
When the constraints associated with physical and social distancing are eased, it may take some time to get back to pre-crisis levels. Attempts to return to the pre-pandemic regime of work linger. Even when theme parks, cruises, and cinemas fully open, Disney will have to convince its fans that it is safe to return. It can mean that it may take longer than expected to get your income and profits back.
The company still has more than $23.2 billion in cash, which means it can cover short term losses, including a financial meltdown with the Mulan movie. However, the commercial failure of a film may raise questions among investors about Disney's strategy based on streaming only.
It's still too early to judge how much the market has valued these issues at the price of Disney stock, and this is not a good sign for potential investors. It's better to wait until these uncertainties are resolved.
Although Disney is likely to recover, it will take some patience. Cautious investors may decide to wait for the stock price to correct, rather than buy at relatively high levels.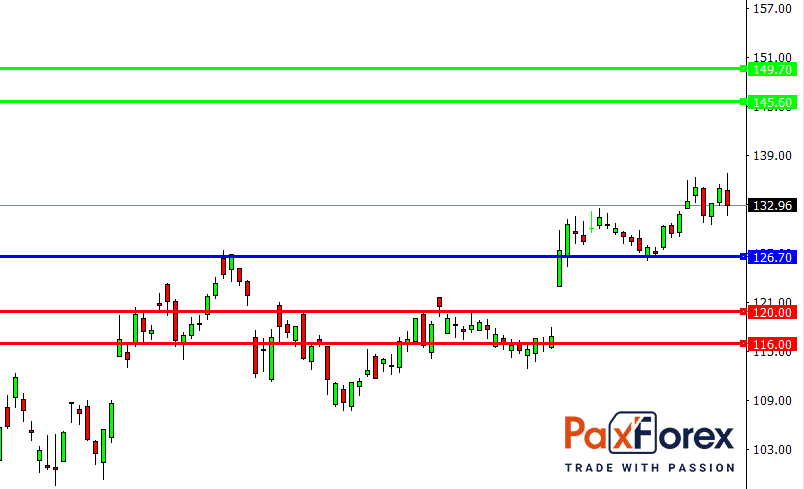 While the price is above 126.70, follow the recommendations below:
Time frame: D1
Recommendation: long position
Entry point: 133.24
Take Profit 1: 145.60
Take Profit 2: 149.70
Alternative scenario:
If the level 126.70 is broken-down, follow the recommendations below.
Time frame: D1
Recommendation: short position
Entry point: 126.70
Take Profit 1: 120.00
Take Profit 2: 116.00