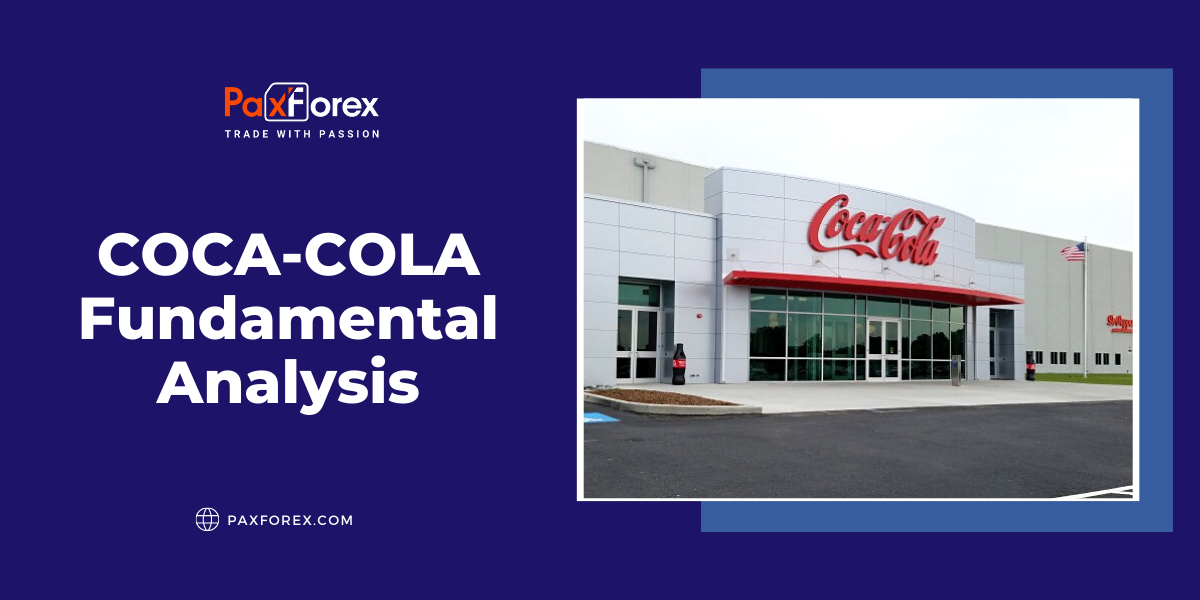 Source: PaxForex Premium Analytics Portal, Fundamental Insight
Coca-Cola is a perfect example of the "blue chip" stocks. The world-famous brand is innovating, and recently it has been more focused on diversifying its offerings. In 2019, the company increased organic sales growth by 6% and net earnings per share by 9%.
Coca-Cola is a ten-year holding company of the famous investor Warren Buffett Berkshire Hathaway, who currently owns more than 9% of shares. But Coca-Cola is not the same company as decades ago. Today it has more than 500 brands with a portfolio that includes water, coffee and teas, juices, dairy products, plant beverages, and energy drinks. Having several different growth paths is just one of the reasons why buying shares can now be a good investment idea.
The company aims to profit from the trend towards healthier diets. As of 2019, 45% of the company's beverage portfolio consists of beverages with low or no sugar content, and 18 of the top 20 brands offer at least options with such options. In 2019, the company's organic revenue (excluding currency regulation, acquisitions, or divestments) grew from 3% to 13% in four global geographic regions. In the second quarter of 2020, disruption caused by the COVID-19 pandemic led to a 26% drop in revenue, but management said it expected recovery for the rest of the year.
Prior to the pandemic, the company achieved growth in its Coca-Cola brand through proposals, including the Coca-Cola Zero Sugar, which increased sales by double-digit percentage points in 2019. Innocent, a brand of juices and cocktails is also expanding sales.
The company recently announced plans to enter the popular tough seltzer market with an alcoholic version of its Topo Chico carbonated mineral water. Later this year it will be introduced to Latin America and then brought to the United States in 2021 to compete in the category currently dominated by White Claw and Boston Beer's Truly Hard Seltzer.
One of the probable reasons why Buffet made Coca-Cola one of his "eternal" holdings is its reliability. In addition to stable sales of its popular products and the business itself, the company has consistently increased profits for shareholders. Having increased dividends for the 58th consecutive year in 2020, it has taken its place not only among Dividend Aristocrats but also among even more elite class of Dividend Kings.
These long-term views help to illustrate more clearly the revenue opportunities that investors have with Coca-Cola due to the disruptions in its business associated with the pandemic. Its current dividend yield of more than 3.3% is close to the peaks of the last decade. Especially in today's low-interest-rate environment, investors looking for a good return combined with low or moderate risk to their capital may find Coca-Cola shares attractive.