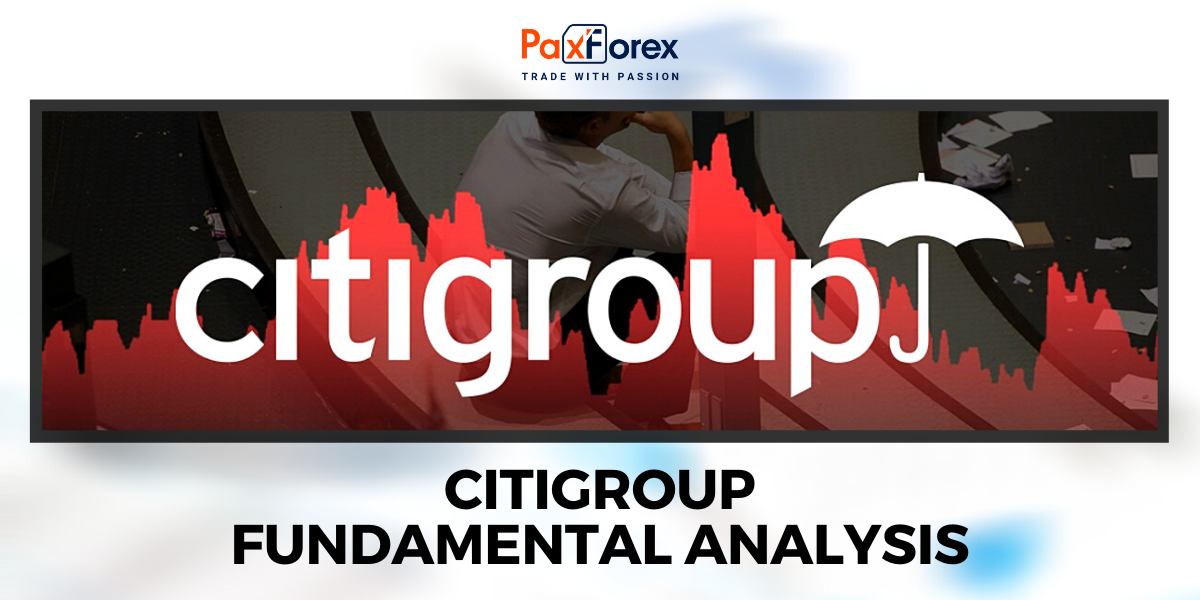 Source: PaxForex Premium Analytics Portal, Fundamental Insight
Citigroup's share price fell by about 36% this year, reaching about $51 per share at closing on Monday. It is a pretty big discount - but does this make Citigroup an undervalued asset?
As you know, an undervalued company is one that trades at a lower price in relation to revenue, profits, and other fundamental indicators due to temporary reasons. Investments in undervalued shares are usually made on the assumption that they will return to their original value and will reward patient shareholders. If the shares are not returned due to other, more persistent problems, this is considered a value trap.
So, is Citigroup now an undervalued company and a good investment, or is it just a trap for investors? Let's try to figure it out.
Citigroup is the fourth largest bank in the country, with assets of 2.2 trillion dollars as of June 30. Its low share price is typical for the industry, as all banks have been hit hard by the pandemic. Not only was the interest rate close to zero damaged net interest income, but banks - especially large ones - were devastated by large reserves to cover expected loan losses due to the difficulties caused by the pandemic and recession. The banking sector fell 34% on average compared to last year, which is why Citigroup is in this position.
There are some promising signs within the company that indicate that it is indeed an excellent investment.
First, despite a $5.6 billion credit loss, the company still managed to generate $1.3 billion in net profits in the second quarter, as revenue grew 5% year on year to $19.8 billion. Among the largest banks, only JPMorgan Chase showed higher revenue growth.
Citigroup also managed to cut expenses by 1 percent year on year. It helped the firm to reduce the efficiency factor to 52.7%, which is second only to JPMorgan among the "big four". The Efficiency Ratio is a measure of a bank's overhead costs relative to its revenue - the lower, the better.
Also, Citigroup showed a return on equity of 2.4 percent in the first quarter, which is lower than the industry average of 3.2 percent, according to the first quarter. However, the bank improved its capital in the second quarter by raising its common equity tier 1 ratio from 11.2% in the first quarter to 11.5%, well above the regulatory minimum of 10%.
A key measure of the bank's value is its book value, which measures its total assets minus liabilities. It provides a more complete picture of the internal value of the bank. The book value of one Citigroup shares increased by 5% in the second quarter to $83.41. It suggests that the bank is worth much more than its share price would have shown.
The price-to-book ratio (P/B), which is calculated by dividing the share price by the book value of one share, was 0.61 at the closing price on Monday. A price-to-book ratio of 1.0 means that the share price and book value per share are even, so a ratio of 0.61 means that the share is traded at a large discount.
Another key indicator, although not as relevant as P/B for banks, is the price-to-earnings ratio (P/E). It measures the price of a company's stock relative to its earnings per share. Citigroup's trailing P/E is around 8.6, but profit for the last two quarters was insufficient due to the high provision of credit losses. Forward P/E based on future earnings forecast is 15.7, which means that growth prospects are expected to improve.
Based on these figures, Citigroup definitely looks like a good investment. However, be cautious, as a significant increase in the share price will be associated with recovery from the recession, so it is best to watch and wait for signs of correction over the next few quarters.