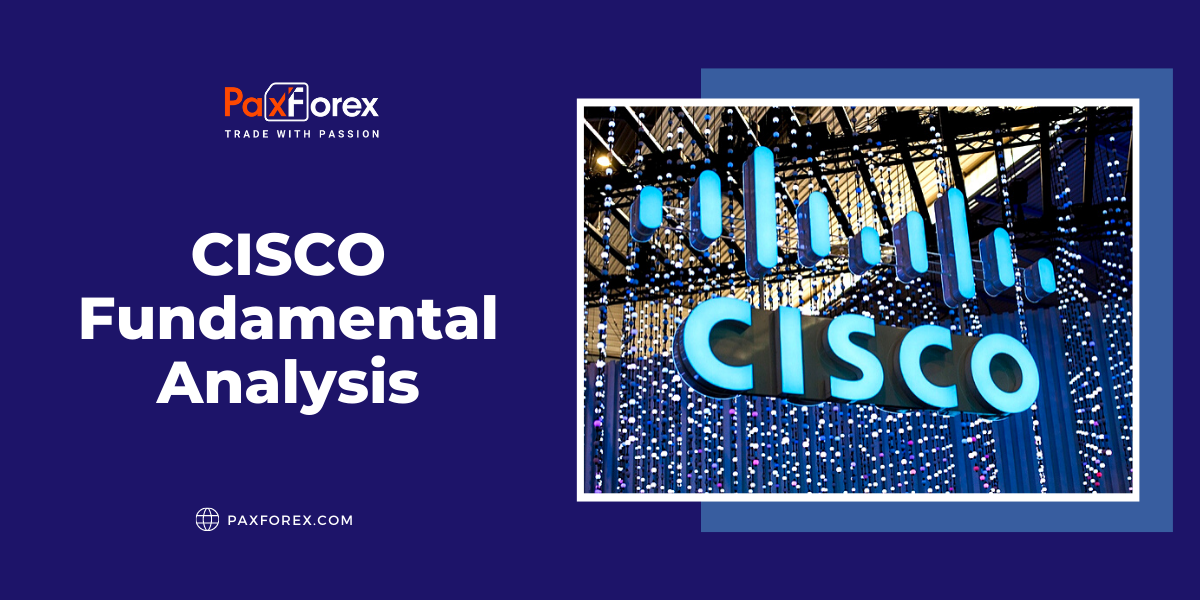 Source: PaxForex Premium Analytics Portal, Fundamental Insight
Cisco Systems should review its portfolio to stay competitive in terms of the expedited using cloud computing services that the pandemic has caused. Results from the fourth quarter of the fiscal year showed that outdated network companies continue to significantly reduce their performance. Because of those crucial issues, stocks are traded at moderate valuation ratios. Cisco showed better-than-expected fourth-quarter results, but on an annualized basis 9% decline in profits to $12.2bn remains vulnerable. What is more, the drop from the top of the rating proved the essential difference between its cloud business and its inherited operations. As always, the management did not give particular results for each product, but CEO Charles Robbins noted some strengths during the August 12 earnings report. For example, he said the Webex collaboration tool and the AppDynamics monitoring solution provided significant revenue growth.
Besides, cloud security increased the company's security segment, which increased 10 percent to $814 million. In contrast, the core infrastructure platform segment, that incorporates legacy network equipment such as routers and switches, fell 16 percent to $6.6 billion. In the short term, Cisco's global performance is unlikely to enhance as management anticipates Cisco earnings to decline 9 -11 percent year on year in the first fiscal quarter ending October 31. Of course, the pandemic has partially committed to the deterioration in the business's legacy network industry as some customers have been deferring expenses in data centers to promote remote work opportunities for their employees. However, some of the challenges seem deeper as Cisco's portfolio does not fully exploit the possibilities that cloud computing presents for technology vendors. Consequently, executives have declared a new phase in the transformation of the company. During the earnings report, Robbins stated, "We will expedite the transition of most of our portfolio to service delivery." It outlines a meaningful shift. Management has not reported the percentage of revenue that is currently delivered as a service. Still, it is safe to believe that it matches 51% of total revenue for 12 months (TTM) represented by software and services (the rest by hardware). And even Finance Director Kelly Kramer said the company would already provide various services by the end of 2020, this transformation will continue for several years, as it must also include its extensive portfolio of network equipment. Thus, the execution risks associated with such a solution must be considered. The company will rebalance its research and development expenditure, which in the last 12 months amounted to $6.3 billion. But it is not yet clear whether Cisco will be successful against fast-growing, cloud-based specialized competitors such as Zoom Video Communications, Datadog, and CrowdStrike.
Also, with cash, its equivalents, and investments exceeding total debt at the end of last quarter, Cisco could embark on transformational acquisitions to stimulate its transition.
Due to this uncertainty, Cisco shares appear to be reasonably valued with TTM's value-to-sell and price-to-receipt (P/E) ratios of 3.6 and 17.0, respectively.
During the last quarter, the company maintained its non-GAAP (adjusted) gross margin of 65% compared to 65.5% a year ago, suggesting that it retained its price strength. Besides, thanks to its large scale, the operating margin remained high at 33%, compared to 32.6% in the previous quarter. And the company stated that they would save $1 billion a year, and would use it to support high margins through the transformation.
However, taking into account the company's modest valuation, the market does not care about the growth potential. Thus, traders looking to take advantage of cloud computing at a moderate price should think about buying Cisco shares.