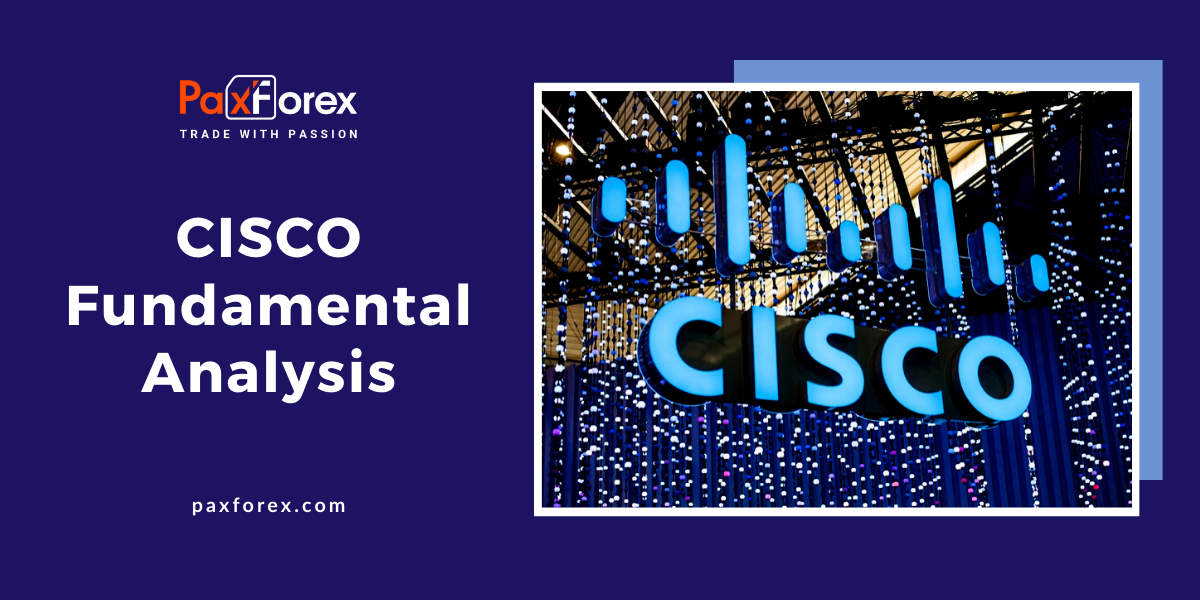 Source: PaxForex Premium Analytics Portal, Fundamental Insight
When Cisco Systems (CSCO) acquired ThousandEyes in May, this was the last purchase aimed at increasing revenue from software and services. Some investors supported the deal as it moved away from the company's core business of selling network switches and routers. At the same time, another part of the investors felt that the company needed a larger transformational acquisition.
Cisco shares remain one of the leading U.S. technology companies by cash on its balance sheet. While Cisco shares bring attractive dividends, the buyback program has slowed.
In April, the third fiscal quarter of 2020, Cisco bought back $981 million of its shares. A year earlier the figure was about $6 billion.
During the coronavirus crisis, the companies overshadowed their IT spending. In the third quarter, Cisco's profit fell by 8% to $ 12 billion. In July, analysts estimate that Cisco's income will fall by 10%. In early June, Baird downgraded the rating of Cisco shares because corporate networks will be less important if remote work entrenches.
Cisco may have to increase its investment to get a stake in next-generation networks. The company is looking to move from local data centers to a hybrid cloud computing infrastructure.
Meanwhile, the Bank of America has upgraded CSCO shares, believing that the upcoming product cycles will revive revenue growth. Some analysts say the hardware manufacturer will see additional growth as it builds 5G wireless networks.
Most of the growth in Cisco's revenue came from acquisitions. Cisco reportedly acquired ThousandEyes, a network intelligence company, for $1 billion.
Credit Suisse analyst Sami Badri expects Cisco to seek new deals in the crisis.
"Investors are now focusing on the next deals after the acquisition of ThousandEyes," he said in his report to clients.
Most recent Cisco acquisitions were software-related. In July 2019, Cisco acquired Duo Security for $2.35 billion, the largest acquisition in the cybersecurity industry since its acquisition of Sourcefire in 2013. The acquisition of Duo Security strengthened Cisco's position in a new category called zero confidence cybersecurity.
In addition to the acquisitions, the new accounting rules are a benefit for revenue recognition. The rules, known as ASC 606, require prior recognition of multi-year software licenses.
As companies move their workloads to cloud computing, such as Amazon Web Services, part of Amazon.com (AMZN), they can spend less on internal computer networks. Besides, Cisco has lost a stake in several major markets, although it is looking to regain its cybersecurity.
However, there are bright spots: Catalyst 9000 computer network switches are driving sales growth. The Cisco CEO said the Catalyst 9000 upgrade cycle is "in the early stages".
In the third fiscal quarter, Cisco slowed sales growth amidst the pandemic. However, the move to work from home improved security and WebEx products for conferences.
"Highlights this quarter include security, WebEx, Cat9000 switches, Meraki and AppDynamics," said William Blair analyst in his report. "These areas help dull the negative pressure on data center, server, HyperFlex, routing, and unified communications switching.
"In our view, in most cases, headwinds have played a role and we see smoother progression with lighter layouts and better growth cycles associated with new product cycles," said Bank of America analyst Tal Liani in a recent report. "5G can increase demand for routers, especially access and aggregation routers, 400G switching can increase demand for restoring switching in data centers, and Wi-Fi6 can lead to another upgrade cycle.