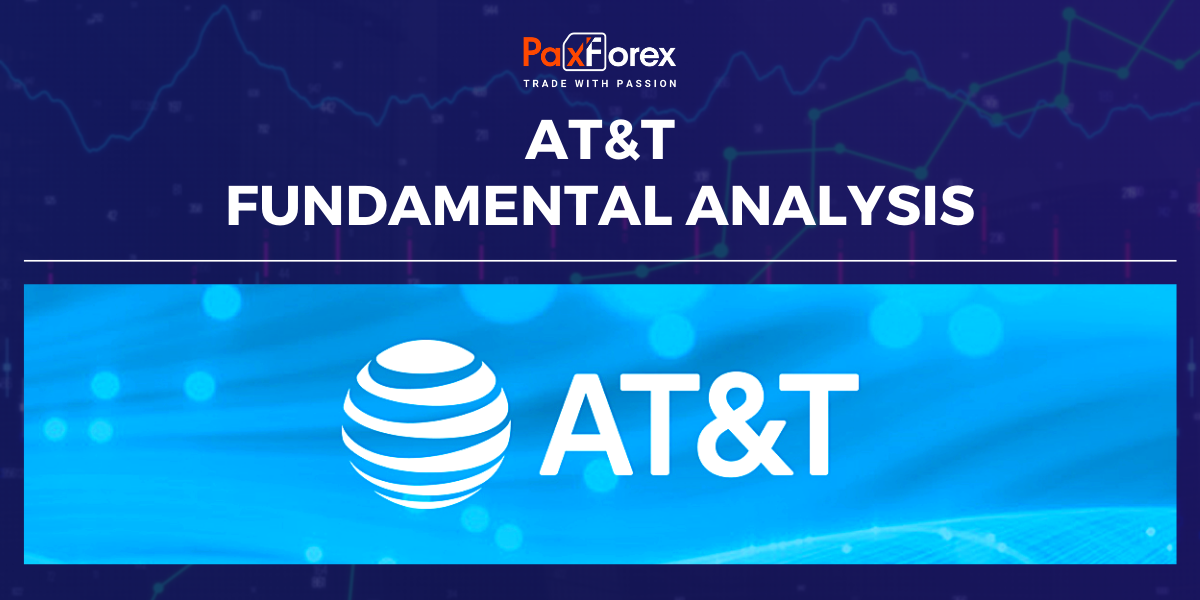 Source: PaxForex Premium Analytics Portal, Fundamental Insight
AT&T (NYSE: T) is often considered a stable asset for conservative investors. The company has established itself as one of the leading telecommunications companies in the U.S., it pays almost 7% forward yield, and its shares are traded nine times the forward profit. However, over the past five years, AT&T has also received a shortfall in yields. Its shares have fallen by more than 10% as the S&P 500 rose by almost 60%. Even after the reinvestment of dividends, AT&T's total revenue of 14% was still not in line with market indicators. Past performance is not a reliable benchmark for future profits, but AT&T's track record alerts investors inclined to buy the company's shares.
AT&T faces several challenges. First, sluggish smartphone sales, competition from Verizon, and the closure of retail stores against the backdrop of COVID-19 - all this hurt the main business in the first half of the year. Secondly, the company lost almost a fifth of its pay-TV subscribers compared to last quarter. The DirecTV, U-verse, and AT&T TV platforms are struggling with competitors such as Netflix, and the streaming television services launched after the Time Warner takeover last year, including HBO Max and AT&T TV Now, are not yet compensating for these losses. Meanwhile, the pandemic has hurt WarnerMedia by postponing the production and release of new TV shows and movies. Worse yet, AT&T's attempts to combine its fragmented streaming services are often confusing and frustrating to consumers. Analysts expect AT&T's revenue to drop by 7% and 10% respectively this year. AT&T also has large debts in connection with the acquisition of licenses for DirecTV, Time Warner, and AWS-3. Last quarter the company reduced its long-term debt by less than 3% to $ 153 million, but free cash flow decreased by 14% to $7.6 billion. AT&T sold some of its non-core businesses and temporarily suspended its share buyback this year, but its free cash flow may continue to decline and limit its ability to reduce debt.
All these problems may make it difficult for AT&T to maintain its current dividend payments - which rose 11% to $14.9bn last year - without downgrading its long-term credit rating. AT&T's wireless business continues to grow, with the company's subscribers adding 8% YoY previous quarter, and the launch of new 5G phones at the end of this year could again increase average revenue per subscriber. AT&T's streaming and WarnerMedia's efforts now look chaotic, but the company is gradually eliminating loss-making services such as HBO Go and Watch TV. The company also hired a former Hulu boss to take over the streaming effort and secure the rights to popular series such as Friends and Big Bang Theory. Growth must also accelerate again as cinemas open, which resumes production of suspended projects.
AT&T's debt level is high, but only $15.6 billion of that total needs to be paid per year. AT&T needs to easily cover these payments while still having enough cash to pay the dividends. After all, in the last 12 months, only 57% of free cash flow has been spent on dividends.