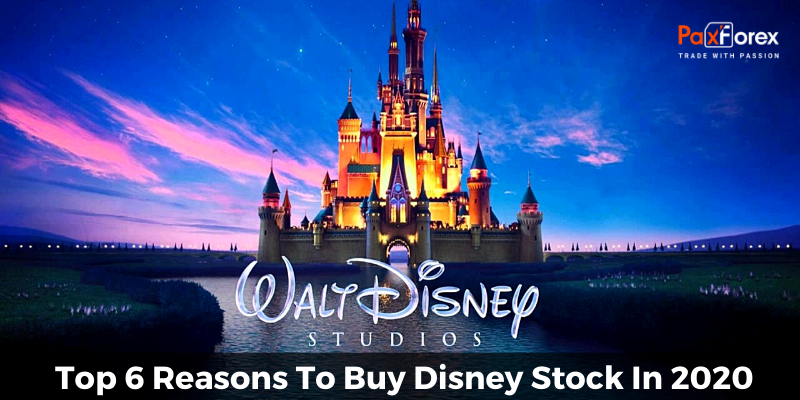 We can all recognize Mickey's large ears and hum the opening theme of the Lion King. However, Disney is way more than just a colorful kid's entertainment company. It is an extremely successful enterprise, which makes DIS a favorable trading instrument. Today we explore everything there is to know about Disney stock, including six top reasons to buy Disney stock in 2020.
Brief History of Disney Stock
The Dinsey's long story of success started back in 1923 with a short animated film about the adventures of Alice in Wonderland. Later in 1937 the Snow White and her dwarfs brought an unprecedented amount of fame to the company, that has not reduced ever since.
In November 1957 DIS shares were listed on the New York Stock Exchange. But the interest in buying Disney stock didn't really pick up until the late 20th century. DIS started at around $10 per share in 1990 and grew threefold over the next decade, landing at $31 in January 2000. The next ten years were somewhat uneventful for the stock, with an insignificant leap towards $20 during the crisis of '09. But as 2012 rolled in, DIS began to pick up.
With already acquired Pixar (2006) and Marvel (2009) up their sleeve, Disney took over Lucasfilm in 2012, becoming an owner of virtually every single beloved animation character. Star Wars franchise gave a good boost to DIS bringing it up to $105 per share in 2015. The last acquisition before the 2020's pandemic of the COVID-19, was the purchase of 21st Century Fox in preparation for the launch of Netflix's direct competitor — Disney+.
At that point, DIS was sitting at $147 per share in December 2019 with an all-time high record of $151.64 on November 26, 2019. Before the pandemic, the Walt Disney Company was facing a yearly income of nearly $70 billion, with 37% of that among coming from parks and resorts all over the world.
Disney Stocks Recent Performance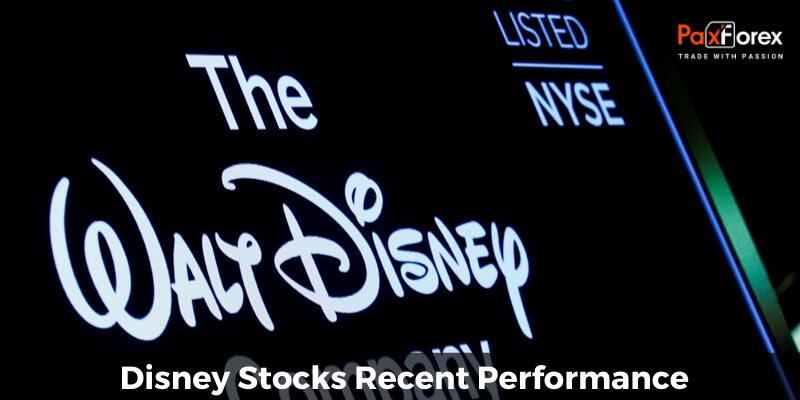 And then the planet got hit with the pesky Coronavirus, throwing thousands of small and medium companies completely of their track. Disney, being a corporate giant, was able to sustain a little better through salary cuts of the senior executives and raising capital from debt markets.
However, the drop was still very visible. In the second quarter of 2020 Disney recorded a net profit of $475 million, a 91% reduction from the same quarter last year. The restrictions on public entertainment put a big lock on Disney's famous parks and the cancelation of sporting events that hit ESPN made it even worse.
The parks started reopening by the time summer came around, starting with Shanghai's Disneyland in May 2020. As the tickets got immediately sold out, experts made a series of assumptions that DIS isn't going to suffer as much as most other large companies. Disney stock's absolute low during the global isolation was at $85 in March and by the time August started the stock was nearly recovered at $127.
Being able to present a good portion of their product online (Disney+ and Hulu), Disney has reached its initial goal of 50 million subscribers by the end of 2020 in May. This reflected in a 272% sales growth during the second quarter. On top of that, Disney also exhibited some noteworthy practices during the crisis. This gave it a good deal of bonus points in the eyes of international investors.
Now, as much as for the last 20 years, DIS is among the top media companies performing at the stock market. Which means this can be the best time ever to buy stock Disney.
Dividends From Buying Disney Stock
The company's income wasn't the only one that struggled from the pandemic. The reduction in the value of Disney stocks buy also significantly slowed out its momentum. Once again, the real lifesaver was the online presence and the diversity of products and services that contribute to the value of the company.
But even with the positive outlook towards the future, Disney shareholders were not able to receive their semi-annual dividends as one of the anti-crisis measures. The DIS dividends grew gradually over the recent years, so the dividend postponing was definitely an unfortunate circumstance.
This, however, did not stop a set of high-profile investors from purchasing Disney shares in the second and third quarters of 2020. According to a report that was filed with the US Securities and Exchange Commission (SEC), Saudi Arabia's Public Investment Fund (PIF) proceeded to take a significant stake in Disney, as a contribution to their bargain opportunities search of US shares after the coronavirus-related market downfalls.
Other big-name investors who partook in a similar activity were David Einhorn of Greenlight Capital, George Soros of Soros Fund Management, and Dan Loeb of Third Point. Judging from this alone it is already safe to say that Disney stock buy in 2020 is a relatively promising activity. But before we go ahead and invest, let's first discover some of the technicalities connected with buying Disney stock.
Technical Analysis of DIS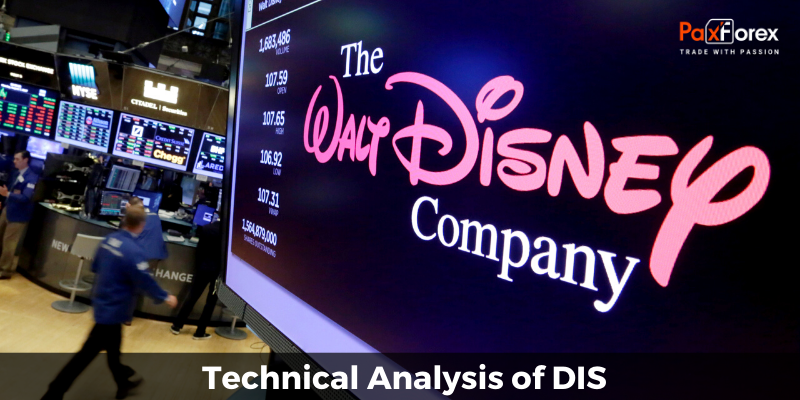 We already observed the uprise of the Disney stock from 1990 to the end of 2019. From what you saw above, we can directly connect technical data with the stock's price response on the chart. For instance, just before the pandemic, as Disney+ launch was announced the chart made a visible jump upwards. The same thing happened after the previously mentioned acquisitions of Marvel and Lucasfilm. So, what does it tell us about why buy Disney stocks now?
Disney's expansion style isn't particularly subtle. Similarly to the social media industry giant, Mickey's ears deal with competition by buying it out. Pixar is the greatest example of all. So, although it might be too early to judge which companies will be swooped under the DIS's roof next, we can absolutely agree that their progress is both well-accounted for and grande in terms of spendings.
The third quarter of 2020 started at a positive note for Disney shareholders. The volume and momentum are approaching the pre-crisis numbers, showing that traders everywhere haven't lost their faith in the stock. Which brings us to the next point: what are the top reasons to buy Disney stock in 2020?
6 Reasons to Buy Disney Stocks in 2020
An experienced trader won't even question the idea of buying Disney stock. However, the novices might be confused about why DIS is a good option among many other decently performing solutions, such as NFLX or GOOGL. That's why we came up with six top reasons why you should buy Disney stock in 2020:
Reaction to the crisis. We've mentioned it a couple of times already, but Dinsey handled the pandemic disruption relatively well. Of course, it can be largely due to the timely launch of their exclusive streaming service. But we shouldn't write off other measures that were taken, such as the issue of debt securities that added up to a total value of $6 billion.

Diverse business model. If you can't quite imagine how much is Dinsey in control of, here is a brief guide. Mickey has bitten off large pieces of the industrial pies in film, television, radio, theatre, music, gaming, finance, consumer goods, real estate, parks, and publishing. Some of the companies under Disney, you didn't know were theirs, are GoPro, National Geographic, and ABC (American Broadcasting Company).

Forward-looking mindset. Launching Disney+ right before everyone will be locked inside could've easily been a foundation for conspiracy theories, if Disney weren't already known for their future-oriented vision. They are usually not afraid to experiment and take leaps into unfamiliar territories. That's is exactly why Disney isn't just one of the biggest media companies, but also takes a great presence in the world of real estate and publishing.

Going East. Disney's introduction to the Chinese market was not only about profit enhancement. Adapting themselves to appeal to Eastern consumers showed great levels of economical orientation and ability to perform globally. For Asian investors, this became an entire sea of trading opportunities both within and outside the region.

Loyal consumers. Any Disney park fan will confirm that the ticket price to one of Mickey's amusement resorts is worth every penny. This means that even if the price goes up, the number of happily paying customers won't decline. For example, entering Disney world went from costing $67 in 2006 to $109 in 2019 (or $169 for the option to hop between parks), with practically no improvement to the park's amenities. Moreover, the visitors are not in the least irritated with long waiting times and general overcrowding, as it is considered to be a part of the experience. Experts say that if Coronavirus measures of limited capacity stay for an extended period of time, the prices will grow higher, but the visitors will still definitely pay.

General stock performance. Disney stocks buy has been proving to be profitable for at least the last ten years. The fanbase of the company keeps on expanding, so does the camp of investors. While there is still a certain degree of risk associated with potential new spikes of COVID-19, DIS is absolutely a win-win on a long term basis.
The Risk of Buying Disney Stock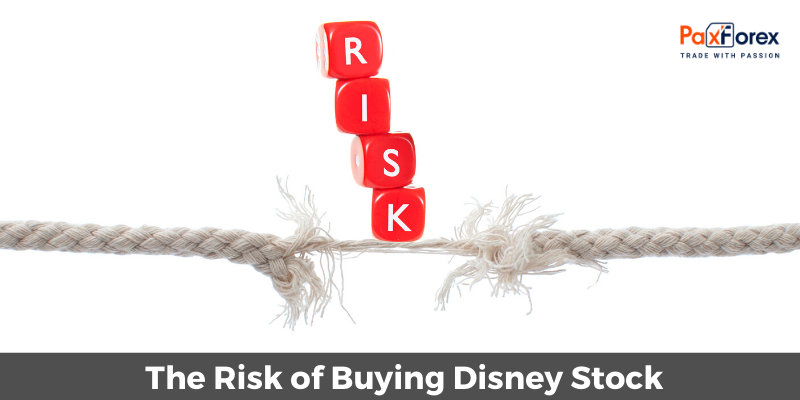 Since we've briefly mentioned the risk that you face as you buy Disney stock, it would make sense to summarize all factors that are worth your consideration. In general, DIS is a solid long-term solution. However, right now we are living through times that are not exactly conventional. This means we have to consider the risks, associated with the possible new outbursts of the virus.
If COVID-19 continues its reign, the parks and cinemas will not be able to operate at full capacities, or even at all. This can negatively impact the scheduled release of Marvel's Black Widow in November. The same is applicable to sporting events that contribute to the profitability of ESPN.
Another factor to consider is the reduction in the income of most Disney consumers. The large part of the global population was either terminated, faced temporary cuts and was paid less. This translated not only to the reduction of paying ability towards costly entertainment but into the potential abandonment of streaming subscriptions. Although a drastic reduction is highly unlikely, experts advise investors to watch the statistics and act accordingly.
Finally, the shareholders might be presented with yet another delay of the dividends by the end of the year. An entire year without remuneration is absolutely unprecedented, yet again so is the horrifying events of 2020.
Disney Stock How to Buy
Whenever you are looking to expand your portfolio there is a set of steps to take. First of all, decide where you will purchase the stock. In the case of Disney stock how to buy options, there are two ways to go: buying directly from the company or buying through a broker. Although buying directly from Disney might appear as a more straightforward solution, there is a decent amount of things to keep in mind. Mainly, it is the fees and the investment requirements you will face, starting with the initial price, which will be higher than on the live market.
Brokers, on the other hand, provide an easier way to buy Disney stocks. There will be little to none fees, as well as a good selection of supporting tools that can assist you in the process. Since most well-established brokers are sincerely invested in your success, you will both be able to buy Disney stocks and learn everything about buying them at the same place.
We've already covered a good deal of information on trading DIS, but you'll definitely need to dig deeper in order to become profitable. In case Disney is the first instrument on your portfolio, start with the basics and learn the difference between technical and fundamental analysis. Sentiment also plays a great role in how Disney's value progresses, (i.e. the price spike after the Marvel acquisition), so keep your hand on the pulse of streams and tendencies within and outside the industry.
The next question to answer is how much of the Disney stock to buy. Individual stocks are always a bit of a pain to buy, compared to mutual funds or ETFs (exchange-traded funds). Because to build a properly diversified portfolio consisting of individual stocks, you will need to perform deep research of dozens of them, before landing on 10 or 20 companies. This shouldn't stop you from buying DIS altogether, since it is both a solid instrument and a great educational tool. Just make sure to limit the individual stocks on your portfolio down to 10%, focus on long-term strategies, and fill the rest of the portfolio with ETFs.
And there you go. Now, all there is left to do is pick a trading strategy and place your first order. Of course, the inexperienced traders might experience a good deal of confusion before making a choice, but once again free educational materials provided by the broker will come in handy. Just before we wrap up, let's quickly discuss the option of trading Disney stock through CFDs.
The Benefits of Trading CFDs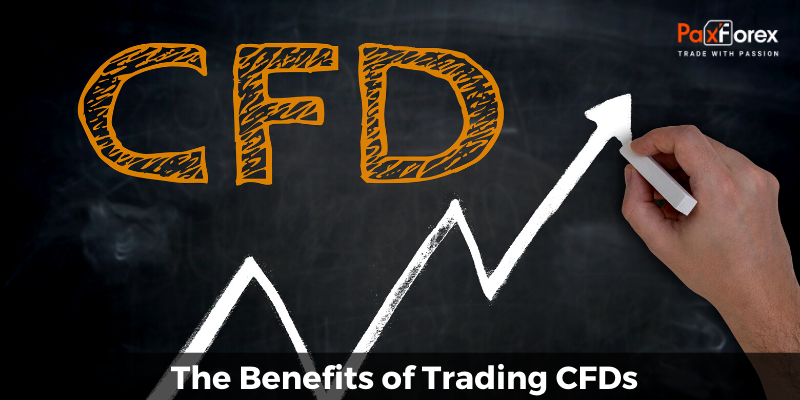 CFD stands for a contract of difference, and it is a trading tool wildly popular due to its leverage opportunities. CFDs perfectly mimic the stock trading process, with a few subtle differences. The first one, of course, is that contact of difference is not actually a share. This means, owning it isn't going to make you a shareholder and give you the right to make decisions in the company's managerial process. At the same time, however, you can sell and buy assets without delivering them physically.
The CFD is traded on margin, which includes the logging of the initial deposit. This, in turn, gives the trader an ability to use leverage and magnify the size of the position. It is worth pointing out, that while trading with leverage can significantly increase your profits, it equally increases your risks. So, use it cautiously.
Buying Disney Stock: Final Thoughts
Now, you know a good deal about Disney stock: how to buy, why is it a good idea, and what you should keep in mind in the process. As you probably have figured by now, DIS is a solid option that can present its holder with a pool of opportunities. Just make sure to do your homework and always analyze the situation before making any moves.
After you buy Disney stock, watching new movies and cartoons will obtain new meaning. Now, you aren't just an observer, you are an investor. Although this is technically true for all individual stocks out there, DIS is probably the easiest one to see clearly.