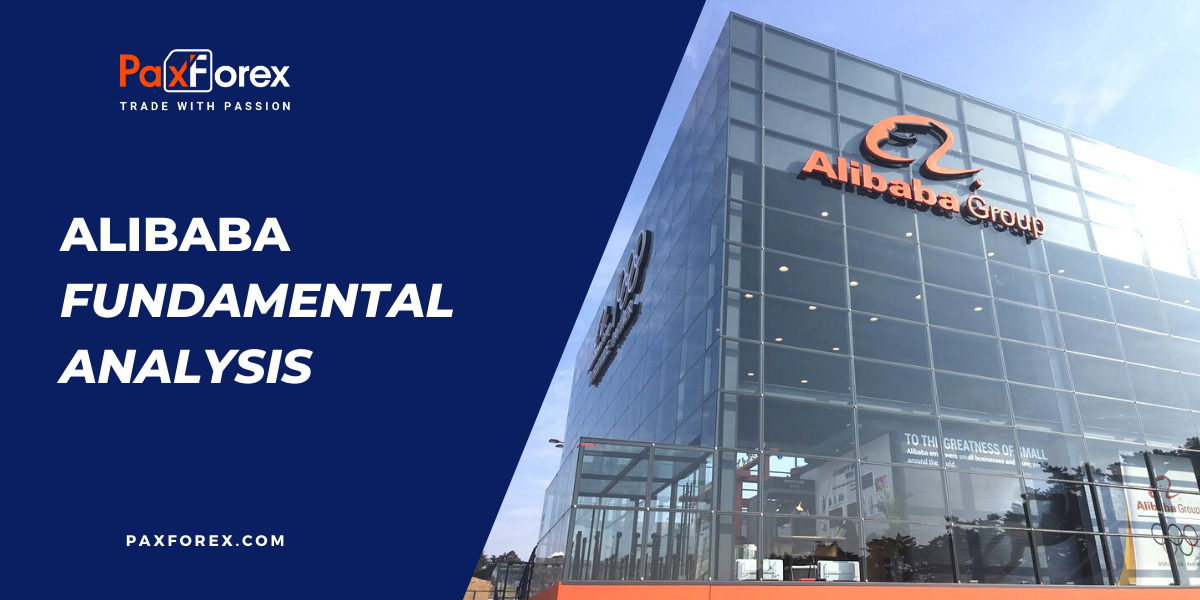 Source: PaxForex Premium Analytics Portal, Fundamental Insight
Chinese e-commerce giant Alibaba Group is at the top of the ladder. The company has smashed Wall Street's estimates in the era of the COVID-19 pandemic, and stock prices have soared 64% in the last 52 weeks. Let's analyze if it's still possible to invest in Alibaba shares at the eleventh hour, or it's too late?
The company's sales grew 30% year on year to $21.8 billion in the August report for the first quarter. Profits rose 15% to $2.10 per share. The results were confirmed by consensus estimates of Wall Street, which indicated incomes of about $1.98 per share with earnings of about $21.3 billion at the top of the ranking.
During the earnings report, CEO Daniel Zhang said that the COVID-19 pandemic has greatly accelerated Alibaba's business. Consumers are purchasing more and more online, and businesses are depending on cloud computing resources like Alibaba's cloud platform to an abnormal level.
"The pandemic has essentially changed our macroeconomic situation and daily life, but it has additionally brought unique opportunities," Zhang stated. "Digital adoption and transformation is the dominant bias in these changed realities, and we believe we can build the future of Alibaba by taking advantage of opportunities in these not easy conditions, as we did in 2003 during SARS and 2008.
Alibaba is expanding its operations beyond Chinese borders, adding to that a profound interest in launching direct e-commerce operations in the USA. Political pressures between Washington and Beijing are making it difficult to realize these ambitions right now, but investors should keep this expansionist strategy in mind for the long term.
At the same time, there is a substantial danger that the Trump administration could take action to prevent the Chinese giant's business from operating on American soil. According to a recent report in the Chinese newspaper Global Times, Chinese analysts fear the U.S. government may block Alibaba's efforts to develop semiconductor devices and cloud computing ahead of the November elections.
Traders should also pay attention to Alibaba's rivals. Pinduoduo and JD.com are questioning Alibaba's non-inventory business model with their hyper-efficient approach to more traditional online retail models. Alibaba is the biggest business in this strong trio, but Pinduoduo is developing much quicker, and Alibaba cannot match JD's delivery and logistics infrastructure.
It should be noted that the pandemic has reinforced Alibaba's growth trajectory in both e-commerce and cloud computing, and these companies were the winners long before the coronavirus pandemic.
Investing in Alibaba shares is a direct bet on the Chinese economy, in the long run, increased through the prism of rapidly growing e-commerce and cloud computing operations. Shares are also quite affordable, trading only 30 times less profit and 25 times more forward valuations. It adds to the confidence of going long. Some may fancy Pinduoduo or JD, but Alibaba proposes a better risk/long-term rewards ratio.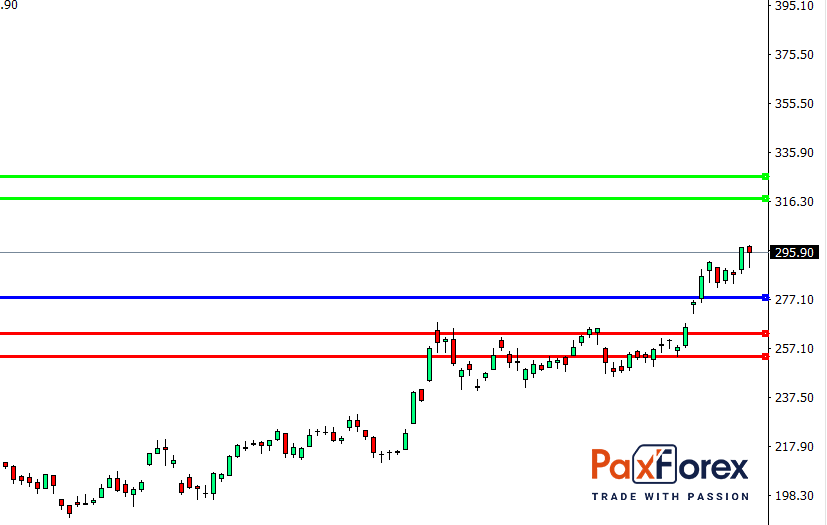 While the price is above 277.90, follow the recommendations below:
Time frame: D1
Recommendation: long position
Entry point: 296.07
Take Profit 1: 317.50
Take Profit 2: 326.50
Alternative scenario:
If the level 277.90 is broken-down, follow the recommendations below.
Time frame: D1
Recommendation: short position
Entry point: 277.90
Take Profit 1: 263.10
Take Profit 2: 254.10