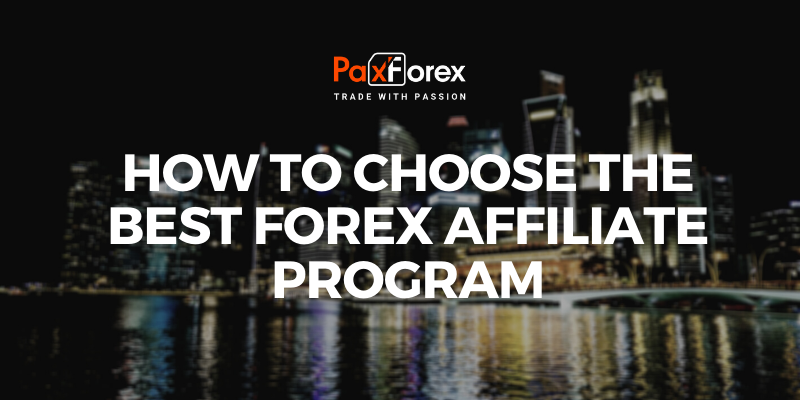 Did you know that you can make money on Forex not only by means of trading different financial assets? There is such a thing known as Forex affiliate programs, and it's been gaining popularity recently due to almost unlimited income, full or partial automation of the process, and fast results. Even despite the disadvantage of high competition in this niche, even beginners manage to get their lucrative commissions each month. Indeed, with a properly built referral system, you can earn over $1,000 per month (experienced partners can make tens of thousands of dollars).
In this article, you will learn how to choose the best Forex affiliate, what aspects to pay attention to while looking for a broker to work with, and much more.
How to Choose the Best Forex Affiliate Program
The effectiveness of the Forex affiliate programs heavily depends on the choice of the broker and the type of the program itself. You need to determine which type of program suits you. And it is connected not only with your desire to earn money but also with the type of traffic you have, how the product suits your audience, how you have placed advertising materials, and other factors.
The first thing you should realize is that the principle "where they pay more, that's where I go" does not work here. If you are promised mountains and marvels, it is at least a reason to be suspicious. The question of choosing a partner needs to be approached consciously, and for this, you need to understand how the world of Forex affiliate programs works.
Forex brokers, like all other enterprises, need profit - that's why they were created. The income of a typical Forex company consists of various commissions, which are charged from clients: the broker, opening a trader's transaction, immediately earns on the spread - the difference between the price of buying and selling an asset (almost like in a bank). Obviously, the more clients a brokerage company has, the more it will earn on them. That is why the affiliate program is a perfect solution for getting more clients. You, as a partner, make money too, so it's a win-win situation.
Why Forex affiliate programs are so popular:
Decent payment: retail Forex is a serious industry with huge money turnover, and an affiliate program of one broker can monetize your traffic like no other;
passive income: even if you break off your partnership with the company, the reward will come as long as your referrals are active;
multi-layered: serious multi-layered affiliate programs, the ability to develop an affiliate network by increasing the number of referrals and rewards;
no risks: you don't lose anything if you suddenly realize that a Forex affiliate program is not for you (except for the money you invested in opening an office, creating your own website, etc., although the website can be sold or redirected).
Nobody says it will be easy: affiliate programs are highly competitive environments. Only professional market participants survive here. But this does not mean that the rest will fail.
So, let's move deeper into this, answering frequently asked questions so you understand how the Forex affiliate programs work and what you should know before getting started.
How Large is the Forex Affiliate Commission?
One of the most essential (maybe even the most) questions arising while thinking of taking up an affiliate program is "is it really that profitable?" And it is understandable since everyone comes to Forex for money, either investing or being an affiliate partner. First of all, you should know that there are several types of affiliate programs, having different types of commissions and bonus offers. All these programs have their own benefits and advantages over another one. You choose the plan according to the way you are going to promote the broker, to your level of participation in trading, and the expected number of referred clients.
Basically, once you become a PaxForex affiliate partner, the payout for bringing a new client to the brokerage company can make up to $1000, based on the amount of that client`s deposit and the required volume of placed orders. There is also such a variant of Forex affiliate programs as being paid commission from the spread deducted for each clients` trade. Joining a hybrid affiliate program allows you to get commissions when clients you bring start referring friends, growing your network in such a way.
How Transparent Is the Affiliate Process?
Given the widely spreading popularity of the Forex affiliate programs, more and more companies crave joining this feast and try to make their own versions of partnerships. Consequently, it caused the immense number of websites offering affiliate programs, with barely 50% of them being reliable.
So, choosing the established company to deal with is the most vital aspect of starting your "referral business" since none of the promised commissions matter if you are not being paid as agreed or your clients are being scammed. Before you start working with a broker, check up on the transparency of its operations - make sure that you have access to the dashboard so you can track the trades placed by your referrals and see all the payments and commissions.
If there is no possibility to keep a close watch on your earnings, then the reliability of the broker should be questioned.
How Easy Is It to Onboard New Signups?
As you will definitely agree, the process of creating an account is the first impression of the company. Go to the website and make sure that the sign-up procedure is simple and understandable. In case there is a lot of information required or some other issues arise, it will be a serious problem for you if clients will not finish the registration. So, no matter how good your marketing approach is, no matter how good you are at explaining, it will all come to drain if the account opening takes 30 minutes. Check the website thoroughly and see if there are any issues that may be misleading or not clear. In case everything is understandable and crystal-clear, then go ahead to apply for a Forex affiliate program.
How Good Is the Forex Broker's Reputation?
One of the essential factors of choice for you is the fundamental reliability of the broker as a partner.
An important characteristic of a Forex broker's reliability is the duration of its work in the market, financial indicators, availability of reliable liquidity providers, conditions of withdrawal, and storage of client's money. In particular, clients' funds should be kept in reliable banks separately from company funds.
Another aspect of reliability is the reputation of a broker that is based primarily on feedback from real users. The user ratings can be useful for evaluation by this criterion, but they also can't always give a full picture. As we know, real clients of this or that company don't always write reviews on the Internet, and nowadays, a lot of comments can be paid by competitors to jeopardize the company's reputation.
Of course, it is imperative to study the history of the creation and development of the company, carefully analyze contracts and documents - all this helps to avoid possible misunderstandings or problems of interaction in the future. Do not forget to check the list of the countries the broker works with, so you will be able to consider that while managing your campaigns. By the way,
did you know that PaxForex accepts clients from all the countries? It broadens your opportunities like nothing else, as well as the ten years presence in the market. Wrapping all of that, working with the PaxForex, you work with a well-established company aiming to provide the best experience for partners.
Will the Forex Broker Help You with Marketing?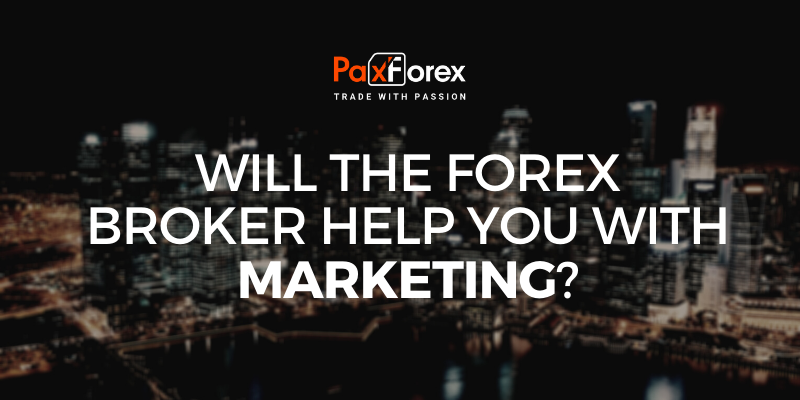 As an affiliate partner, your main task is to create a website/blog in order to make people want to trade with you on the PaxForex platform. So, basically, how the process is performing will determine the level of your success. Consequently, it is all about the marketing approach and marketing tools aimed to attract traders from around the world. And probably you are a trader who decided to try your hands at being a partner, so most likely you know nothing about marketing is, and your knowledge about it is limited by the fact that it's something to do with advertisement. Or, there is a chance that you are a marketing guru, but imagine taking care of everything on your own, instead of paying attention to some other essential aspects. Of course, you can try, but in most cases, all the attempts to do everything at once reduces the effectiveness.
Fortunately, there are Forex brokers that feel you and do their best to provide the best and convenient partner experience since they need you just as much as you need them. It is key to a prosperous partnership. That is why becoming an affiliate partner you get access to comprehensive marketing tools, including different templates for you to use in your business.
The marketing materials will be provided based on your partnership plan, which may be template emails, banners for emails or websites, and social media headlines. Well, everything you will need to bring more and more clients to the broker`s website. Remember to have a thorough look at what you are offered, see if the materials meet your expectations and the marketing idea, and only then accept the conditions.
How Will You Keep Track of Your ROI as a Forex Affiliate?
The complete and understandable partner dashboard is as important as a trading platform for a trader. It is a must for a partner to monitor the transparency of a broker and to be on top of how your marketing is performing, as well as to track your return on investment. In the PaxForex Partner Area, you can track all the statistics of the referral links, see the number of his referrals registered on the Forex company's website, track the actions of referrals, and record the reward. Of course, you do not have access to the personal data of a referral, only the fact of a client clicking on a referral link and his specific action.
Usually, affiliate statistics are recorded automatically - using special software (CRM, customer relationship management) working on the side of a forex broker or a separate resource providing such service. When choosing the broker to work with, make sure that you will get around-the-click access to the dashboard, that will give you a full survey of statistics. You will need to check thoroughly the productiveness of your marketing tools, as well as to keep track of the ROI and statistics. It will help to know what is working and what is not, so you can alter your approach and improve regularly.
What Kind of Support is on Offer with Forex Affiliate Programs?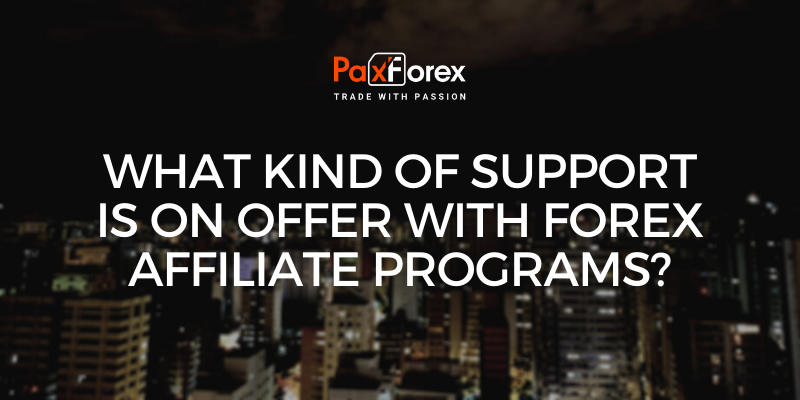 Another important component of a broker's work, which must be paid attention to, is Customer Support. Since the Forex market works 24 hours a day, so ideally the broker you choose should have client support available at any time. And is there support in multiple languages?
Check what are the ways to contact the client support are offered - email or chat. See if you can make a phone call and talk to a live person. Do broker representatives make an impression of competent employees? The way you are answered will show how your questions will be solved in a real situation.
Of course, in the course of trading (if you are to manage accounts), you or your referrals may encounter technical problems. So try to present such critical situations in advance and model the questions and requirements that you will address to the broker. You will be able to do this on a demo account. The broker's website may have clear explanations, but before you open an account you need to make sure that the broker's support team is working well and efficiently.
Make sure to double-check everything to avoid possible issues and misunderstandings.
Is It a Top Forex Trading Platform?
Depending on the specific hardware and software, a particular trader may need either an installed program or an online application. The choice of the optimal platform is crucial for successful trading. Or for a successful affiliate partner since you need to be sure about the product you are going to offer. So before jumping in with both feet, test everything yourself.
It is important to make sure that the trading platform is not prone to frequent crashes or "hanging", especially during the release of economic news of global importance or global events, when traders need a stable system.
The reliability of the platform is more important than its pleasant appearance and convenience.
An aggressive trader or a trader who frequently makes large trades needs a stable platform that never or rarely fails. But passive and conservative traders who do not follow the market movements all day long can afford greater freedom in choosing a platform.
In the case of Forex trading, convenience means that an order can be placed or closed instantly. One-click trading and setting of Stop-Loss, limits, and other types of orders are the parameters that a trader may need.
Also, the advantage is easy navigation across the entire platform. If additional charts and instruments are offered within the platform, they should be easily accessed and used.
This is critical for an aggressive trader (intraday trading/scalping), as his reliance on the platform is very high - much higher than that of a moderate or conservative trader.
Moreover, the company should provide a wide spectrum of financial assets, not just Forex. There should be commodities, indices, stocks, and cryptocurrencies. With that, you will be able to have better customer coverage and will be able to interest everyone despite their trading style and portfolio preferences.
Pay attention that PaxForex provides the most popular trading platform MetaTrader 4 which is famous for its user-friendly interface and reliability. With a broad range of different CFDs, including stocks of the most popular US companies and indices, everyone will find something to suit their taste.
Final Thoughts: Will the Affiliate Program Work for You?
No doubt, the choice of the best Forex affiliate programs is a very scrupulous thing, but it should be done with due diligence since it will affect the whole foray. Just remember that the best affiliate program is the one that suits you and brings you a consistently high income. If you are just getting started, do not make the classic novice mistake, do not expect fast and big money.
Be sure to clarify exactly how the program you have chosen works. It can be either a CPA plan bringing you rewards for clients activating their accounts; or a Revenue Share program when you get the percentage of the spread; or even a White Label, which is a combination of both above mentioned.
Pay attention that reliable Forex brokers adjust all the rewards and commissions plans in accordance with your very situation and performance, rather than fixed payments disregarding the type, the number of referred clients, and the traded volume. If you encounter a broker with a one-size-fits-all program, then something is wrong there and it is better to stay away.
In summary, feel free to question everything you are offered when it comes to Forex affiliate programs. Be discerning and picky about the payment plans you are offered, or bonus promised.
Now, after going through this article you might be feeling like the Forex affiliate is exactly what you`ve been looking for. So, you`ve got to the right place! With PaxForex you can choose from a variety of different programs for different types of partners. Becoming a partner and promoting our trading arena you will be able to increase your earnings and receive a bonus on top of the agreed commissions.
PaxForex provides several types of affiliate programs, including the Hybrid Plan, which combines all the benefits of the CPA program and Revenue share. Choosing this partner program, you are getting a 24/5 support, a personal IB account manager, a Partner dashboard to monitor all the clients` activity, as well as the top marketing materials and analytics. To get more information about the PaxForex affiliate programs, check our partnership section, and start getting a return with the help of a well-established and reliable broker!