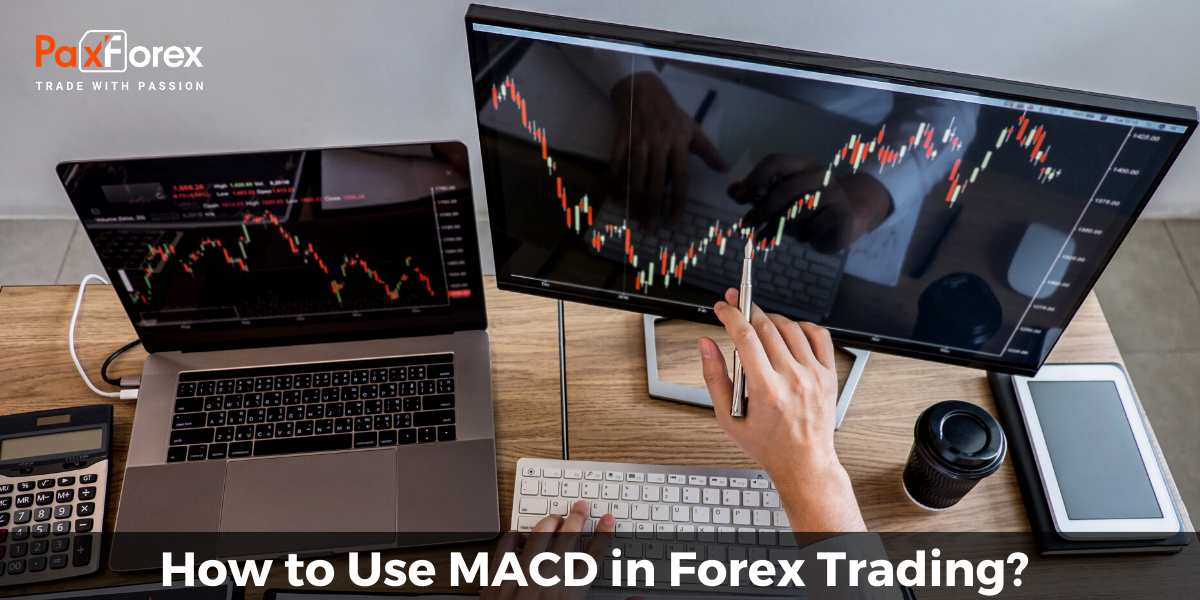 Source: PaxForex Premium Analytics Portal, How to Use MACD in Forex Trading
Technical indicators can significantly help traders with seeing the market clearly and making the right decisions on time. Moving Average Convergence Divergence (MACD) indicator is both highly popular and extremely effective. Today we will learn how to use MACD indicator in Forex trading.
How to Use MACD Indicator in Day Trading
For starters, let's establish what does MACD mean in Forex. The basic elements of this indicator are: MACD line (usually blue), signal line (red), zero line and a histogram.
Moving Average Convergence Divergence line is a result of subtraction of two EMAs (Exponential Moving Averages) set at different periods. The exact math is: MACD equals 12 period EMA minus 26 period EMA.
The signal line, usually presented in red, is a 9 period Exponential Moving Average of the MACD line. Zero line is simply the medium value that indicates a base for both red and blue lines and can serve as a confirmation tool.
And the histogram at the bottom of the chart indicates the difference between MACD and MACD signal lines. The histogram formations can be used to predict the upcoming crossovers.
How to Trade MACD in Forex
MACD was designed to provide trading opportunity signals through measuring trend's momentum. A big part of how to read the MACD is getting to understand the nature of momentum indicators on Forex. In a nutshell, momentum indicators measure the speed at which price changes in your chosen currency pair. This calculation can be done in a variety of ways.
In case of MACD, the momentum is evaluated along with the trend's direction, strength and duration. And the specifics of relations between the price movement and the Moving Average Convergence Divergence indicator can provide signals for trading actions.
To completely understand how does MACD work in Forex, you can start by learning what some of its formations mean.
MACD crossing is an act of the indicator's lines crossing each other. This interaction can be used in three major ways: to establish entry points, to confirm trends and to filter signals in trend direction. Any MACD indicator how to use guide would normally describe the following two scenarios as a way to filter signals.
When the MACD cross over happens below zero line and blue line rises above the red one it is considered a bullish signal. Traders would normally wait for the MACD line to cross the zero line before going long.
And if the blue line goes under the red one in an above zero zone it can be interpreted as a bearish signal. The signal is then confirmed if the MACD goes below zero.
To make trader's life easier there is an option in MT4 to set up an MACD cross alert for when the indicator reaches specific formation. You can specify the value you are aiming for, and the alert will then inform you whenever the indicator interacts with your required value in any way.
MACD Crossing
Another handy trick to master when it comes to how to use MACD in Forex trading is mastering the MACD golden cross combination. Golden cross is a chart formation that consists of a short period Moving Average crossing a longer period MA upwards. This would normally indicate a bullish market.
On the opposite side, the death cross (short term MA crossing long term MA downwards) is an indication of bearish market.
Although both golden star and death star are pretty solid signals on their own, traders rarely make decisions based on just these formations. Two indicators that are used in combo with death or golden star are RSI (Relative Strength Index) or MACD.
In the scenario where the golden star aligns with a bullish MACD crossing, the confirmation is nearly absolute.
Any technical indicator on Forex can be extremely helpful, as long as you properly get to know it. The best way to practice using indicators, including MACD, is to give them a try in a free demo account.
Demo accounts are exact copies of live trading accounts with the only difference being: each action is a lifelike simulation. This means that while you will get a good feeling of how each tool works, you won't risk any actual money in the process.
Forex demo account is a great tool to get familiar with the technicalities of the currency trading process and pick the tools you will want to implement in your future actions.