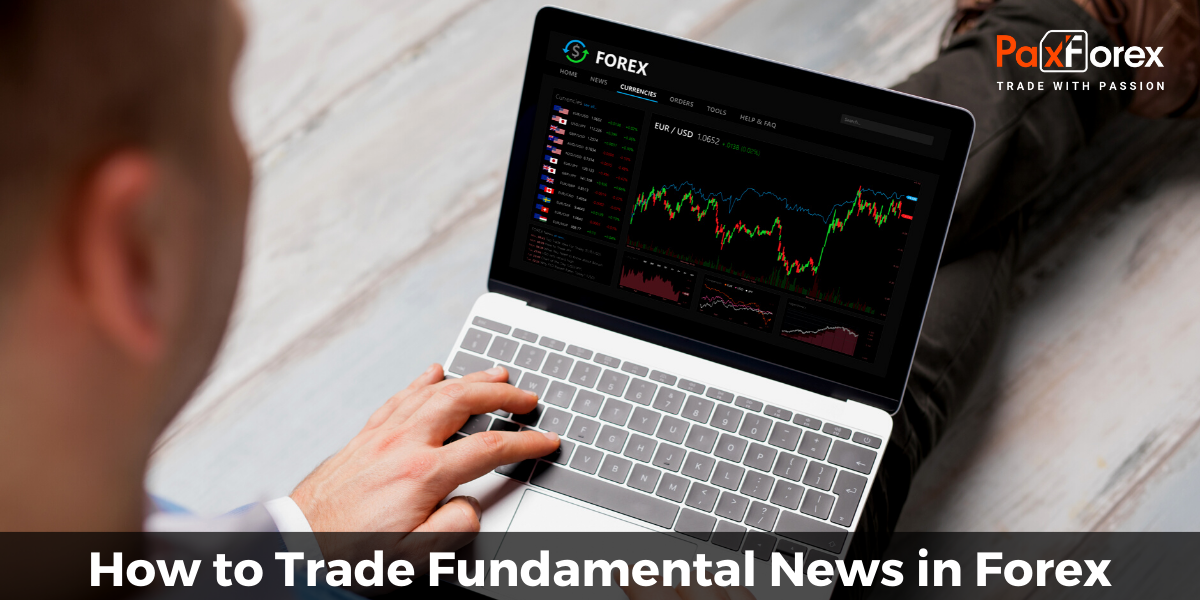 Source: PaxForex Premium Analytics Portal, How to Trade Fundamental News in Forex
Forex fundamental news trading might be a little complex, but it is also very effective. Fundamental analysis of the currency exchange market is based on the fact that various political, social and economic factors around the world affect the price formation on Forex.
This way, by carefully selecting and analyzing fundamental trading news, a trader has an opportunity to predict where the price is going to go next and benefit from it.
The main challenge of fundamental news trading is to correctly pick the information. Understanding how the market reacts to each specific news release requires a decent level of skills and experience. That's why it is generally advised for new traders to start with something a little more basic.
So, before you begin to learn how to trade fundamental news in Forex, concentrate on mastering reading and analyzing price charts. Technical analysis of the market can both assist you in calculating your next trade and give you a solid view of how Forex can behave.
Once you get a strong feel of what trading feels like from a strictly technical point of view, you can move on to getting to know fundamental news Forex trading.
The very first step of how to trade fundamental news in Forex is choosing several currency pairs you are planning to operate with. Don't try to bite off more than you can chew: focus on just one or two pairs for starters.
Knowing which currencies to focus on is going to help sort out the fundamental trading news you will actually need. For example, if your currency pair of choice is USD/GBP it is very logical that the news you are going to look for will concern the United States and Great Britain.
It is also important to mention that some countries are majorly affected by the way they interact with others. So, in case the Forex fundamental analysis news heavily depends on a number of countries, you will need to take this all into consideration.
A very good example of this principle is Euro. Although EUR is an official currency in nineteen countries, the biggest driver of its movement is Germany. So, from following German politics and economics specifically, a trader can build a pretty clear picture of the entire European scene. But, keeping an eye on other Union members, such as France or Switzerland can also provide a good chunk of insight.
This teaches us that Forex fundamental news trading will demand both time to intake all the important news and knowledge of global economics.
You might say that it sounds impossible to follow all the potentially important news and this is partially true. That's why you will have to select a set of fundamental news trading signals or in simple words — news releases to trade.
Which News Releases to Trade
A large part of how to trade fundamental news in Forex is picking the news to look out for. Your biggest helper in this selection process is going to be an interactive economic calendar.
Forex economic calendar is a collection of all scheduled events that are expected to influence the market. The calendar provides a brief overview of each event along with predictions on what will happen at the market.
Depending on the currency pair you pick and the overall trading style, you might want to pay attention to different criteria. This way, scalpers will look out for events with the highest volatility expectations, while position traders will judge the potential significance of impact.
Fundamental news Forex trading takes a while to master, but as long as you steadily follow all the steps and account for all possible outcomes, you're going to be fine.
Plus, if you are not comfortable enough to implement your own analysis results in trading, you can always use the Forex daily news fundamental analysis reports provided by your broker. There you will find the most crucial information regarding major currency pairs along with expert predictions and suggestions.
Keep learning how to trade fundamental news in Forex and keep your eyes open for anything that can become the next big game changer. Use the learning materials on our blog to explore this topic deeper and make sure to check out the daily fundamental analysis updates to stay fully informed.