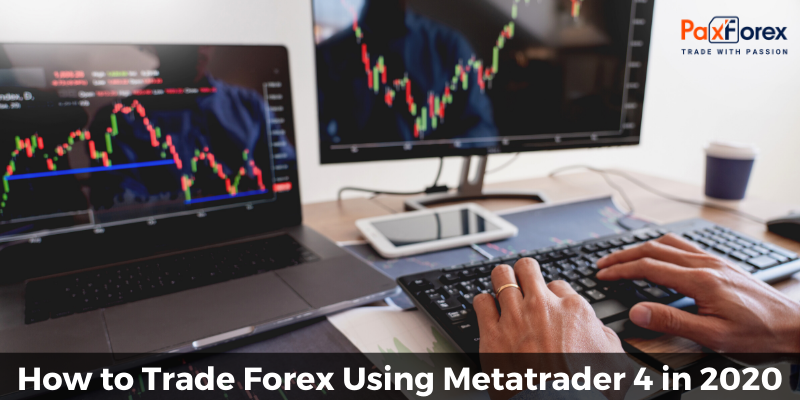 Successful currency trading is mostly defined by trader's attitude. To be more specific, a profitable Forex journey largely depends on the preparation process rather than on the trading itself. Many novice foreign exchange enthusiasts choose to go all in from the very beginning without giving too much thought to learning all the necessary concepts, adopting the right strategy and selecting the right tools. As you might have guessed, these traders are the ones making up the tremendous rate of people who give up on the idea of currency trader right after the first set back. However, we also know that there are a number of traders who make a decent amount of money on trading, moreover for the majority of them Forex is the only income source and clearly it is more than enough for them to live comfortably and provide for their loved ones. So, the real question here is how do you get out of treating foreign exchange as gambling mindset and approach the matter with the appropriate amount of planning and learning.

We have already discussed earlier that a large role in trader's success is played by the amount of knowledge they are willing to gather prior to starting the trading process. Yes, it does sound like a lot of work, and quite frankly - it is. However, it is also crucial to profitable experience at the currency exchange market, as it is a complex place with its own rules and behaviours. Think of it as lion taming - you won't approach a large potentially dangerous animal without knowing the first thing about it, will you? Then why should it be a great idea to start investing in foreign currency without getting to know the process first. From the beginner's point of view, the amount of information to consider is pretty big. That is why we like to take a step-by-step approach and break it down as much as possible, to conquer one thing at a time and really get familiar with the tiniest details of each concept. Today we are going to focus on currency trading platforms in general and on how to trade Forex using Metatrader 4 in particular. To ensure you are getting a full picture, today we will cover the following:
What are Forex trading platforms

Introduction to Metatrader 4

How to download Metatrader 4 on PC and other devices

How to open an account in Metatrader 4 to start trading

Key functions of your MT4 platform

How to use Metatrader 4 demo account

Automated trading and how to install a robot on MT4
What is a Forex Trading Platform
There are generally two parts to Forex trading: theoretical and practical. The theory consists of many things, such as market terminology, trading strategy, market analysis and forecasts, risk management techniques and many others. As we know, theory is a foundation of success in most things in life, and Forex is absolutely one of them. However, today we are focusing our attention on the practical side of trading. If theory answers the question "what am I going to do?", the practice is all about "how am I going to do it?". And this is where we come to a more technical side of the process - software and tools used to make online Forex trading both possible and profitable. The center tool is, without a doubt, a trading platform also referred to as a trading terminal.

The best way to describe a trading platform is by calling it a gateway to the market from the comfort of your home or office. What this means, is that through a platform you can access your trading account and with it the market itself at any point of the day as long as you have a device with an appropriate version of the trading platform you use. Moreover, the platform is pretty much the only way to access online live trading, as it is basically the software that makes it possible to begin with. The way platforms operate is by allowing the user to open and close trades through the terminal and passing it on to the market. On top of that, platforms can also display a variety of useful market data that can be used to analyze the market and plan the upcoming trades. Platforms can differ on a level of complexity, number of functions included in the interface as well as their target audience. Some platforms, for example, only focus on one type of investors lake real estate, which means they won't work as well for currency traders. Then some platforms only target the trader community who adopted one specific trading style, for example - day traders. And there are also platforms that were designed to fit most trader's styles and interests, and therefore tend to get the most attention from users.

Trading platforms can be very straightforward and simplified or advanced and loaded with supportive functions. The key here is, as you choose the platform, try to focus on the ones that offer you a possibility of diversifying your trading experience, even if you don't think that you will be needing all the available functions right away. It is a well known fact that traders very rarely switch between the platforms. This is mostly true due to the fact that platforms are tied to the broker and shifting to another broker is extremely inconvenient for the most part. This is why the platform you choose has to have high potential in terms of available instruments and add-ons that can work together with the terminal - to ensure all your needs, both current and future, are properly met. Which brings us to the next stage of discussing the most popular trading platform currently available at the market - Metatrader 4.
Introduction to Metatrader 4 Trading Platform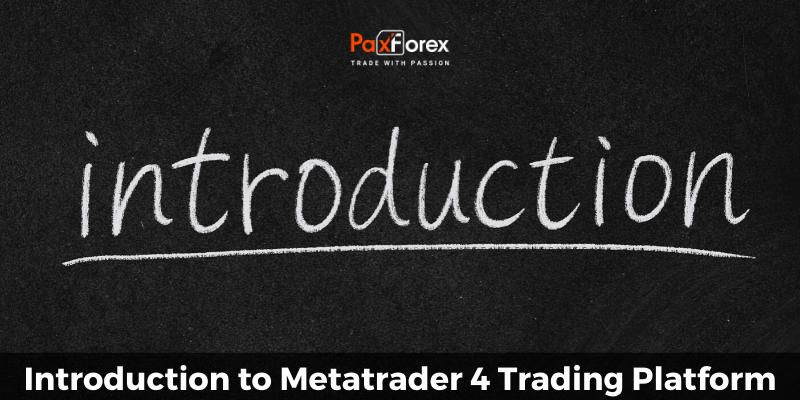 Although the market of currently available trading tools is pretty widespread, there are just a few instruments the truly stand out, one of which is Metatrader 4 also known as MT4. The majority of brokers gave their preference to MT4 due to a unique combination of functional complexity and easy to comprehend and operate interface. This means that while Metatrder can perform a number of truly complicated tasks and functions, using it is far from being rocket science, and pretty much anyone can do it. User friendly software also wins over professional targeted niche options, as it expresses the real genius of wise programming - software made for people can only be considered good if people are comfortable with using it. This is exactly what MT4's developers has in mind as they came up with the idea of a platform that will be equally functional for a professional trader as well as for a trader who learned about Forex yesterday.

Now, let's get slightly more technical and talk about the specific characteristics of Metatrader 4 that make it a great choice for every trader. For starters, as we already mentioned, MT4 is simple to use and understand. The original layout is built in a way where you have your most important keys in functions ahead of the secondary ones. Additionally, there is an option to customize you terminal by adjusting the color schemes and bringing to the fron functions that matter the most to you personally. The platform is also suitable for international traders as it is available in a variety of languages, including: Bulgarian, Chinese (simplified), Chinese (traditional), Czech, Danish, Dutch, English, Finnish, French, German, Hungarian, Italian, Japanese, Korean, Lithuanian, Norwegian, Polish, Portuguese, Romanian, Russian, Slovak, Slovenian, Spanish, Swedish and Ukrainian.

When it comes to market analysis, Metatrader offers to its users the option of using three most popular chart types - line charts, bar charts and candlestick charts. Since most analysts like to combine the chart to get a more in-depth view of the particular situation, the platform offers an option to quickly switch between the chart types to simplify the comparing process. Additionally, you can analyse the market from the perspective of nine different timeframes, which makes it ideally suitable for both short time and long time traders. To assist in the analysis process, MT4 also offers a selection of drawing tools that can help a trader to separate specific segments of the chart to see them in more detail as well as to identify possible trends. These tools also prove very useful to market coaches and educators as they assist in the presentation process by highlighting necessary elements.

Another significant element to market analysis is the implication of technical analysis indicators. The indicators are pre-set tools that allow analysts to extract specific data from the current chart. The indicators can serve a number of purposes, such as identifying a trend, confirming a trend, forecasting the upcoming tendencies and more. Metatrader 4 is equipped with over 50 built-in indicators to save its users the time of looking where to download the necessary indicator when it is needed. To find out more, check out the full guide on technical indicators posted earlier in our blog.
MT4 provides traders with live market feed of currency values which allows for effective on the spot trading. This comes in especially handy when a certain type of news release is believed to affect the market's behavior. Instead of looking for an external source of market info, Metatrder's users have it right in front of them at all times. Last but not least, MT4 allows for installation of automatic trading add-ons, widely known as trading robots.

Automatic trading through a platform is a solution for many categories of traders starting with newbies who lack knowledge and confidence and all the way to experienced pros who simply don't have enough time to watch the market on their own. As we now have establishes that Metatrader 4 is a great option for all kinds of traders, we should now move on to the actual downloading and using it part. So, let's talk about how to download Metatrader 4 on PC and other devices.
How to Download Metatrader 4 on PC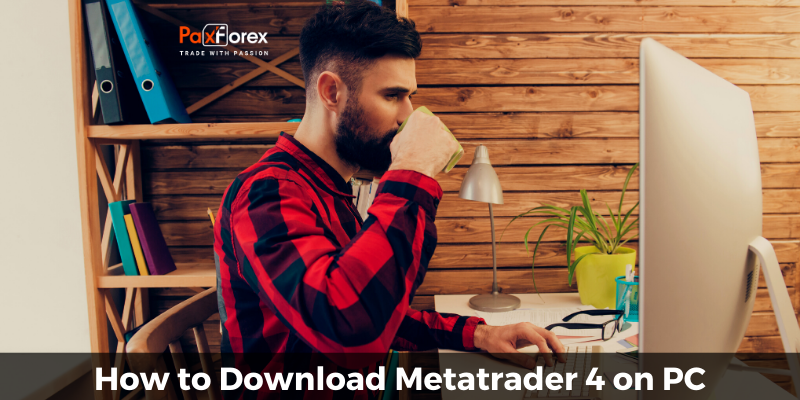 Considering the high level of functionality and popularity of MT4 it is easy to conclude that it must be very expensive. But the good news is that it is only expensive to brokers, who purchase it and then distribute the access among their clients. Which means downloading and using the Metatrader 4 platform is absolutely free. In order to get your hands on a copy of the platform software, simply head to the broker's website and locate the download link. There you will have a selection of links suitable for all devices that support MT4. Starting with computers that operate on Windows and Mac OS and continuing with a variety of portable devices such as smartphones, tablets and PDAs that run on iOS, Android and Windows. Some traders choose to stay entirely stationery, while others enjoy the benefits of having full access to a trading terminal on the go. Whichever you prefer - the platform is equally functional and easy to use, with the major difference being that the portable versions are slightly more simplified compared to their desktop counterparts. It is generally advised for traders who like to access the market on the run, to still have access to a PC terminal and use it here and there for more in-depth market analysis. Other than that, every modern device will give you access to online trading through MT4.

After you have found the right link, just follow the downloading instructions and proceed with the installation process. Make sure that the device you are planning on using has the sufficient amount of memory to run the platform as well as supports its technical requirements. As you have successfully downloaded the program, the next step, if you have not completed it yet, is to open a trading account which will activate the terminal and allow you to start trading.
How to Open an Account in Metatrader 4 to Start Trading
A trading account on Forex is the indication of the trader at the market. Accounts are created through brokers and can differ in services offered and investments associated with each type. The best way to choose an account type to open is by evaluating several things such as: your availability to participate in the trading process, the amount of assets you are willing to invest in the process, the speed and general character of the upcoming trades and so on. Most of these fit into a concept known as trading strategy. Strategy for a trader is definition of their style, as it dictates when to trade, how to trade and how much to trade with. Based on the preferred style, account types will offer a variety of initial settings that will be ideal for a specific category of traders. The best way to go about it is to become familiar with each account type offered by the broker and select the one that fits you most based on the current situation. Later on you can always choose to upgrade or downgrade your account type if necessary.
The process of opening a trading account itself is pretty straightforward and for the most part guided by the broker.

Two main things to keep in mind prior to opening an account is that you will be asked to provide copies of documents that confirm your identity as well as the initial deposit required to activate an account. As long as you come prepared, the account will not take long to get established and you will soon receive the proper credentials to log into your trading terminal and start familiarizing yourself with the set up. Getting to know your platform before starting to trade is always a good idea since it will help you remember how to quickly access specific functions which will potentially save a great deal of time further down the road. The best solution to find out about the most important keys and functions is through a copy of MT4 user guide offered by the broker. There you will find the detailed descriptions of the most of the basic elements as well as some key paths to perform certain actions. Going through the user guide might only take a couple of hours, however the info you get from it is going to remain useful throughout the entire time you are trading via the platform. To give you a general idea of the way MT4 operates, we will take the next few minutes to discuss some of the key functions of the terminal, including how to access and use them.
Key Functions of Your MT4 Platform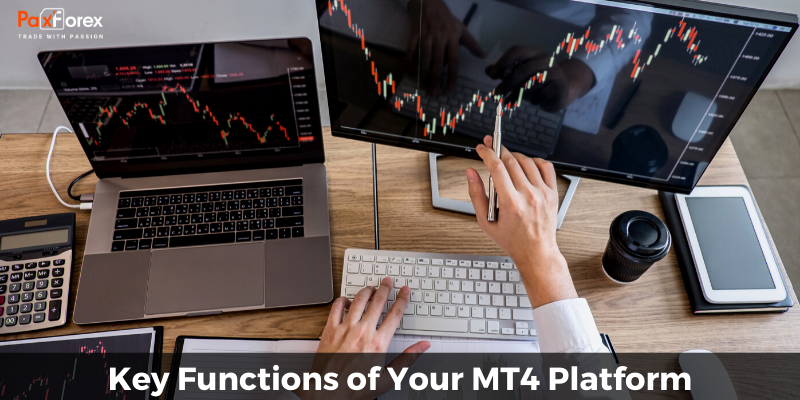 After you have successfully downloaded the platform and logged into your account without errors, you will be taken to the home screen of the Metatrader. The major part of the screen is always taken up by a chart or a number of charts, that display the movement of prices for a chosen currency pair during the selected period of time. On the left side you will see the current values of default currency pairs, usually the most popular ones, this can be later adjusted to your preference and display the currencies that interest you personally. The value is always expressed via two numbers labeled ASK and BID, the ask being the price at which a position can be purchases, and bid - at which the position can be sold. Based on the significance of these values traders choose the type of positions they will be taking and the time of holding the said position open.

Then on top of the screen you will have a menu which allows you to access all the functions and add-ons included in the platform. Right underneath the menu there is a Market Watch section, right clicking on which will by default include functions like "New Order" which brings out a window that lets you to open and close positions as well as place pending orders, "Chart Window" will assist you with setting up a specific chart for the chosen currency pair or "Popup Prices" that brings out real time quotes for you preferred pairs. As mentioned earlier, the original set-up is not necessarily the final one, and as you go along with the trading on Forex, you are free to adjust the appearance of your terminal to your liking.
The most performed action at the market is opening an order. Order is a way to buy or sell the chosen currency, which is kind of the whole point of currency trading to begin with. There are several ways to place a new order in MT4. The fastest of them being pressing F9 hotkey. You can also right click either on the chart of the currency you want to purchase or sell or the currency pair displayed in the "Market Watch" section (the left side of the screen) and select the "New Order" option from the contextual menu. As the New Order window appears you will have a form that asks for the following info: the currency pair you are looking to operate with under the line labeled "Symbol", the amount of that currency you want to sell or buy expressed in the form of a list of predefined lot sizes, each lot size containing a specific amount of currency units, "Stop Loss" and "Take Profit" functions are optional and are used as parts of risk management techniques by automatically executing orders at the specific price,
"Comment" field is also optional and most commonly used as a notes to self area, "Type List" will allow you to choose between Instant Execution (the purchase or sale of an asset immediately at the current market price) and Pending Order (the order that will be automatically executed when the market achieves a certain point), "Enable maximum deviation from quoted price" and with it the "Maximum Deviation" expressed in pips are used to avoid requotes in the conditions of a rapidly changing market by establishing pre-set deviation parameters.

After all the necessary fields are filled in, the trader presses either "Sell" or "Buy" button to complete the respective action, and then as the message of trade execution indicates the word "successful" presses OK to send the order to the broker, where it gets filed. You can then watch the progress of the order in the terminal window down below. It sure sounds like a lot to take in, but as soon as you get a grip of what are orders on Forex market, it will be nearly intuitive for you to operate with orders on a regular basis.

Another important section of the MT4 screen is the charts, teh toolbar for which can be found underneath the menu to the right side from the button labeled "Expert Advisors" or "Autotrading". You can choose to work with either a line chart, a bar chart or a candle chart or with a combination of them. There is an option to pull out a new chart window by right clicking on the Market watch and choosing "Chart Window". You can navigate between chart using the buttons in the menu at the hotkeys described in the user manual. Adjusting the settings of the chart is easily done through right clicking on the chart itself and choosing the required function from the drop down menu. For example, in order to adjust the time period presented on the chart, select the "Periodicity" option and choose one of the nine suggested time frames from 1 minute to 1 month. It is highly advised to keep the five minute time frame as the lowest to minimize the amount of so-called noise associated with small time frames. You can learn more about charts in particular and other functions of the Metatrader 4 in the free user manual offered in the Platform section of our site.
Now, let's take a moment to talk about an opportunity to get to know the platform as well as figure out your trading style and work out handy trading techniques without risking any money - through setting up a demo account for Forex trading.
How to Use Metatrader 4 Demo Account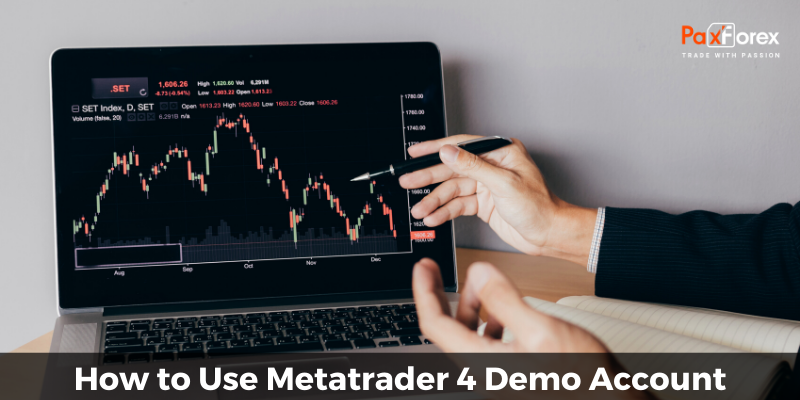 Practise makes perfect - is a wise concept that is virtually applicable to any area of life and especially in something as multilayered and complex as currency trading. By perfecting your trading skills before entering the market you can practically guarantee a positive result when it gets to the real action. The main reason for that is that practicing trading takes out the biggest obstacle on the way of each trader - the risk. Risk is an inevitable part of every trading journey, however for many traders it is a significant contributor to stress, and therefore to rush decision making that ultimately leads to major setbacks. By taking out the risk factor, traders build confidence and learn to remain patient in every possible situation. The best way to achieve that is by opening a demo account in MT4 through your broker.

Online the real trading account, demo accounts do not require any IDs or initial deposits. Simply request for a demonstration account to be opened for your through the brokers website and get the necessary credentials once it is done. You will then proceed to accessing a demo version of Metatrader 4 which includes all of the features of the real one, including the live feed of price quotes. However, in demo the orders are processed in the simulation mode, which means that they will play out just as they would under the same circumstances in the real market, but without affecting neither the market nor your account balance.

Demo can also be used as you go through the MT4 guide and click through every button and key described in the manual without being worried about pressing the wrong button. This is ideal if you want to take your sweet time and gradually progress through all the possibilities the platform has to offer. Additionally, you can choose the demo account to decide on what kind of trader you are by trying gout the most well-known or recently discovered trading strategies and adjusting them to fit you preference whenever needed. This way when enter the real market you won't waste any time adjusting to its nature and experimenting with various methods and techniques - as you have already done so in the demonstration mode. By the way, strategy development and backtesting option is the top reason for the professional traders to use a demo account since it is ideal for working out the imperfections without causing any harm to your live trading account.
Before we conclude, it is only fair to pay a bit of respect to another important segment of online Forex trading known as automated trading performed through the help of professionally designed software - trading robots.
Automated Trading and How to Install a Robot on MT4
Compared to the rest of the well-known trading practices, automated trading has only been around for the last couple of decades and gained its popularity in the second half of 2010's. Automated trading is executed by especially designed programs known as trading robots and works pretty much exactly how it sounds - the robots monitor and analyze the market on behalf of their users and place orders in accordance with their observations. This process typically excludes the trader from the equation allowing them to go on with their day away from the monitor, while still gaining profit from online currency trading. The hardest part about installing a robot on your MT4 terminal is finding the right robot to work with.
As you might have guessed, the market is flooded with various robots due to them being incredibly convenient.

Obviously, with the amount of robots offered it becomes somewhat tricky to choose the right one. However, the good news is - every robot is paired up with a specific broker, since brokers are necessary for any trader, bot human and robotic, to enter the market. The chances are, your current broker is already partnered up with one or several automated trading software providers and will be able to educate you on the matter of installing and using them. After you have chosen a robot to go with, everything else is very easy - the robot operates from your already existing trading account so by adding it to your MT4 you are pretty much all set. The one thing to keep in mind is that the robot can be turned on and off according to your preference, and this is also done through your trading terminal.
How to Trade Forex Using Metatrader 4: Conclusion
Let's quickly recap on the steps you need to take in order to start trading currency online through an MT4 terminal. First, you need to decide which device you will be using for trading and evaluate that device's capacity and ability to keep steady internet connection. Then you will download the appropriate version of the platform from your broker - either directly on your computer or through the application marketplace on your phone. In order to start trading you will need to open a live trading account through your broker, that can be done either before you download the platform or after. You can also open a demo account and practice operating the platform as well as trading completely risk free. As soon as you gain access to the Metatrader, it is always wise to get a copy of a free MT4 user guide to help you navigate through the limitless possibilities of the trading terminal. Once you have gotten familiar with all the basics and feel confident enough to start trading - go ahead and place your first order and watch it develop into something bigger.