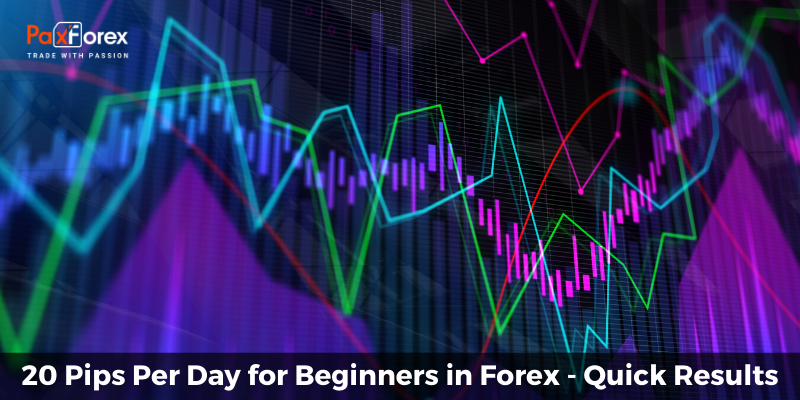 Are you a novice trader, facing a dilemma: how to start? Then the "20 pips per day" strategy is for you. It was created long ago and always showed stable results. And there are not trends that it will cease to work in the foreseeable future. But this is a market, therefore, be vigilant when applying any trading strategy and this one in particular. Here are the basic rules for using the 20 pips per day strategy:
• You need to start working later than 11:00 GMT.
• Do not start working before the release of important political or economic news - when the market is very unpredictable.
• If you decided to work on the day of the news release, then do it only two hours after they were released, the market should stabilize during this time.
• If no major events are foreseen, then it's best to start at 12:30 GMT.
• First, put the momentum 5 and sma 20 (moving average) indicator on the chart of the selected currency pair. These are standard indicators for the MT-4 terminal.
• Select the time interval as thirty minutes, the type of chart is Japanese candles, any currency pair is desirable, preferably a highly volatile one. For example USDCAD, GBPUSD, etc.
• Wait for the candle to close above 20 sma, while the momentum 5 will be higher, even a little, the average level then it is a buy signal. If the candle is closed below 20 sma, and momentum 5, respectively, is below the average level - this is a sell signal.
• Put Take Profit to 20 pips, but it will be justified to use a trailing stop with a step of 1 pip, or use the standard terminal trawler to reach 10-15 pips; take 30-50 percent of the trade when profits reach 20-30 pips, and leave the rest for trailing. In the case of luck, the profit will be much more than 20 pips!
• Stop Loss is set immediately, about 20 pips - either for sma 20, or for the maximum of the previous candle if it crossed sma 20.
• For caution, in the case when the price crosses sma 20 after placing an order and closes there, the order should be closed immediately.
This strategy works at any time interval, as long as there is greater volatility. Therefore, the best choice is the American or European trading session.