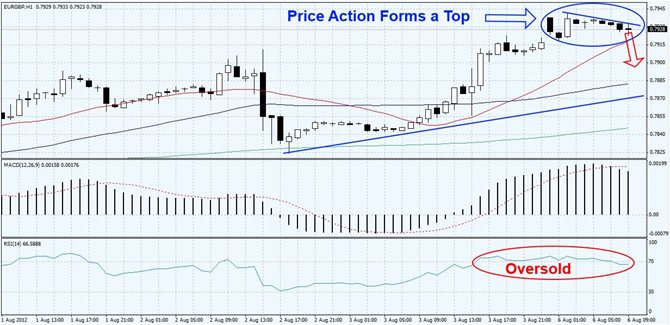 The EURGBP staged a rally based on renewed hopes that the ECB would act, but traders have pushed it up beyond reasonable levels and woke up this Monday morning realizing that the only sophisticated approach is to take profits. The chart pattern neither offers a clear bearish picture not a bullish picture, but candlestick patters show that a top has been formed form which the correction will take place.
MACD has been bullish, but a reversal of that trend is imminent as it has already started to fade. RSI has reached overbought levels and needs to correct to more sustainable levels. It already broke down from extreme overbought levels.
I recommend taking initial short positions around the 0.7925 level with potential add-ons every 30 pips as the upside potential is very limited from current levels. You may ride this correction down to the 0.7800 level unless you are impatient which will justify T/P levels below 0.7850.