Metatrader 4: Trailing Stop
Stop Loss is intended for reducing of losses where the symbol price moves in an unprofitable direction. If the position becomes profitable, Stop Loss can be manually shifted to a break-even level. To automate this process, Trailing Stop was created. This tool is especially useful when price changes strongly in the same direction or when it is impossible to watch the market continuously for some reason.
NOTE: Metatrader 4 terminal should be connected. In case if MT4 Terminal disconnected the trailing stop doesn't work.
How to set Trailing Stop order:
The Trailing Stop Loss and Take Profit limits, which you have learned to set, were sent to the forex broker. Even if you close MetaTrader 4, the broker knows when to stop the order.
But, in the case of Trailing Stop, MetaTrader 4 has to be login, because it sends the new Stop Loss level continuously to the broker. If you close MetaTrader 4, the broker will only know the last Stop Loss level MetaTrader 4 sent before shutting down.
Now let's set the Trailing Stop limit to our Order.
Step 1:
In the terminal window, right-click on the order you want to set its Trailing Stop. And from the context menu, choose the Trailing Stop sub-menu (Pic. 35). The sub-menu will show you following commands: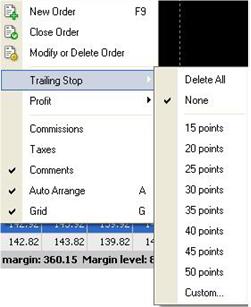 Pic.35 – Set Level
Delete All: To delete and all previous Trailing Stops you have set.
None: It means no Trailing Stop level has been set.
15 Points, 20 Points .. 50 Points: These are the default points/Pips level that you can choose from them. If you not interested in them, you can choose the custom command.
Custom.: Clicking this command will open the Custom Trailing Stop Window (Pic.36), which allows you to set a custom Trailing Stop level. Please note that the trailing stop loss order must be greater than 15 Points.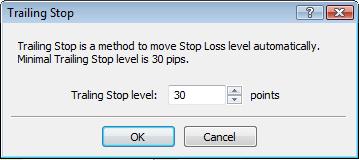 Pic.36 – Custom level
Step 2:
Choose the level from the context menu, or set the custom level, and click OK. The Trailing Stop will be saved. MetaTrader will use this setting to move your Stop Loss level automatically, as long as you running the program.
The Trailing stop can be disabled by setting "None" in the Trailing Stop sub-menu. Trailing stops of all open positions and pending orders will be disabled if the "Delete All" command of the same menu has been executed.