Metatrader for PDA
You may have already heard about the IOS and Android applications for on the go trading. But if you are a devoted Windows fan with a smartphone or PDA, there is good news for you as well. Metatrader 4 for PDA is available worldwide and comes with a set of features that will give you access to full trading experience anywhere you are. Forex trading in bed may not have been possible 20 years ago, but luckily it is now.
Metatrader has been known as the leading trading platform for a long time now. It manages to combine technical sophistication with visual simcity, which makes it a number one choice for many traders around the world. The platform has originated as a computer software, but with the growth of the mobile devices industry the developers came up with several elegant solutions for the on the go traders. MT4 for PDA is a simplified version of the full sized platform made to fit the capacity of PDA. However, being simple does not make it any less effective. In fact, trading via the application can easily be compared to its PC counterpart.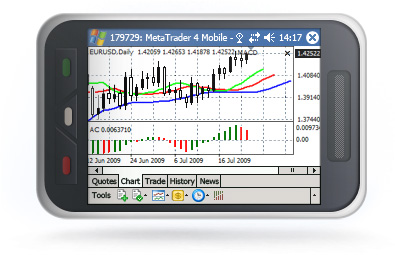 While the screen size of a personal digital assistant is much smaller than the computer's screen, the Metatrader PDA app still comes with a complete set of features. For starters, you will have full access to your trading account. As well as you will be able to open and close a position whenever you need in just one click. The ability to choose and install one or a few of 30 trading indicators will serve as great assistance to systemize the market data and make the right decision. You can also customize the application by rearranging some of the buttons and choosing one of three chart layouts: bars, candlesticks and line. Additionally, you could set up alerts to notify you about the progress of your trades or important financial market news.
By downloading MT4 for PDA you are allowing yourself to take control over the situation disregarding of your physical location. No matter if you are travelling, or simply don't have immediate access to a computer, simply reach into your pocket and continue trading for as long as you prefer. And in case you have not had much time to familiarize yourself with Metatrader prior to installing the MT4 for PDA, you can always use the instructional manual. The manual will take you through all the features and settings, describe every procedure and provide useful tips for effective operation.
Choosing to add a mobile device to your trading arsenal comes with the great benefits of saving time and reducing stress by having control over situation anytime, anywhere. The simple design provides and opportunity for anyone to master Metatrader PDA version in a matter of hours, while innovative technology gives the advantage of having the best tool at your disposal.