MT4 for iPad
Currency trading on the go has gained its popularity within the last few years. The traders are no longer restrained to the limited spaces of their home office or the computer at work. The list of benefits of mobile trading goes on and on: it is convenient, it allows you to multitask, it reduces the stress level due to the ability to control the situation at any time and also it is very easy and straightforward. When thinking about trading away from your computer, many instantly imagine the smartphone. Of course, the applications for both IOS and Android based phones exist and prove themselves very effective. However, the limited size of the smartphone screen is not for everyone. And that is why there is Metatrader 4 for iPad - a portable but still sufficiently sized trading tool.
Download Metatrader 4 for iPad
Metatrader has been a leading trading platform for a while now. It is best known for its unique combination of sophisticated set of features and user friendly interface. This means you definitely don't need to be a computer genius to master the MT4 properly. And if the desktop version is easy to use, the Metatrader iPad application is even more simplified. The minimalistic design allows the user to access every major feature in a matter of seconds, while the general layout still provides the full picture.
You shouldn't think, however, that being easy to comprehend and use makes the MT4 trading platform for iPad less effective. The application still allows you to access most of the features offered in the PC software. For instance, you will have complete control over your trading account. iPad MT4 Forex trading platform will also allow you to open and close positions just as you would on your computer's terminal. Additionally, the app includes the possibility of installing one or several from 30 trading indicators. The indicators serve as assistant tools to the platform by drawing statistics and calculating various values. They come extremely handy when a trader is trying to implement a complex strategy that might involve a series of mathematical operations. With the installation of an indicator the entire process happens nearly seamlessly and all you have to do is use the result data wisely.
Also, due to the iPad's screen size it can be successfully utilized for technical analysis. Analyzing the market is a crucial part of successful Forex trading. Basing decisions on detailed analysis data guarantees the trader a higher rate of control as well as bigger possibility for the desired outcome. Mastering the skill of analysing goes a really long way, so make sure to get at least a basic understanding of how to read the market data and systemize it according to your goals. Now, while the smartphone app would only allow you to see the settings or the chart separately, the tablet's screen lets you see both side by side. This is more than enough for comprehensive analysis and looks almost identical to the PC version.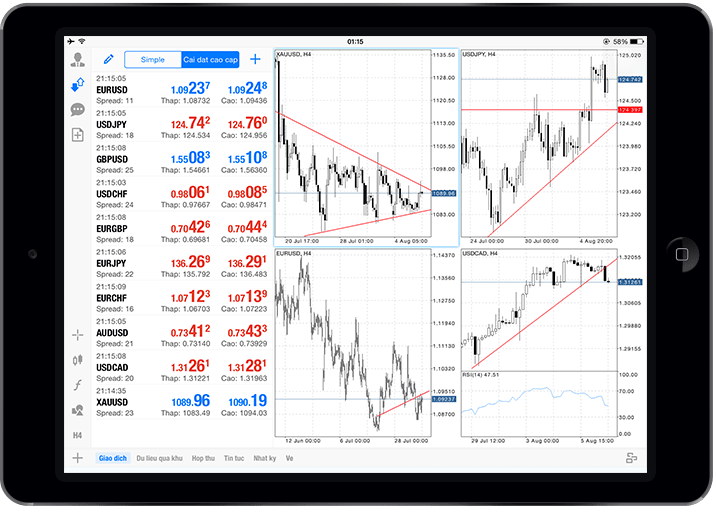 As a pleasant bonus, the Metatrader 4 for iPad mini as well as for other iPad models is fully customizable. This means that you can adjust the layout according to your preference. This is an important option since all traders take different approach in trading and therefore, will need to access some features before others. It is also convenient for new users who can experiment with various setups to determine which works for them the best.
To start a free download Metatrader 4 for iPad you can use the same link as the MT4 iPhone app. Keep in mind that although it is technically the same application for all IOS devices, it will look differently depending on your gadget. For example, the application layout on an iPhone or iPod touch is going to be similar to each other. With the limited screen size, both the smartphone and the iPod will only show one thing at a time. While, as mentioned before, the iPad has a capability to show more, almost as much as the computer screen.
Download Metatrader 4 for iPad
After you install MT4 on iPad, it would be a great idea to get your hands on a copy of the instructional manual for the Metatrader application. Normally you would find the download link for the PDF manual right next to where you got the link to your application, on your broker's website. Getting a manual can be very helpful as it takes care of a few important aspects. First, it will take you through every screen and button available in the app, while describing their functions and characteristics. It will then walk you through all major sequences and procedures. Even after you become a professional, it is nice to have an option to double check using the manual.
As you can see, the decision to get yourself a Metatrader 4 for iPad comes with many advantages. It is convenient as you can access your trading account anywhere with an internet connection. This can be very handy if you are on a business trip or on a family vacation and don't want to miss any promising opportunities at the market. And at the same time, while being totally portable, the Metatrader iPad application gives you access to full trading experience with the use of the big screen and strong processor. All of these mean that you can finally live your dream by trading anywhere and whenever you want, without having to glue your bottom to the office chair surrounded by four walls.