Forex Practice Account
With an average daily turnover exceeding 5 trillion dollars, the foreign exchange market is the most liquid sector in the financial world. Thanks to the technological breakthrough, traders and investors can exchange currencies, buy or sell commodities and shares in milliseconds. At the same time, Forex is the easiest exchange to access with the lowest requirements for initial trading capital and business investment to start a fascinating journey in the global financial markets.
Like any other type of business, Forex trading requires a business plan and a strategy. Before investing any amount of money, future Forex traders should have an understanding of essential factors like how much money can they make on trading, what are the risks involved, what is the best investment volume and how fast can it start delivering profits. Most reliable Forex brokers offer a simple answer to all of those questions - Forex Practice Account.
Practice account for Forex trading
Below are four main reasons to open a practice account for whether a newbie or an experienced trader.
Observing the market.
Many professional traders began exploring financial markets with a simple step to open Practice Account for Forex trading. Before making profitable trading decisions and making accurate predictions, Forex traders should understand essential mechanisms driving the markets. One of the most effective methods to gain experience in that space is to observe the market's reaction to certain fundamental events such as macroeconomic reports, interest rates decisions by global Central Banks and policymakers' press conferences. An online Forex practice account allows beginners traders to hold the hand on the market's pulse, comparing currencies exchange rates fluctuations with the fundamental environment, rumours and concerns influencing traders' sentiment across the globe.
Learning by doing.
There is also a learning-by-doing approach for newbies in Forex. A Demo Account has real trading conditions and it gives an opportunity to get to know basic terms in trading. Beginners would quickly get answers to such basic questions as what are currency pairs, spreads, pips, margin requirements, leverage, equity and so on. It's hard to imagine a profitable Forex trader without an understanding of those basics. Reading educational materials and tutorials is important but it's becoming useless without applying theoretical knowledge on practice.
Exploring trading software.
A Forex trading platform is exactly the tool which allowed hundreds of thousands of traders worldwide to get the easiest access to global financial markets. One of the most popular trading platforms nowadays is MetaTrader4 (MT4). Forex MT4 practice account gives access to the full range of trading tools including charts, market updates and analysis, as well as technical indicators to increase prediction accuracy and trading profitability. Demo accounts have the same operational functions as real trading accounts. Therefore, when exploring the trading software, beginners are getting ready for trading in real market conditions.
Testing strategies.
Most of the experienced traders use multiple practice accounts to backtest new trading strategies, automatic expert advisors or technical indicators before implementing them on real-money accounts as trading on Forex demo account does not involve risk to lose funds. If the analysis showed that a new trading strategy is efficient enough to invest real money, traders can include it to the set of tools for profitable trading. MT4 practice account gives a trader a full list of data used in the analysis of past trading decisions, including the trading log, percentage of profitable deals, profit/loss ratio etc.
Why open a Forex Practice Account at PaxForex?
PaxForex Broker Company offers free unlimited Forex practice account fully compatible with any type of real account. This helps traders to develop own trading strategies and money management rules in accordance with potential investment amount. Read more about the available types of Forex accounts.
New members can also take advantage of the wide variety of trading platforms including MT4 desktop and mobile versions. Outstanding technical analysis instruments and charting tools are available for every PaxForex client completely free of charge. Fast order execution and low spreads allow traders to benefit even on the smallest change in currency rates. Here is a full list of PaxForex Practice Account advantages:
Real-time trading conditions under the appropriate Forex trading account;
Ability to choose initial practice-money amount;
Minimal spreads compatible with real accounts conditions;
Quick order execution similar to real trading conditions;
Free non-risk practice;
Free and unlimited access to MetaTrader 4 Desktop and Mobile trading platforms;
Technical analysis and charting tools;
Market updates and analysis.
How to open a Forex practice account
Once you decided to find out how trading in the financial markets works or test a personal trading strategy, you are welcome to open Forex currency trading practice account. The registration process is fast and easy and it requires only a few minutes and three simple steps to get the full access to the exciting financial world. After clicking the link, you'll get to the registration page, which looks like the screenshot below. Here are also a couple of recommendations for setting the best Forex Practice Account up.
Selecting the account type.
When setting Forex practice account for new members, traders should consider the same trading conditions they are going to use in future. Real account types depend on the volume of initial investment and offer different support levels, spreads and variety of assets to trade with. For example, the Standard account type requires a minimum deposit of $2000, offering quite an impressive level of customer support and a wide variety of additional benefits. However, if a trader does not have a chance to invest such an amount in the future, it's recommended to start practising on lower account types like Mini or Cent account as trading conditions might differ.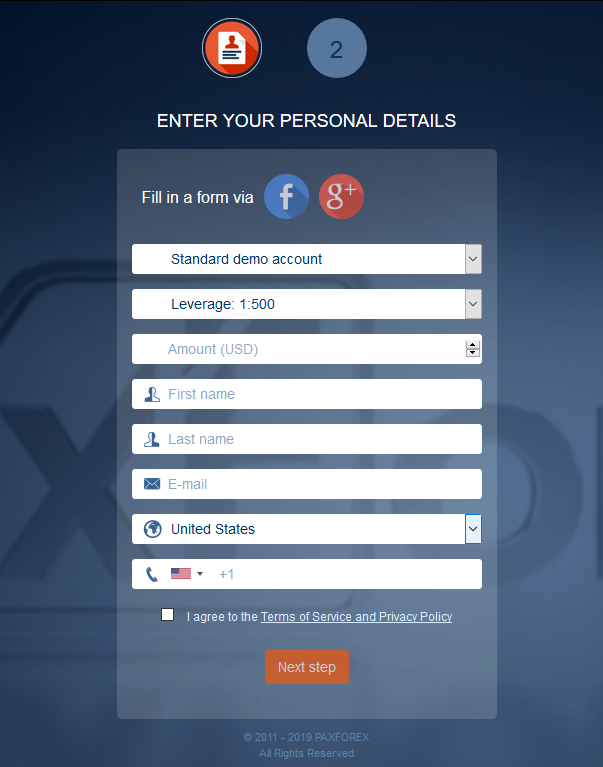 Choosing the leverage.
Although maximum leverage of 1:500 is attractive in terms of potential profits, such a high ratio of the funds invested compared to the overall amount of money in the market is related to higher risk. At the same time, higher leverage requires lower margin requirements for every trading position, and it gives a chance to open more deals with the same account balance. In this case, the initial deposit has to have a certain depth or a buffer to increase flexibility in the market, as well as rather a tight level of stop-loss orders. That's why beginners should consider starting with lower leverage such as 1:100 or 1:200, while experienced traders can take advantage of higher ratio like 1:300, 1:400 and 1:500. This is an important choice, thus, potential investors should take it into account when developing own trading strategy and money management rules.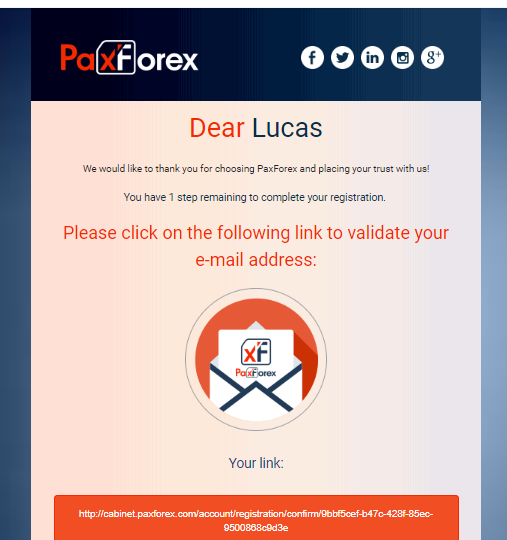 Account balance
Traders can choose any amount of trading capital available for practice trading within the range of appropriate account type.
Credentials and contact details.
Make sure you provide accurate contact details including your First and Second name, email, country and phone number to get the full range of benefits provided by PaxForex.
After filling the registration form and clicking the 'Next Step' button, you'll be transferred to the second step. Check your mailbox for a confirmation email from PaxForex and follow the link to validate your email and get access to your Forex practice trading account MetaTrader 4 with login and password details.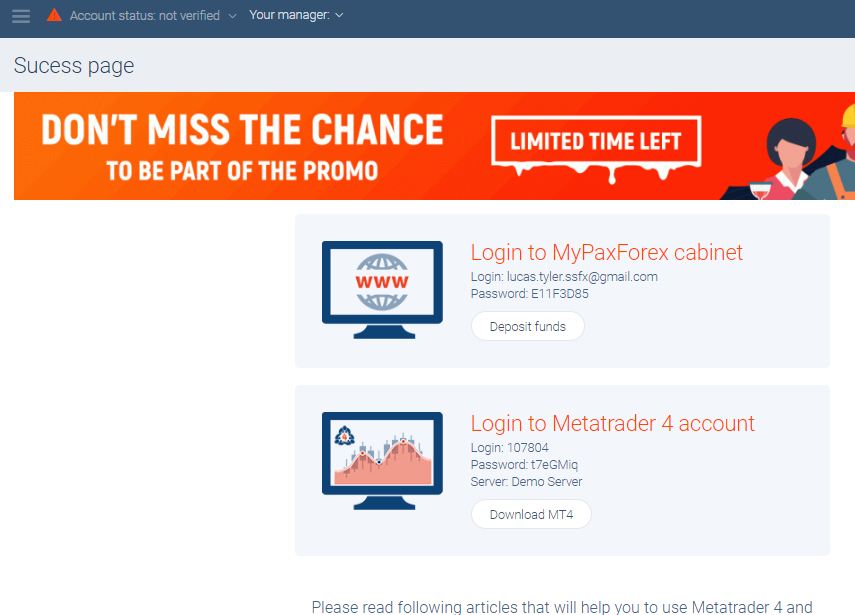 Now you can download MetaTrader 4 Platform and start practice on foreign exchange market without risk to lose your own funds.