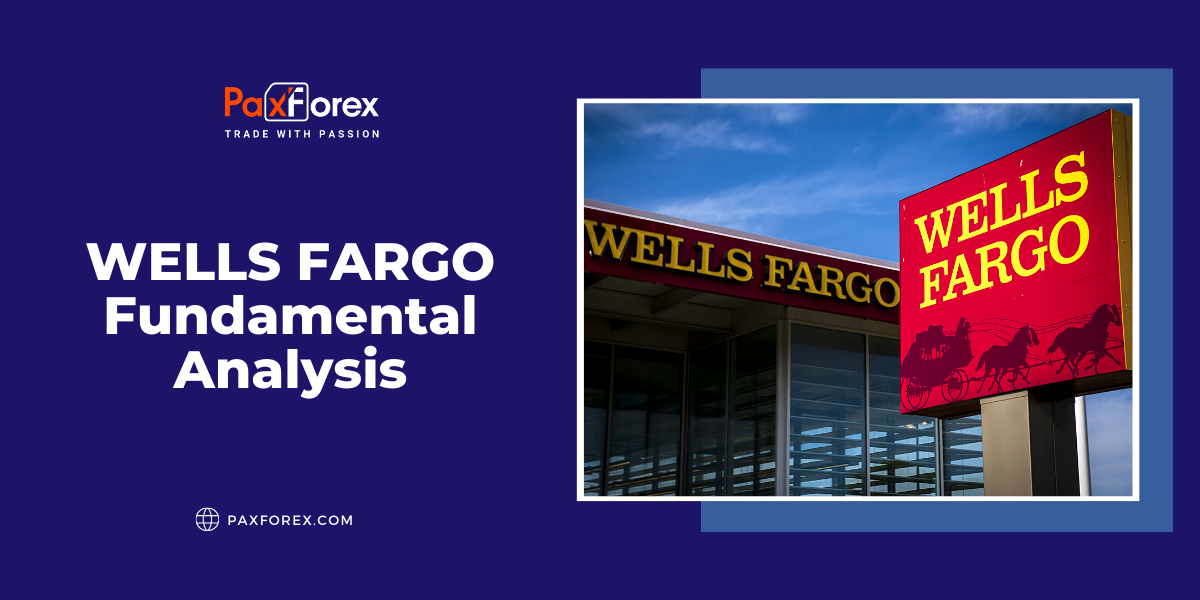 Source: PaxForex Premium Analytics Portal, Fundamental Insight
Wells Fargo is one of the largest banks in the world. It faced regulatory problems, as well as the coronavirus crisis, which struck another blow, as a result of which Wells Fargo stocks fell sharply. Even Warren Buffett is losing patience.
We suggest you take a closer look at the current situation this bank is in.
Wells Fargo is one of the American banks of the Big Four, along with the other hero banks Bank of America, Citigroup, and JPMorgan Chase.
Wells Fargo serves consumers and small businesses by offering checking and savings accounts as well as credit and debit cards. It also provides home purchase loans, car loans, student loans, and loans for small businesses.
Wholesale banking provides banking services for medium and large businesses. The annual sales of such firms are usually $5 million or more. It specializes in serving the international needs of American companies and the American requirements of multinational corporations.
In the second quarter, the bank lost 66 cents per share, which is much worse than analysts expected loss of 7 cents. The profit of $17.8 billion also fell short of the expected $18.28 billion.
The increase in the reserve for loan losses amounted to $8.4bn. On average, credits grew by 3% to $971.3 billion, and deposits by 9% to $1.4 trillion.
The pandemic exacerbated Wells Fargo's problems as a result of the fraudulent account scandal that erupted several years ago. The bank said it was "extremely disappointed" with the quarterly results. The firm also discouraged shareholders by cutting its dividends. It cut its dividend payments from 51 cents to 10 cents.
"Our assessment of the duration and severity of the economic downturn has deteriorated significantly from the assumptions made last quarter, resulting in a second-quarter credit loss provisioning of $8.4 billion," said Charlie Scharf, CEO.
Wells Fargo and his colleagues are building up reserves as a cushion to cover loans vulnerable to default in the light of the pandemic. Business is closing while unemployment is rising, putting business loans, car loans, and mortgages at risk.
Loan defaults are a problem, but narrowing interest spreads is another challenge. Banks rely on the spread between short-term and long-term rates to make a profit. Any changes in banks' net interest income lead to their net profit.
Bad results continue an alarming trend for Wells Fargo shares. Earnings per share have declined compared to the previous year in the last four quarters.
Industry veteran Charles Scharf took over as CEO of the troubled bank on October 21, 2019. In addition to leading Bank of New York Mellon (BK), he previously served as CEO of Visa (V) and held several executive positions at JPMorgan Chase.
Sometimes, the new CEO can bring a struggling company to life, for example, Satya Nadella takes over as Microsoft (MSFT), or Taco Bell CEO Brian Niccol moves to Chipotle Mexican Grill (CMG). In the case of Scarf, it is not still clear, as the crisis does not allow an objective assessment of his leadership.
On April 8, the Federal Reserve allowed Wells Fargo to participate in the government's Coronavirus emergency lending programs, without considering it an asset limit. The Federal Reserve has set a limit of $1.95 billion for the company due to a scandal with fake accounts. Despite a temporary restraining order, the upper limit of assets remains.
One of the well-known investors who still support Wells Fargo shares is Warren Buffett, although his patience seems to be running out. At the moment, Berkshire Hathaway owns 237.58 million shares or 5.8%. But that's significantly less than the 323.21 million shares in the previous quarter.
Even among large banks, WFC shares have long been at a loss compared to the S&P 500 index. The coronavirus-driven sell-off plunged the stock price to its lowest level since 2012, while weak profits and vague prospects negated the results achieved against the backdrop of the current upward market trend.
From an operational point of view, Wells Fargo is still facing regulatory restrictions, and the Federal Reserve's rate cuts will keep net interest income in a state of decline both at the bank and in the industry as a whole.