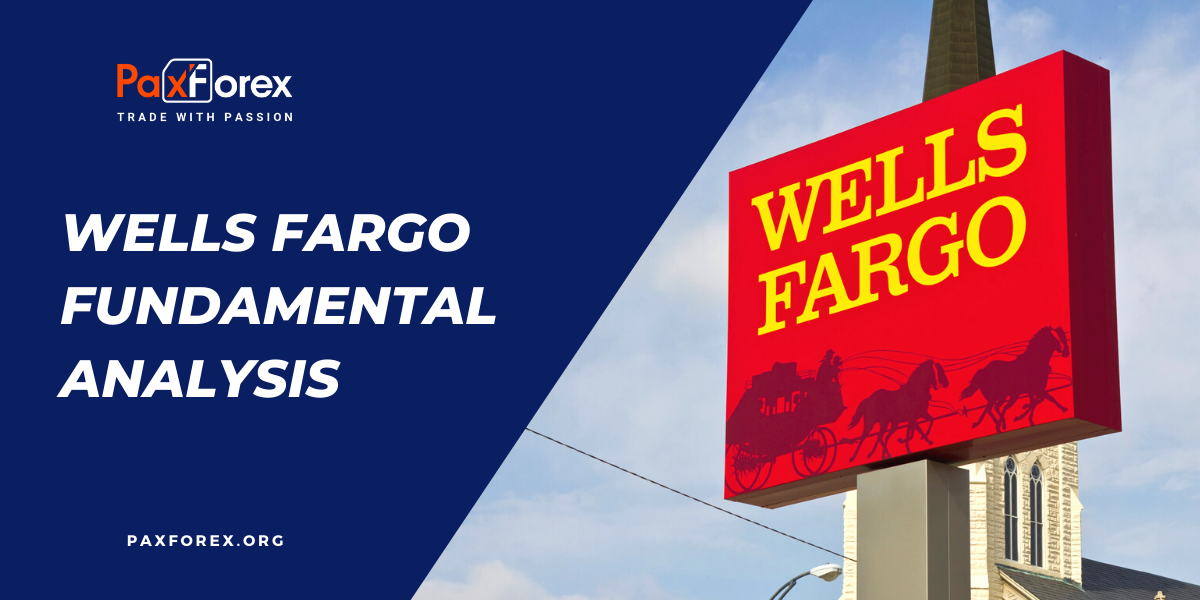 Source: PaxForex Premium Analytics Portal, Fundamental Insight
During the pandemic, the financial sector was one of the worst performers in the stock market, falling by about 12 percent year on year, compared to 11 percent growth in the S&P 500. And there are weighty reasons for that: Investors are concerned about what unemployment and low-interest rates could mean for the banks.
Wells Fargo was one of the lagging companies in this sector. Since it does not have a significant investment banking business that would help offset losses in consumer lending (investment banking tends to work better in volatile markets), it is more susceptible to the effects of the pandemic than other major banks. But this has been happening for a long time, a few years before the pandemic, as numerous scandals with Wells Fargo have tarnished its reputation and forced many investors to give up stocks.
In fact, Wells Fargo's shares fell 55% in 2020 and have overwhelmed the financial sector by 93 percentage points in the past five years. Shares are now traded at only 63 percent of their book value, a valuation that was very short-lived during the financial crisis.
Wells Fargo is a stock that is not just cheap. Before the pandemic, several high-profile scandals fell on it. First, in September 2016, it became known that employees fraudulently opened millions of accounts under the names of customers to achieve sales targets. Separately in 2017, the bank claimed that 570,000 customers may have been wrongfully charged for auto insurance.
And there were several more. In the end, Wells Fargo paid several large fines and caused serious damage to its reputation.
During the pandemic, the unsatisfactory performance was more dependent on how Wells Fargo's business was structured. When markets are turbulent, mergers and acquisitions, trading, underwriting of shares and debt, and other investment banking activities tend to be very strong. Wells Fargo does not really do any of this to a large extent. Therefore, the bank's expected wave of credit defaults and record low-interest rates affect its profitability, and only a few investment banking activities can compensate for it.
On the other hand, it is important to understand that Wells Fargo is still quite profitable. Net contributions grew in the third quarter, but the bank still generates a profit of $0.42 per share. Secondly, Wells Fargo has a long history of responsible lending and strong credit quality in its lending activities. It is this disciplined lending allowed her to go through the financial crisis largely intact and raise the selling price of a competitor Wachovia. The year-on-year net interest ratio of Wells Fargo rose by two basis points to 0.29% in the third quarter, but compared to 0.82% for the consumer banking division of Bank of America and just under 1% for JPMorgan Chase.
Third, Wells Fargo's new CEO Charlie Scharf prioritizes cost-cutting, an area that the bank has unfortunately neglected in recent history. Scharf plans to cut costs by $10 billion a year, and if successful, this could be a great boost to profitability.
The bottom line is that Wells Fargo shares are not just under pressure, but after all, it is an institution with a long track record of responsible lending, and it is still quite profitable. And since it is, in fact, net savings and credit, unlike the other major banks, then when the economy returns to normal, it will be more beneficial than most of them.
With a new CEO just beginning to take control of spending, now is the time for patient long-term investors to look at Wells Fargo from a different perspective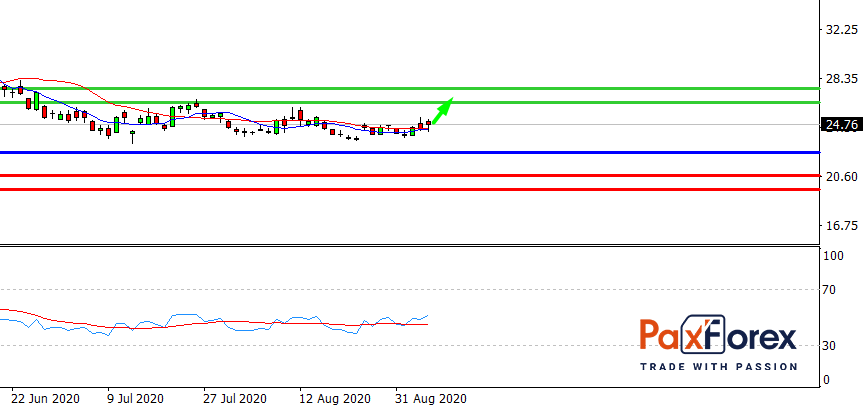 Analysis:
While the price is above 22.50, follow the recommendations below:
Time frame: D1
Recommendation: long position
Entry point: 24.19
Take Profit 1: 26.50
Take Profit 2: 27.60
Alternative scenario:
If the level 22.50 is broken-down, follow the recommendations below:
Time frame: D1
Recommendation: short position
Entry point: 22.50
Take Profit 1: 20.70
Take Profit 2: 19.60