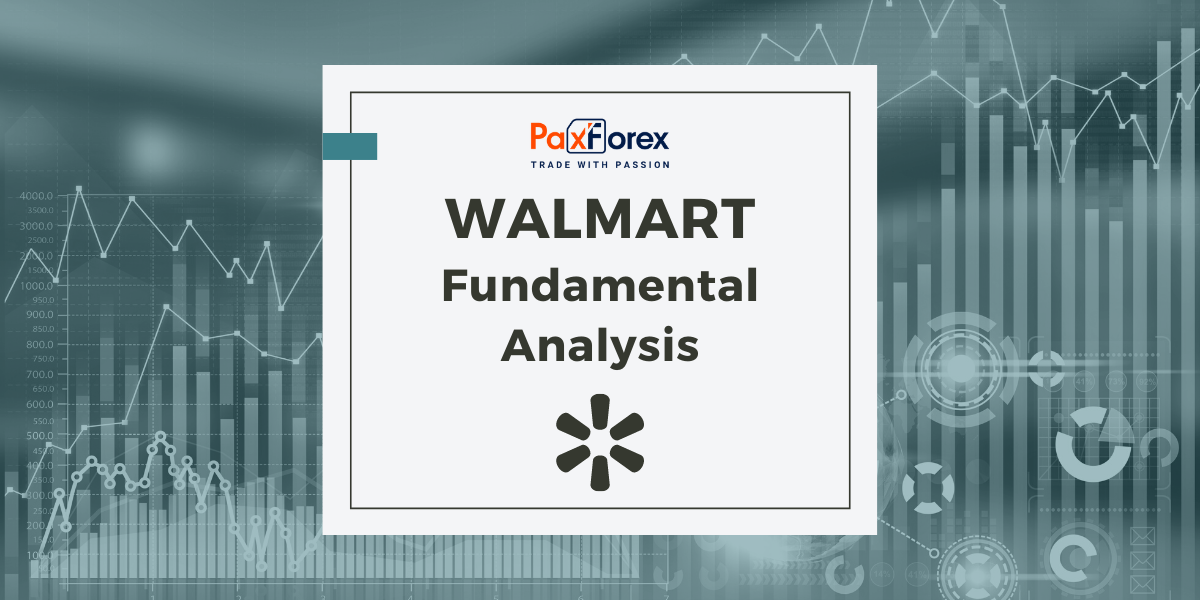 Source: PaxForex Premium Analytics Portal, Fundamental Insight
Even with the broad market plunging 17% this year, Walmart is one of the few companies showing some signs of life. Although the retail giant has experienced some major ups and downs lately as investors assess the likelihood of a recession and its influence on retail spending, the stock is up 5% YoY.
The company's latest report allayed much of investors' fears. Walmart may still be going forward, but the company has some unfavorable factors to overcome in the near future. Let's take a closer look and see if it makes sense to buy Walmart now.
Walmart's Q3 earnings were much higher than analysts expected. Global sales were up 8.7%, or 9.8% in constant currency, and comparable sales were up 8.2% from a year ago. Currency fluctuations lowered the company's profit margin, but Walmart still managed to increase international sales by 7.1%.
That provoked the company to boost its full-year forecast, anticipating net sales to increase by 5.5% overall. If Walmart achieves that target, it would be a huge achievement, given that retail spending has slowed this year for most operators. It would also be evidence that Walmart's position as a budget retailer helps it maintain a competitive edge despite hindering spending growth. This could make the stock a valuable buy in the current economy.
We are not currently in a recession, at least not yet. But if it does follow, Walmart is definitely in an advantageous position to sustain growth or at least current performance. In past recessions, such as the Great Recession, Walmart has done a good job of maintaining free cash flow (FCF) growth, healthy profit margins, and growing revenues.
While past performance is no guarantee of future results, there is a strong likelihood that the company will continue to perform positively in a downturn as well.
Walmart's projections for Q4 of 2022 and next year are not as encouraging as its recent earnings. The company expects new currency fluctuations and further declines in consolidated operating profits. The company's gross profit margin is down almost 3% from a year ago, and FCF is down 37%.
This drop is not only due to currency losses but also to too much inventory. After supply shortages during the pandemic and the shopping boom in 2020 and 2021, retailers doubled their inventories, building a reserve of goods to meet rising consumer demand. But spending has slowed, and now they are sitting on piles of inventory.
Stale merchandise on the shelves leads to markdowns that eat into company profits. According to Walmart's Q3 report, the company had $12.2 billion in inventory, up 12.6 percent from a year earlier. This is a smaller increase in inventory than in previous quarters and is a sign that Walmart is tackling the inventory problem head-on. However, high inventory levels during a downturn in the economy can lead to trouble in the future. Lower profit margins mean lower revenues and could lead to balance sheet problems if sustained over the long term.
Walmart's price-to-sales (P/S) ratio is about 0.6, which is in line with its biggest competitor Target. Of the two, Walmart is definitely better, and it is good that its P/S ratio is within range. However, its price-to-earnings ratio of 46 is much higher, indicating that the company is currently trading at a premium.
Considering the expected slowdown in retail spending and Walmart's inventory problems, it may be beneficial for investors to wait to buy Walmart. If gross profit margins fall further in the coming quarters, the company's stock price could fall with it, providing a more favorable buying opportunity. But there is no guarantee that will happen.
Walmart is still a decent buy for long-term investors looking for stability to survive the inevitable ups and downs of the market. The company's stock yields a dividend of 1.5%, in line with the S&P 500 Index, and has a fantastic track record for dividends. The company has raised its dividend for 20 years and maintains a healthy dividend payout ratio of 68%, which means the dividend will not be reduced anytime soon.
As long as the price is above 143.00, follow the recommendations below:
Time frame: D1
Recommendation: long position
Entry point: 152.52
Take Profit 1: 159.00
Take Profit 2: 164.00
Alternative scenario:
If the level of 143.00 is broken-down, follow the recommendations below:
Time frame: D1
Recommendation: short position
Entry point: 143.00
Take Profit 1: 138.00
Take Profit 2: 133.00