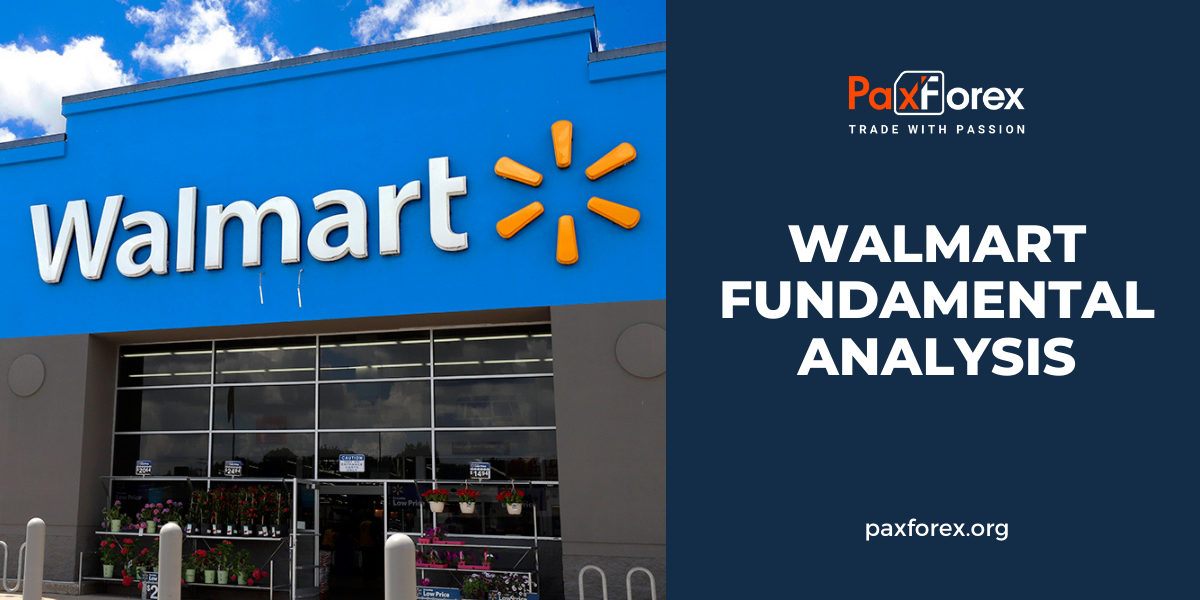 Source: PaxForex Premium Analytics Portal, Fundamental Insight
It is difficult to underestimate Walmart. After all, it is the largest company in the world by revenue - and the largest retailer.
The company expects to generate over $550 billion in revenue this year, and after a strong third-quarter earnings report, the retailer's shares are trading at record high levels. To date, the company's shares have increased by 26%.
There is no doubt about the company's market impact, but does this mean it is a good option to buy? Retailers are facing problems on many fronts, especially from Amazon, while consumers are increasingly inclined to shop online.
Let's take a look at where the retail giant is to determine how investors should act.
In 2015, Walmart CEO Doug McMillon announced salary increases as one of several long-term investments in the company. Shares have fallen after this news, but Walmart shares have almost tripled since then. Meanwhile, McMillon has refocused the company's strategy from a landowner mentality aimed at providing the country with new stores to virtually eliminating the opening of new ones, instead of using its resources to invest in e-commerce and improve stores such as grocery receiving stations, inventory management, and more attractive and clean stores.
In the next 2016, the company acquired Jet.com to strengthen its e-commerce activities, which now include a rapidly growing marketplace and the recent launch of Walmart+ loyalty program. The company also expanded its product acceptance and delivery program, offering acceptance and delivery services from 3,600 stores in the United States and 2,900 locations.
Walmart U.S. has already placed 25 consecutive quarters of comparable sales growth, just a few quarters before McMillon implemented his payroll program.
Meanwhile, the company has made significant changes in its international portfolio. It has acquired a majority stake in Flipkart, India's leading e-commerce business, and owns a 5% stake in JD.com, China's largest online direct selling retailer. It was not until the third fiscal quarter that the company sold stakes in subsidiaries in the UK, Argentina, and Japan, showing that it is focused on crowding out capital from slow-growing markets and investing in high-growth areas such as India, Mexico, and US e-commerce.
The result of these decisions is that Walmart is much better prepared to cope with Amazon and the evolution of e-commerce than it was five years ago. The latest results show just as much.
E-commerce sales in the U.S. rose 79 percent year on year in the third quarter as the pandemic caused a sharp increase in online orders, while total comparable sales in the U.S. rose 6.4 percent. Profit margins also improved as the company experienced smaller declines, took advantage of increased sales, and benefited from increased market sales and improved product mix in e-commerce. Adjusted earnings per share increased 16% to $1.34.
According to eMarketer, Walmart Plus may become a real competitor to Amazon, which in 2019 controlled 47% of all online sales in the U.S. During the same period, Walmart took only 4.6% of this market, but its share may increase significantly as the Walmart Plus platform will gain momentum.
Piplsay Research estimates that 11 percent of Americans have signed up for Walmart Plus within two weeks of its launch, with 19 percent of these customers moving from its strategic competitor, Amazon Prime. This transition is not surprising, as an extensive network of physical stores Walmart can give an advantage in the high-speed delivery of perishable goods.
The company has 6,100 outlets around the world that fulfill orders for receipt and delivery of products, and its next-day delivery service is available to 75% of the U.S. population. In comparison, Amazon's Whole Foods has only about 500 outlets.
For stocks that provide annual growth in domestic comparable sales and have some competitive advantages, including huge economies of scale and stores within ten miles of 90 percent of the U.S. population, Walmart stocks look cheap enough. The stock is traded at a price to earnings ratio of 22, well below the P/E S&P 500 (36).
Also, Walmart is a Dividend Aristocrat, which has been paying increasing dividends for nearly five decades and offers a dividend yield of 1.4 percent at the moment of writing.
With investments in growth areas such as e-commerce, healthcare, and emerging markets, as well as its competitive advantages, which include mass scale and a recessive business model, Walmart shares look almost bulletproof. Reasonable valuation means that the risk of a drop in prices is limited, and focusing on e-commerce and other attractive markets gives the stock a growth potential that other retailers lack.
For investors looking for high-growth stocks, Walmart is probably not the right choice. But for those looking for safe stocks and long-players, Walmart is a solid buy. Pandemic-driven momentum and a well-thought-out omnibus strategy mean that stocks should bring more profit to shareholders.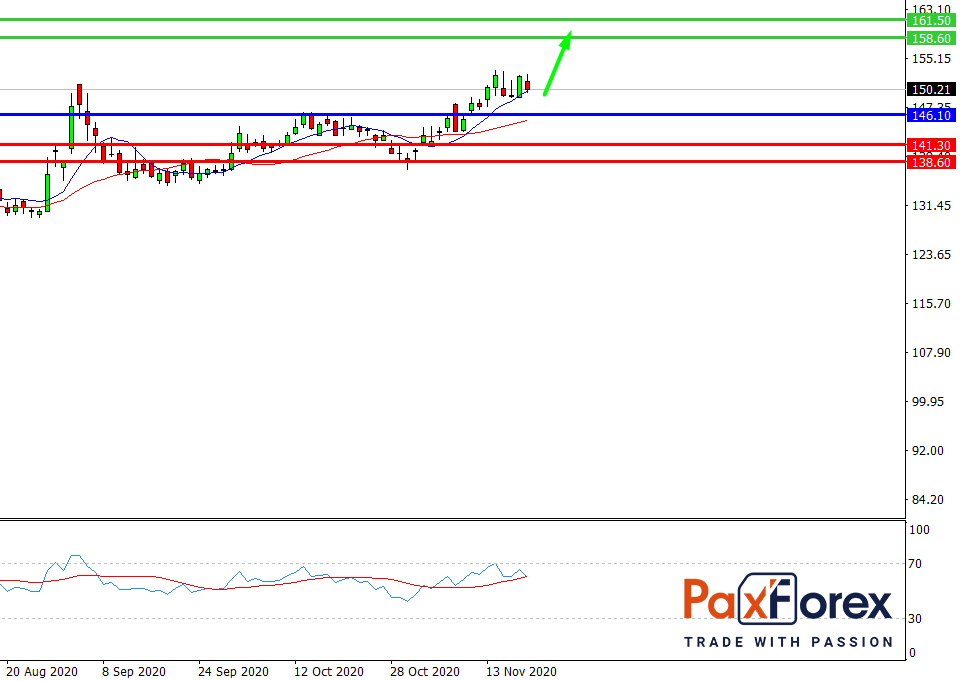 While the price is above 146.10, follow the recommendations below:
Time frame: D1
Recommendation: long position
Entry point: 150.24
Take Profit 1: 158.60
Take Profit 2: 161.50
Alternative scenario:
If the level 146.10 is broken-down, follow the recommendations below:
Time frame: D1
Recommendation: short position
Entry point: 146.10
Take Profit 1: 141.30
Take Profit 2: 138.60