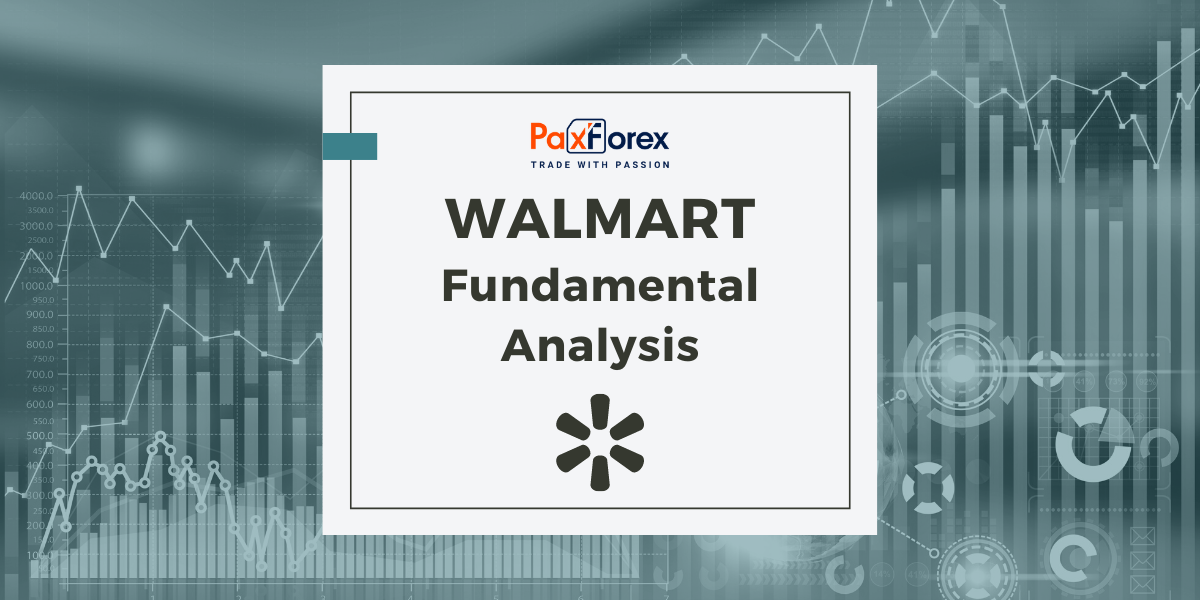 Source: PaxForex Premium Analytics Portal, Fundamental Insight
Five years ago, Walmart took a big step forward towards e-commerce.
Walmart's U.S. sales surged 79 percent in the fiscal year 2021 -- just ending after growing 37 percent in the fiscal year 2020 -- and generated more than $50 billion in revenue last year, not counting Sam's Club. Walmart is now the nation's largest e-commerce seller after Amazon and is growing faster than its main competitor.
Much of that growth has been driven by the expansion of grocery pickup and delivery services, leveraging one of its key advantages as the nation's largest grocer. The chain currently provides grocery pickup from 3,750 stores and delivery from 3,000 stores, the vast majority of its base, leaving little room for expansion.
Having successfully built that business, Walmart is now focused on playing offense, providing higher-margin e-commerce services, and other areas. That includes the third-party market, where the company has teamed up with Shopify and is boosting e-commerce profits, generating triple-digit revenue growth in the third quarter. Following Amazon's lead, the company also started third-party fulfillment a year ago, which is another way to generate revenue from online sales.
Also, the company uses advertising for its online platform, in much the same way Amazon does. Walmart has put its advertising business into operation and rebranded it as Walmart
Connect. It plans to devote more space in its stores to advertising and share valuable customer data with brands to increase its advertising business tenfold over the next five years, up from $1 billion last year. Most recently, it partnered with The Trade Desk, a leading programmatic advertising company, to give ad buyers more transparency and perks, such as store-level geo targeting accuracy that even affects weather signals, allowing advertisers to respond to events such as hurricanes. Trade Desk built the platform specifically for Walmart, and tech giants like Google and Facebook have shown how profitable digital advertising can be. If Walmart can bring in $10 billion in advertising revenue, that could translate into $3 billion or $4 billion in profits.
The supermarket giant also has its sights set beyond traditional retail and even e-commerce - in its earnings report, the company touted its investments in health care. With existing stores, the company sees an opportunity to provide medical clinics such as pharmacy chains CVS and Walgreen do. And in fact, Walmart itself already has one of the largest pharmacy businesses in the country.
Last October, the company launched a licensed insurance broker, Walmart Insurance Services. Taken together, these initiatives show that Walmart wants to become a major player in the healthcare industry, providing prescription drugs through its pharmacies, health care through its new clinics, and even insurance through its broker.
Another major new industry the company is exploring is financial services. Last month, the company launched a new high-tech startup in partnership with Ribbit Capital, which has invested in Robinhood, Credit Karma, and Affirm, and Walmart expects to partner with and acquire other leading high-tech companies. There were no specific details in the release, but financial services is another area in which the company has a significant opportunity in terms of providing its customer base.
Given that its customer base consists of many unbanked and underbanked customers, Walmart may have a built-in audience for the new financial product.
However, shares fell 6 percent after the earnings report was released as investors were cautious about Walmart's guidance for the current year, which only calls for low-single-digit revenue and earnings growth. But the company is on the verge of some revolutionary growth opportunities and is moving beyond its traditional business model.
Thanks to its e-commerce investment to protect its retail business, the company has recouped its investment. And by limiting its retail base, management is free to pursue new growth drivers. Using its huge stores and customer base, Walmart has the potential to make significant inroads into some new industries -- and the company promises significant investment, with $14 billion in capital investment planned for this year, up from $10.3 billion last year.
While its numbers may not please investors this year, it would be a mistake to ignore the company's long-term strategy and its disruptive potential in new industries.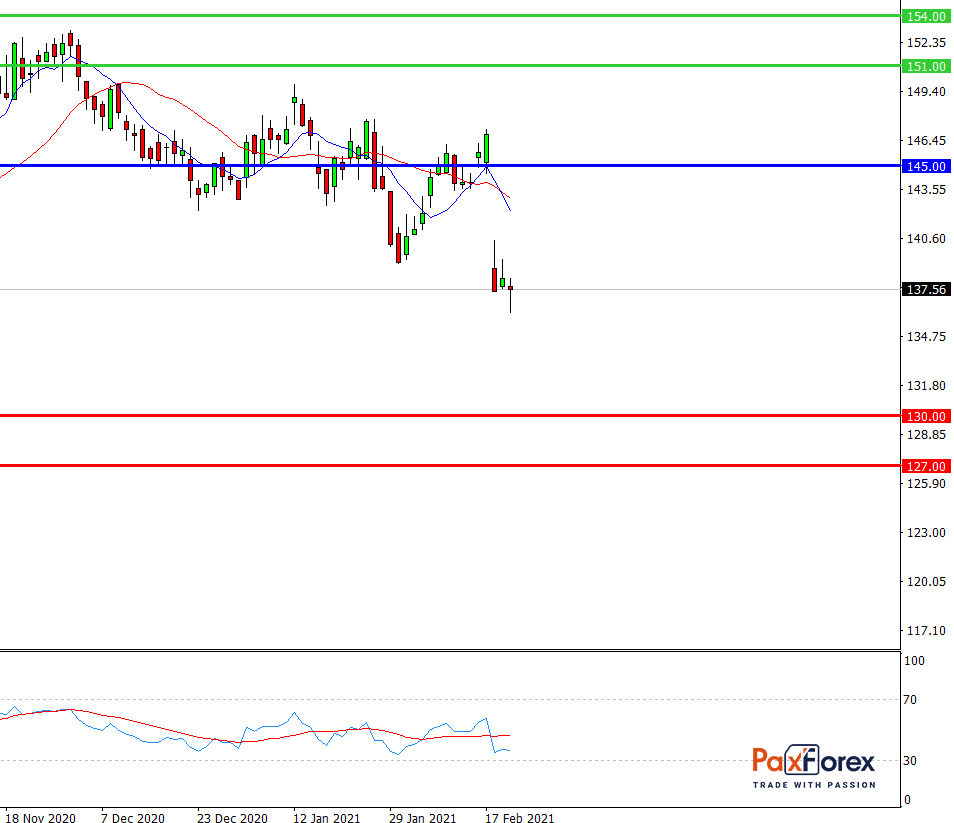 Provided that the company is traded below 145.00, follow the recommendations below:
Time frame: D1
Recommendation: short position
Entry point: 137.00
Take Profit 1: 130.00
Take Profit 2: 127.00
Alternative scenario:
In case of breakout of the level 145.00, follow the recommendations below:
Time frame: D1
Recommendation: long position
Entry point: 145.00
Take Profit 1: 151.00
Take Profit 2: 154.00