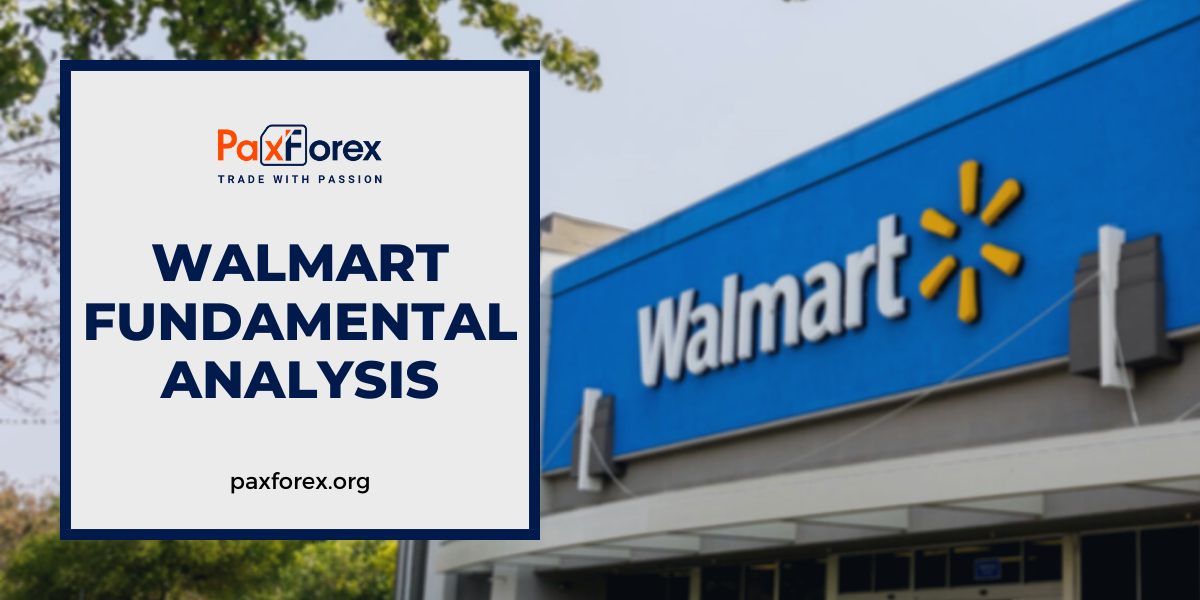 Source: PaxForex Premium Analytics Portal, Fundamental Insight
Walmart has long been a success, which has led to the company rewarding its investors with dividend payments. But many companies pay dividends. As we've seen this year, many of them, including large and well-established companies, have suspended or reduced their payments.
Of course, the COVID-19 pandemic has created uncertainty and hurt companies' results, especially in some industries. But one of the criteria for calling a company a safe investment, for most, is that the company continues to pay dividends even under difficult and unforeseen circumstances. Another question for investors is whether the company can increase its dividends.
With these two criteria in mind, it's time to determine whether Walmart is the right company for investors.
To begin with, it should be noted that the keynote of Walmart's pursuit of profitability is the online advertising business. Although it is still small, digital advertising also has very high margins for Walmart.
Management has not disclosed any details of the advertising business, but as online sales have increased, marketers have reallocated their advertising budgets. E-commerce channels such as Walmart and Amazon were among the biggest winners, with the former expected to bring in a total of nearly $850 million in digital ad sales this year, according to eMarketer estimates. That's 73.4 percent more than any other e-commerce company. Walmart's market share will continue to grow over the next few years, reaching 7% of the e-commerce channel advertising market by 2022, up from 4.9% this year.
It's worth emphasizing, however, that Walmart's online ad sales could wipe out its in-store advertising in the future. If the shift to online sales is permanent, as management suggests, and people return to their old shopping habits as restaurants and other smaller retailers open, then in-store traffic will fall, reducing the value of in-store advertising. Walmart's total U.S. transaction volume fell 14.2 percent last quarter, a sign of declining in-store traffic as shoppers consolidate their journeys.
Another factor worth looking at is Walmart's ability to grow its online sales without a massive buildup of fulfillment centers. According to MWPVL International, Walmart opened just three e-commerce centers in 2020. Walmart currently has three more centers in development, bringing its total to 28.
By comparison, Amazon opens dozens of warehouses, fulfillment centers, and delivery stations every month. The company's efforts are capital-intensive but fast, allowing it to expand its next-day fulfillment capabilities and reduce ongoing delivery costs.
Instead of using more warehouses, Walmart is relying on its existing stores to fulfill orders. The company filled orders from 2,500 stores in the second fiscal quarter, but it stopped in the last period as it was able to open up more options for fulfillment centers. Being able to use its stores will reduce the overhead associated with operating a huge number of warehouses.
Walmart opened its first discount store almost six decades ago. Its business was to cut costs and charge customers super-low prices.
It turned out to be very successful. Now, as the world's largest retailer, the company generates large sales and profits from its business. This leads to a lot of cash flow. For the first nine months of this year, which ended Oct. 31, Walmart's operating cash flow was $22.9 billion, up more than 57 percent from a year ago.
After subtracting the $6.4 billion the company spent on capital expenditures, there was plenty left over to pay a $4.6 billion dividend. With this cash flow, Walmart didn't have to borrow money to pay higher amounts.
Investors can have some peace of mind that Walmart has a strong history of raising dividends. Walmart has increased its dividend every year since the first dividend was declared in 1974. Thus, this company is a Dividend Aristocrat, representing a company that has increased its dividend for at least 25 consecutive years.
In a few years, the company is going to join an even more exclusive group as Dividend King. These are members of the S&P 500 Index who have been increasing their payouts for 50 years or more.
Walmart isn't resting on its laurels, either. The company is pushing its e-commerce business by directly challenging Amazon with Walmart+, a subscription service it launched a few months ago. For a fee of $12.95 a month, it offers fast delivery on some items, faster checkout at its stores, and savings on gasoline.
While there's no guarantee that Walmart will continue to grow its dividend, it's certainly a priority. And the company's digital investments bode well for future growth in profitability and cash flow.
Raising the dividend this year by a penny to $0.54 and keeping it the same is an impressive feat in tough times. To do this year after year in a variety of economic conditions is amazing.
People sometimes throw around the word "greatness" too freely. But in this case, with nearly 50 years of payment increases and more on the horizon, that's an apt description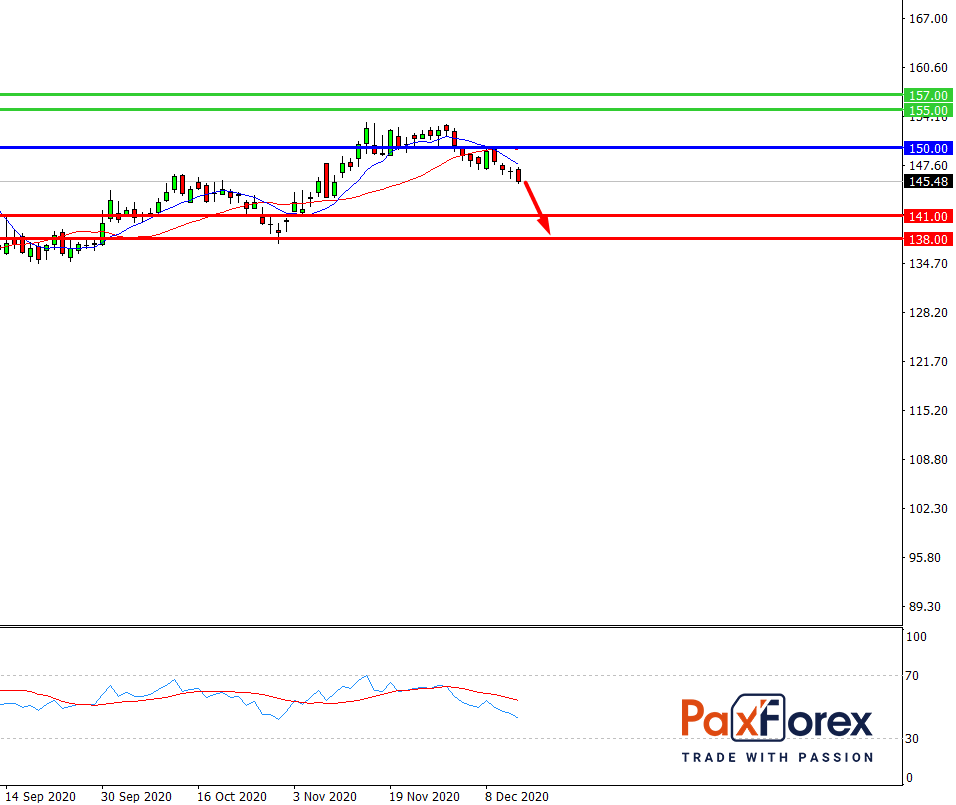 Provided that the company is traded below 150.00, follow the recommendations below:
Time frame: D1
Recommendation: short position
Entry point: 147.00
Take Profit 1: 141.00
Take Profit 2: 138.00
Alternative scenario:
In case of breakout of the level 150.00, follow the recommendations below:
Time frame: D1
Recommendation: long position
Entry point: 150.00
Take Profit 1: 155.00
Take Profit 2: 157.00