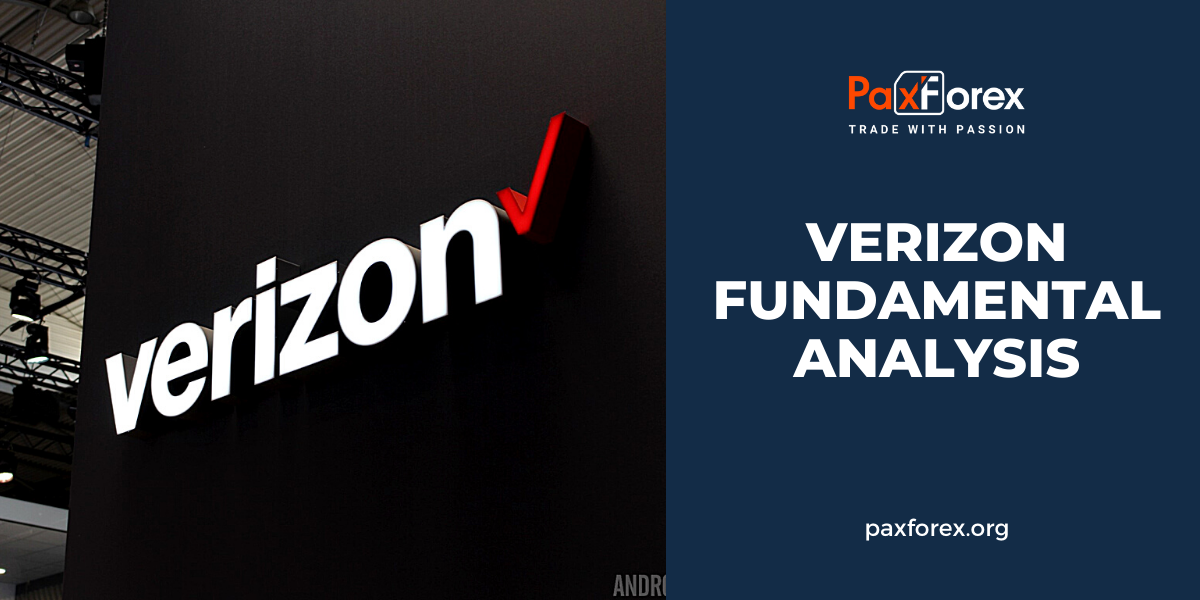 Source: PaxForex Premium Analytics Portal, Fundamental Insight
AT&T is often considered a classic dividend share. The company has been increasing its dividends annually for 36 consecutive years, which makes it an S&P 500 dividend aristocrat. It is one of the largest telecommunications and solvent TV companies in America, and its takeover of Time Warner in 2018 made it a media giant.
The large-scale business of AT&T, which this year should bring more than $26 billion of free cash flow (FCF), makes it like an investment in a safe income. Currently, AT&T shares pay a large forward dividend of 7.3 percent and look historically cheap with a nine-fold forward income.
However, investors who are thinking of buying AT&T to receive the dividend should compare the shares with those of Verizon, a leading telecommunications competitor. It is believed that three factors make Verizon a better investment solution for receiving dividends than AT&T - even though it pays a lower forward yield of 4.2 percent, increases dividends only 14 consecutive years, and has a higher P/E ratio of 12 times.
When we compare shares with dividends, the total return - which factors make reinvested dividends more important than the current return. Over the past five years, Verizon has delivered a much higher total return than AT&T.
Over the past five years, AT&T shares have fallen by 15 percent and spent most of its profits on dividend payments. At the same time, Verizon shares have increased by 34 percent, and the total dividends have almost doubled this profit.
Stronger revenue and earnings growth
Of course, past performance will never guarantee future profits, but AT&T may continue to grow at a slower pace than Verizon for the foreseeable future.
AT&T's revenue and adjusted earnings grew last year by 6% and 1%, respectively. But this year, analysts expect AT&T's revenue and earnings to fall by 6% and 11%, respectively, as cord-cutters cut pay-TV and the pandemic slams the media and advertising business. It is also expected that streaming platforms will require much more money.
Verizon's income and adjusted profit grew last year by 1% and 2%, respectively. Analysts expect its revenues to fall by 3 percent this year, mainly due to the impact of the pandemic on Verizon Media, an online division that houses AOL and Yahoo online assets, but its revenues are expected to grow by 1 percent.
AT&T's revenue is expected to grow 2% to 1% next year, respectively, due to increased sales of 5G phones and the recovery of WarnerMedia. Verizon's revenue and profits are expected to grow by 4 percent and 3 percent, respectively, as it sells more 5G phones and will stabilize Verizon Media.
Verizon provides more stable growth than AT&T because its business is easier. Verizon is the largest wireless operator in the U.S., and it generates most of its revenue by selling wireless equipment and services to consumers. AT&T is now ranked third in the wireless market after T-Mobile, which merged with Sprint earlier this year.
Verizon's small FiOS Pay TV and Verizon Media business unit generated only 16 percent of its revenue last quarter. These divisions barely made it through the pandemic, but they are far less significant than AT&T Entertainment Group and WarnerMedia, which together generated 42 percent of their revenue last quarter.
The acquisition of AOL by Verizon for $4.4 billion and the purchase of Yahoo Internet assets for $4.5 billion may have been mistaken, but they are negligible compared to AT&T's $49 billion purchase of DirecTV and Time Warner's $85 billion buyout.
DirecTV, which AT&T reportedly intends to sell, is now the epicenter of the dying pay-TV business. As for Time Warner, it is still unclear whether AT&T will be able to use its media properties to expand streaming platforms and effectively compete with Netflix, Disney, and other major competitors.
Therefore, investors who need a simple telecom game should stick to Verizon and avoid the dirty media ambitions of AT&T.
AT&T and Verizon may seem similar at first. Both companies have spent just over half of their FCF on dividends over the past 12 months, which gives them enough room for future hikes, and both are clearing mountains of long-term debt.
But a deeper look reveals that AT&T's high returns and low valuation hide fundamental flaws. It looks like AT&T is biting off more than it can swallow, and its declining stock value may offset the dividend payments for the foreseeable future.
Verizon is not an exciting investment, but it should yield a more predictable return than AT&T. This sustained growth, along with high returns and low valuation, make it a better dividend asset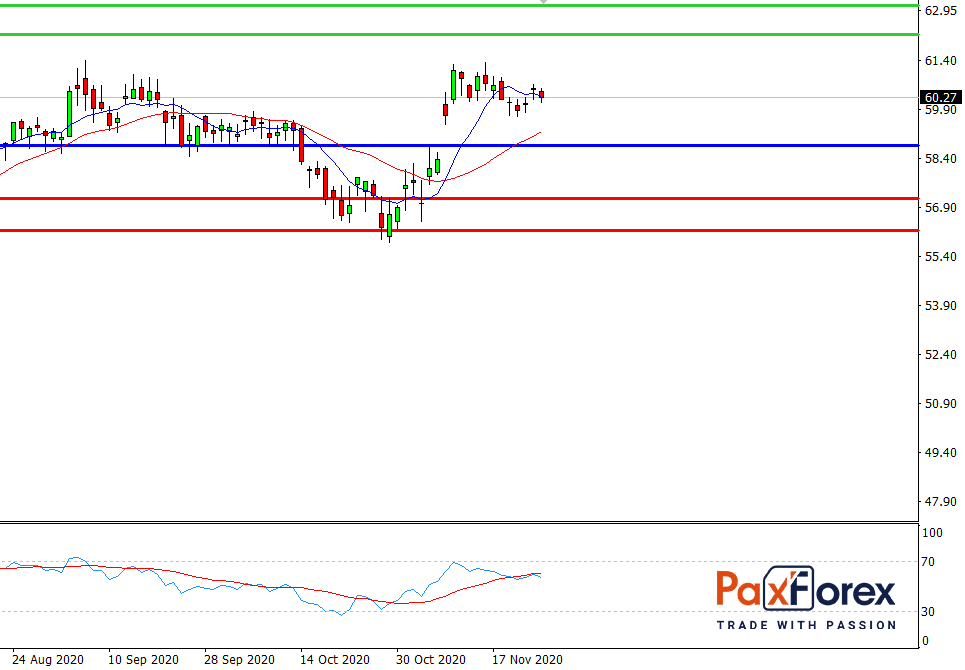 While the price is above 58.80, follow the recommendations below:
Time frame: D1
Recommendation: long position
Entry point: 60.04
Take Profit 1: 62.20
Take Profit 2: 63.10
Alternative scenario:
If the level 58.80 is broken-down, follow the recommendations below:
Time frame: D1
Recommendation: short position
Entry point: 58.80
Take Profit 1: 57.20
Take Profit 2: 56.20