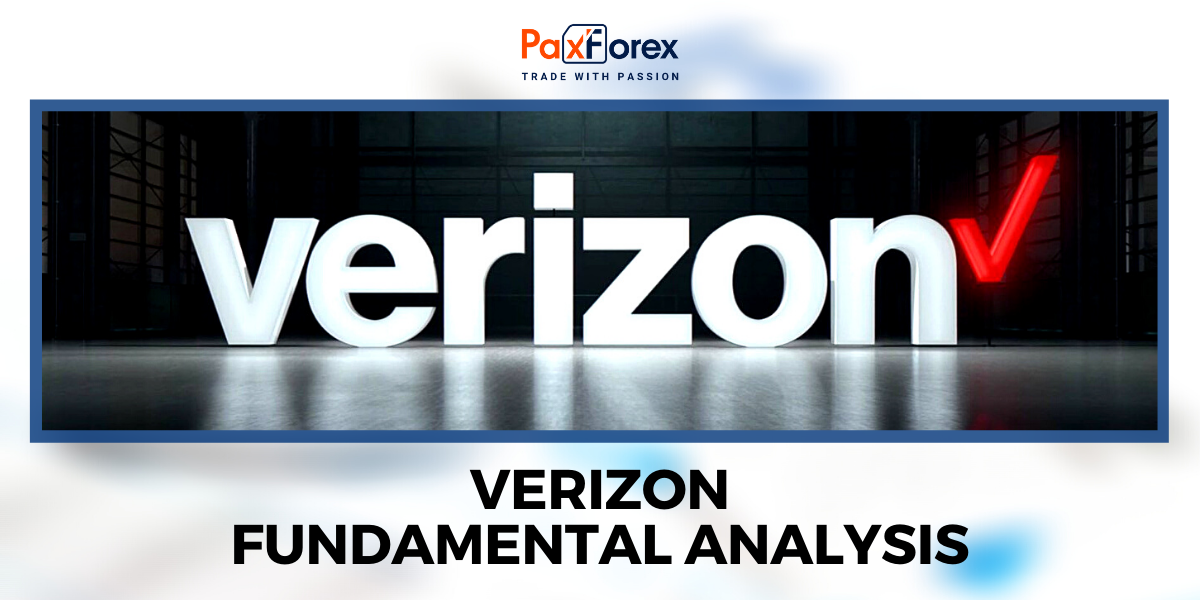 Source: PaxForex Premium Analytics Portal, Fundamental Insight
While VZ stock has consistently lagged behind the S&P 500, the stock still attracts income-oriented investors. However, if 5G wireless services resume its earnings and revenue growth, VZ stock could have much more appeal.
The problem is that Verizon Communications needs more radio spectrum to ramp up consumer and enterprise 5G wireless services. Verizon's stock has been sidelined lately because of concerns about how much it would spend on a government tender for 5G wireless radio services.
Those fears proved justified when the Federal Communications Commission announced on Feb. 24 that Verizon had spent $45.5 billion to bid for 5G wireless services. Verizon emerged as the main bidder.
The company has scheduled a virtual analyst meeting on March 10 at which it is expected to update its financial outlook.
On the other hand, Warren Buffett of Berkshire Hathaway disclosed his $8.6 billion stake in VZ on Feb. 16.
Undoubtedly, Verizon's challenge is to regain its edge in network performance with the advent of 5G wireless applications.
At the Nov. 11 meeting, Verizon representatives talked about Apple's launch of new iPhones that connect to 5G wireless networks.
In the U.S., all four 5G iPhones use low-frequency as well as high-frequency "mmWave" radio spectrum. Support for high-performance "mmWave" airwaves is a plus for Verizon. The company expects more subscribers to switch to premium unlimited data plans when they buy 5G iPhones.
Verizon is the largest wireless service provider in the United States. The company also sells wireline services to consumers in the Northeast and business services worldwide.
VZ is much more exposed to the U.S. wireless market than competing telecommunications company AT&T. Verizon gets almost 85% of its adjusted revenue from its wireless business.
The company has paid down debt since it acquired Vodafone Group's 45% stake in the wireless joint venture for $130 billion in early 2014. One catalyst for Verizon stock could be the return of a share buyback program. First, its credit rating should be upgraded.
Also, don't forget that the company's senior management has been renewed. CEO Hans Vestberg served as CEO of network transmission company Ericsson before joining Verizon. Vestberg and Rima Qureshi, also an Ericsson veteran, joined Verizon in 2017.
Ronan Dunne, Verizon's head of consumer business, was previously CEO of the British wireless firm O2. He joined Verizon in 2016.
Meanwhile, Vestberg has embarked on a $10 billion spending cut through 2021.
Revenue growth remains an issue at this time. Verizon's long-range problem is that the U.S. wireless market is saturated.
Many consumers have put off upgrading to new smartphones. Plus, mobile video, which transmits data, is not a significant source of revenue.
Verizon's fourth-quarter earnings adjustments exceeded forecasts, while revenues were in line with Wall Street's goals. Earnings were $1.21 per share, excluding elements. Revenues fell 0.2 percent to $34.7 billion.
Verizon Media revenues rose 11.4% to $2.3 billion on better-than-expected advertising growth. Wireless revenues rose 2.2% to $16.7 billion, compared with analysts' forecasts of $16.62 billion.
Verizon added 279,000 postpaid wireless subscribers, compared with analysts' estimates of 561,000. Verizon added 791,000 subscribers the year before.
Revenue in the consumer division fell 1.2 percent to $23.9 billion from a year earlier. Business unit revenue fell 0.3% to $8.13 billion.
For 2021, management said it expects annual adjusted EPS in the range of $5 to $5.15 per share. Verizon forecasts total revenue growth of at least 2 percent, including wireless revenue of at least 3 percent.
Analysts estimate 2021 earnings of $4.98 a share on revenue growth of 2.9%, according to Zacks Research.
The company's expansion into 5G could lead to new earnings and revenue growth, according to optimistic Verizon shareholders. JPMorgan recently updated its valuation of VZ stock regarding new sources of revenue coming in 2021, which will have a bigger impact in 2022.
Among other things, Verizon partnered with Walt Disney on video streaming services last year. In August, Disney and Verizon expanded their streaming partnership to include Hulu and ESPN+. Verizon is also partnering with Apple Music and sports leagues.
In December, Verizon added Discovery as a streaming video partner.
Verizon has rolled out 5G broadband services to homes in 12 cities. But it doesn't expect significant revenue from 5G wireless broadband services to homes until 2021. The company plans to reach 30 million U.S. homes with 5G broadband within five to eight years.
Management told analysts it expects 5G business services to start gaining momentum in 2022. The company is investing in "mobile computing" sites that provide private 5G business services.
Verizon has partnered with Amazon Web Services, the cloud computing arm of Amazon.com, to develop 5G applications for Internet-connected industrial devices. Another partner is IBM.
Experts say 5G wireless technology has an important role to play in industrial automation, cloud gaming, autonomous vehicles, drones, and remote medical care. But new 5G wireless applications could take years to develop.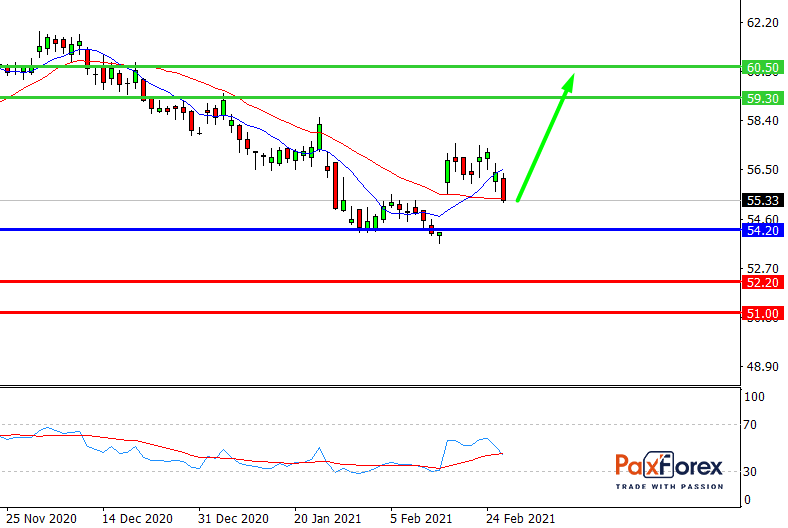 While the price is above 54.20, follow the recommendations below:
Time frame: D1
Recommendation: long position
Entry point: 56.50
Take Profit 1: 59.30
Take Profit 2: 60.50
Alternative scenario:
If the level 54.20 is broken-down, follow the recommendations below:
Time frame: D1
Recommendation: short position
Entry point: 54.20
Take Profit 1: 52.20
Take Profit 2: 51.00