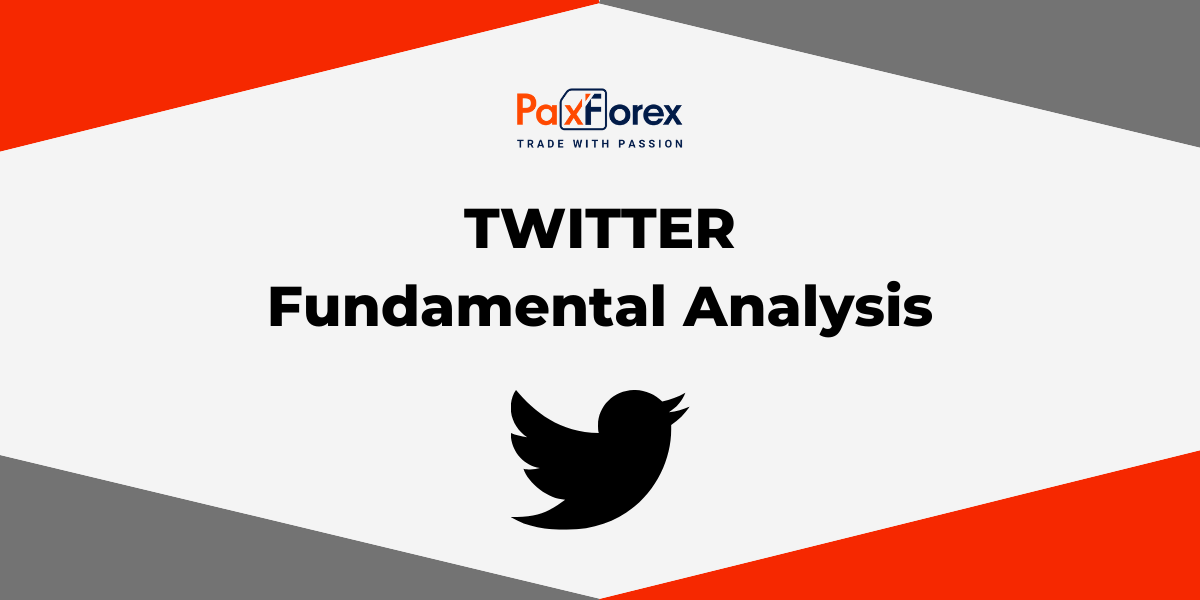 Source: PaxForex Premium Analytics Portal, Fundamental Insight
Most of the latest news from social networks has focused on TikTok, a hit application for short videos from Chinese company ByteDance. It is not surprising; its potential acquisition by a major U.S. technology company could happen in the coming days, and it was in the center of the U.S.-Chinese trade war.
You and I will not be able to buy TikTok right now. However, a lot is going on in the social networking world. The COVID-19 pandemic has led to an interesting dynamic in which the use of social networks has increased dramatically, but the revenue from advertising, through which most social networks make money, has dropped significantly.
The most interesting company in the center of these cross trends is Twitter.
One of the mysteries of the world of social media is that Twitter, at least in comparison with others, has never really made much profit since its inception as a public company. Although its rival, Facebook, was a cash machine during the days of the public company, while Twitter had relatively low profits and even suffered a small operating loss last quarter.
Facebook managed to spread internationally and monetized its huge user base, while Twitter as a whole tried to reach a critical mass.
However, recent events on Twitter may indicate a potential turnaround if the advertising environment continues to improve.
While the overall advertising environment has deteriorated this year, two factors for Twitter's future revenue - the monetized daily user base and its advertising technology - have improved in the last quarter.
The amount of mDAU increased by 34% last quarter to 186 million, which indicates a significant increase of 24% compared to the previous quarter and 14% compared to last year. Some of these were certainly related to lockdown and the fact that people used Twitter to track the spread of COVID-19, but management believes that the improvement in Twitter's product compared to users with relevant topics over the past year also contributed to the increase in usage.
Second, Twitter has just completed an overhaul of its advertising server. This project took a year and a half and required a lot of internal effort, slowing down the deployment of new Twitter features. Now that the architectural reboot is behind the company, pay attention to Twitter to better serve more diverse advertising in the future.
Twitter has also recently acquired CrossInstall, a company specializing in mobile advertising for the video game business. Twitter hopes to integrate CrossInstall into its mobile application promotion tools and improve the effectiveness of its direct-response advertising, where it lags behind other major social networking companies.
Finally, and perhaps the most intriguing, the vacancy announcement early this summer hinted that Twitter is looking to create one or more subscription-based products. It has aroused a lot of interest, as, during the decline in advertising this year, subscription-based business is now welcome for investors.
It sounds a bit non-binding, and we probably won't see a free subscription version of Twitter anytime soon. However, the idea that Twitter might try to use its user base to get into e-commerce or site management is an intriguing prospect for investors to keep a close eye on the company.
Twitter is a stock that should be added to the watchlist. There are also several risks right now with Twitter, even outside the advertising industry.
For example, in July, Twitter was hit by a public cybersecurity hack. While the hack only occurred with a few famous people's accounts, it was an unfortunate mistake, and it is too early to say whether the hack will prevent the growth of mDAU.
Twitter has also not bought back a single share in the last quarter, which is understandable given the high market uncertainty. However, the company received funding from Silver Lake Partners, a private investment firm, shortly before the pandemic began, specifically for a share buyback. Activist investor Elliott Management is also involved. Like the rest of the market, Twitter shares are much higher today than in mid-March or April, so the lack of buybacks last quarter was a little disappointing.
Twitter's current market capitalization is now $30 billion or so. That may sound like a lot compared to its only $366 million in operating revenue last year. But if you think of competitors in social media like Facebook, which has a market capitalization of $770 billion, Twitter can do better in improving its financial performance in the future.
The presence of an interested investor activist is encouraging, and Twitter's relatively low market capitalization makes its technological overhaul and mDAU growth intriguing. While the TikTok saga is probably more interesting, the development of Twitter could potentially be more exciting for investors, especially as we enter a very active political season.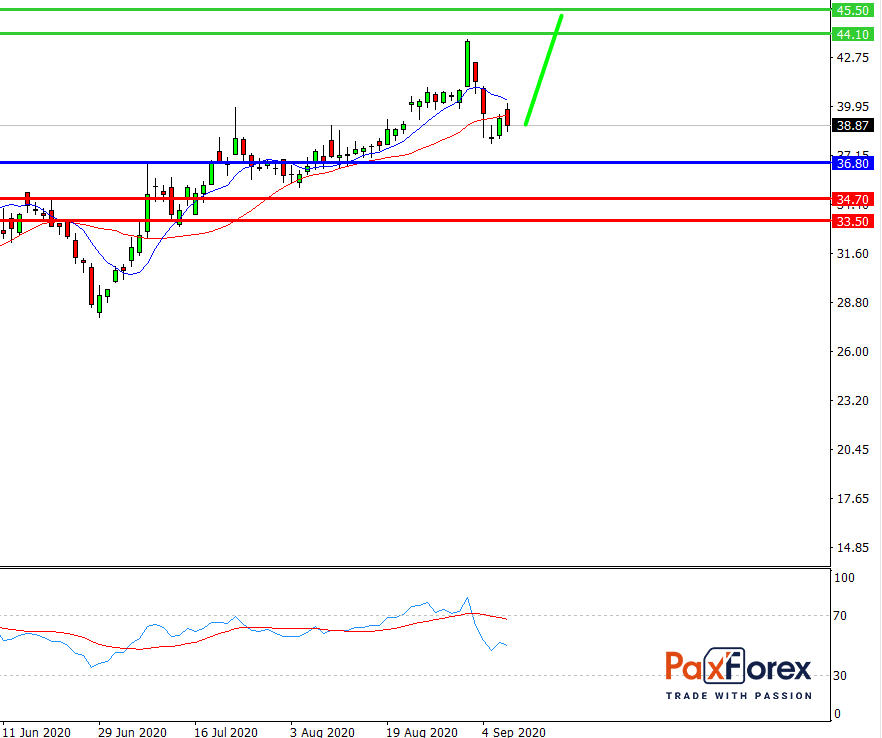 Provided that the company is traded above 36.80, follow the recommendations below:
Time frame: D1
Recommendation: long position
Entry point: 39.87
Take Profit 1: 44.10
Take Profit 2: 45.50
Alternative scenario:
In case of breakdown of the level 36.80, follow the recommendations below:
Time frame: D1
Recommendation: short position
Entry point: 36.80
Take Profit 1: 34.70
Take Profit 2: 33.50