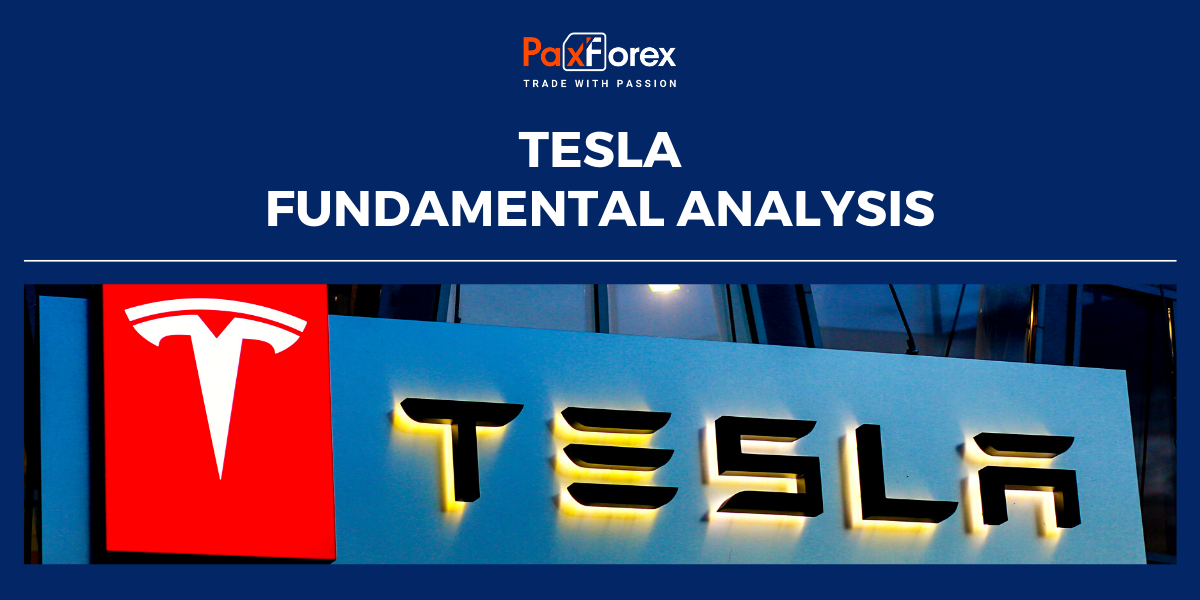 Source: PaxForex Premium Analytics Portal, Fundamental Insight
Tesla made a huge leap after reporting second-quarter earnings, followed by a 5-to-1 split. After the split and recovery from the March low, is it worth buying Tesla shares now?
The second-quarter earnings report was the fourth quarter of Tesla's profitability, which was necessary to be accepted into the S&P 500, as most investors anticipated.
It was one of the explanations of why Tesla shares more than doubled since July 1. Also, Tesla shares got another boost after the stock split was announced on August 11. On August 31, the company has already started trading on the split-adjusted shares method.
However, Tesla shares fell on September 8 after they were denied inclusion in the S&P 500 index.
Before that, Jefferies analyst Philippe Houchois more than doubled his price target on August 26, to one of the highest levels on Wall Street. In his report to customers, Houchois said the company's advantage goes far beyond electric cars and continues to expand into other areas. He extended his price mark to 500, from 240, split-adjusted.
While lifting the price mark, Houchois concentrated on Battery Day on September 22. At this event, analysts foresee the carmaker to reveal some breakthrough technologies, especially a new battery that can last up to 1 million miles.
"In our opinion, there is nothing more important in Battery Day than comprehending how a million-mile battery can fundamentally change the business model of a car," writes Houchois. Besides, high-tech batteries can reduce the cost of ownership for Tesla cars while increasing profitability.
Tesla's second-quarter revenue report contained a lot of good news that investors could chew on.
Tesla's second-quarter revenue was $2.18 per share at $6.04 billion. Wall Street predicted a 12-cent loss at $5.12 billion.
It was even though its main plant in Fremont, California, was closed for about a month and a half during the quarter. That was because local officials ordered the plant to close. After all, the COVID-19 was in full swing.
Since then, Tesla was back to full-scale production of its Model 3 and Model Y. Equally important is that Tesla installs additional equipment at the factory in Fremont. Tesla thinks it can produce more than 500,000 units per year.
The company also reported that Model 3 has obtained a strong reaction in China. It manufactures Model 3 at its factory in Shanghai. Tesla is also in the process of building a factory in Berlin, and another one near Austin, Texas.
"We keep building capability for the Model Y at the Gigafactory in Berlin and the Gigafactory in Shanghai, and we stay on track to initiate delivering these vehicles from both locations in 2021," the company said in its written comments on the earnings report. And in 2021, we will also begin deliveries of his large-tonnage truck.
Wedbush analyst Daniel Ives said that the unmet demand for Model 3 cars in China will be the core of triumph.
"We think that production and demand for Tesla in China will remain more resilient and strong than expected in the third quarter, with a clear momentum at the end of the year," Ives wrote in his note to customers.
Ives raised his target for Tesla shares from 500 to 700, also correcting it from 500. His current price target is 380, but he thinks 700 is realistic if expansion in China continues.
Stocks have been on a huge upswing since they reached their lows in mid-March, which were sometimes disrupted by selloffs.
The last breakout was at the buying point of 359.10 and rose 40% from that point to a record high of 502.49. But this breakout eventually did not work as stocks plunged. But right at that moment, the Tesla bounced back from the 10-week line and also from the 50-day moving average. The rebound from the 10-week line created a secondary buy zone starting from 345. At present, it extends from this zone.
Taking into account that investors remain bullish on Tesla shares in anticipation of Battery Day, it seems that the shares may be returned to a historical high around 500.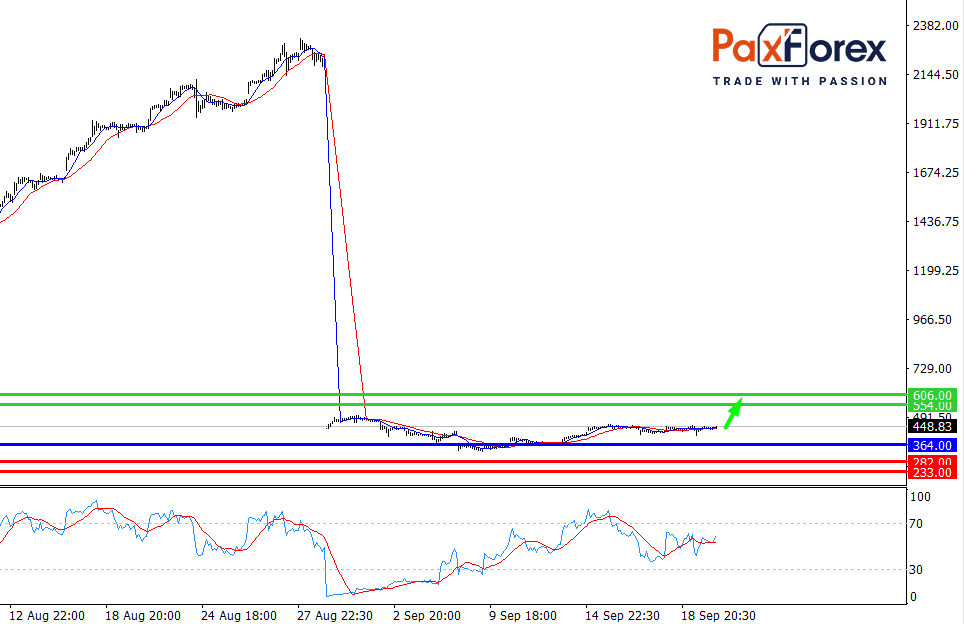 Provided that the company is traded above 364.00 follow the recommendations below:
Time frame: D1
Recommendation: long position
Entry point: 442.15
Take Profit 1: 554.00
Take Profit 2: 606.00
Alternative scenario:
In case of breakdown of the level 364.00 follow the recommendations below:
Time frame: D1
Recommendation: short position
Entry point: 364.00
Take Profit 1: 282.00
Take Profit 2: 233.00