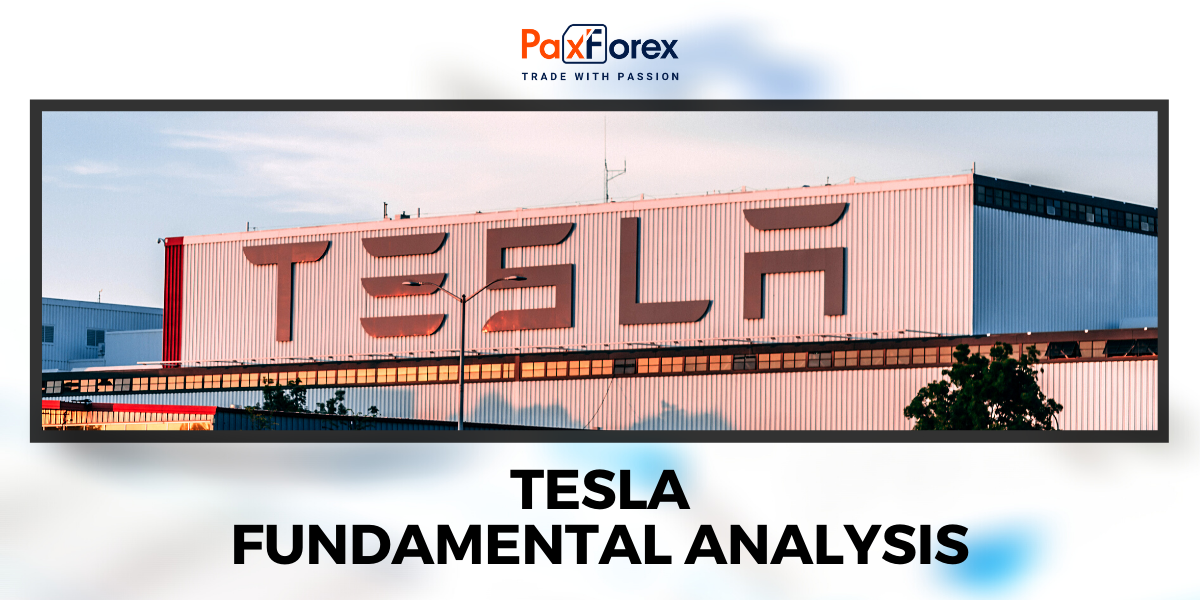 Source: PaxForex Premium Analytics Portal, Fundamental Insight
Tesla was the most admired company in 2020. At first, it looked like the admiration would continue into 2021, when the stock price hit a record high of $884 on Jan. 8.
But since then, Tesla's stock has fallen 8% in a day and is now trading nearly 4% lower. Has reality finally tempered investor appetite for Tesla?
Regardless of our investment preferences, many of us have been watching Elon Musk's company closely for years, and the business has proved incredible performance notwithstanding being in a tough automotive industry. Tesla just missed its target of delivering 500,000 cars in 2020. It was impressive given the devastating impact COVID-19 has had on global manufacturing.
If you had bought $10,000 of Tesla stock ten years ago, you would be a millionaire now just from that investment, but the Tesla buyers crave even more. They're backing that this year will be another high-grade year for the electric car maker, which is why the stock is up about 20.5 percent in 2021, despite the recent decline.
But some analysts doubt that now is the best time to buy Tesla stock. And here's why:
The company is approaching a trillion-dollar market capitalization
2020 was an incredibly successful year for Tesla. A record 139,000 cars were delivered in the third quarter of 2020, giving the company its fifth consecutive quarter of profit. Besides, major automakers, such as General Motors, announced larger plans to promote battery-powered cars, which gave Tesla confidence. Investors reacted extremely positively, and the company's stock rose nearly nine-fold.
Tesla's spectacular rally, as well as its recent inclusion in the S&P 500, has attracted a new crowd of retail and institutional investors. Meanwhile, existing Tesla bulls are sticking with the stock, repeating the mantra of long-term investing.
Both camps share a common belief - that Tesla will continue to grow rapidly in 2021, continuing to increase vehicle production and launch new models.
But it will be nearly impossible for Tesla to repeat last year. Tesla's market capitalization is already approaching $800 billion, and it may only be a matter of time before it reaches the estimated $1 trillion mark. A simple doubling from current levels would make Tesla one of the three largest companies in the world!
Size aside, Tesla's valuation is excessively high and 29 times behind sales. General Motors trades at less than 0.5 times that.
Of course, Tesla fans believe that the company is more than just a carmaker; it is also involved in renewable energy and autonomous cars. But while this argument makes sense, all of this is already reflected in Tesla's exorbitant stock price.
Investors may think they are hedging their bets on a "high risk, high reward" situation. But those expecting another three- or five-fold return in 2021 are likely to be disappointed.
As expectations match reality, the stock could face a sharp correction
So far, most investors have focused on what could go right for the company, not what could go wrong. It means that they viewed Tesla's huge potential as a leading global player in the electric car market. For Tesla, all of this is possible - but there is still work to be done.
The reality is that Tesla is still primarily an automaker, at this point and shortly. As a result, it is subject to all the risks the auto business faces, including production delays, supply disruptions, recalls, and regulatory issues.
Sooner or later Tesla will get into trouble, causing it to fall short of market forecasts. It could be the result of an ongoing global recession, an escalating trade war between the U.S. and China, or even a simple production delay.
When that happens, investors could be left out. Then gravity will bring Tesla stock back to Earth.
Let's see what happens if Tesla's valuation drops from 29 times to 10 times. That's still 20 times what General Motors is trading at. But to get there, Tesla stock would have to drop 66%, turning every $1,000 invested into $440.
Thanks to its ambitious CEO, Elon Musk, Tesla is a one-of-a-kind company. With Musk at the helm, Tesla has positioned itself as a leader in electric cars, renewable energy, and other game-changing industries.
But a great company is not necessarily a great investment. Everyone knows that overpaying for a stock can turn a great company into a poor investment. Tesla, despite its romantic boss and unimaginable potential, is a shaky investment proposition because investors have priced in all the upside without considering the risk.
Everyone laughs when their stock goes up. But if Tesla gets into a hole - and chances are it will - there will be plenty of tears. Even if you're a die-hard Tesla fan, at the current stock price you're better off buying a real car from the automaker. At the very least, you are likely to enjoy yourself as a Tesla car owner. What you can't say about Tesla shareholders.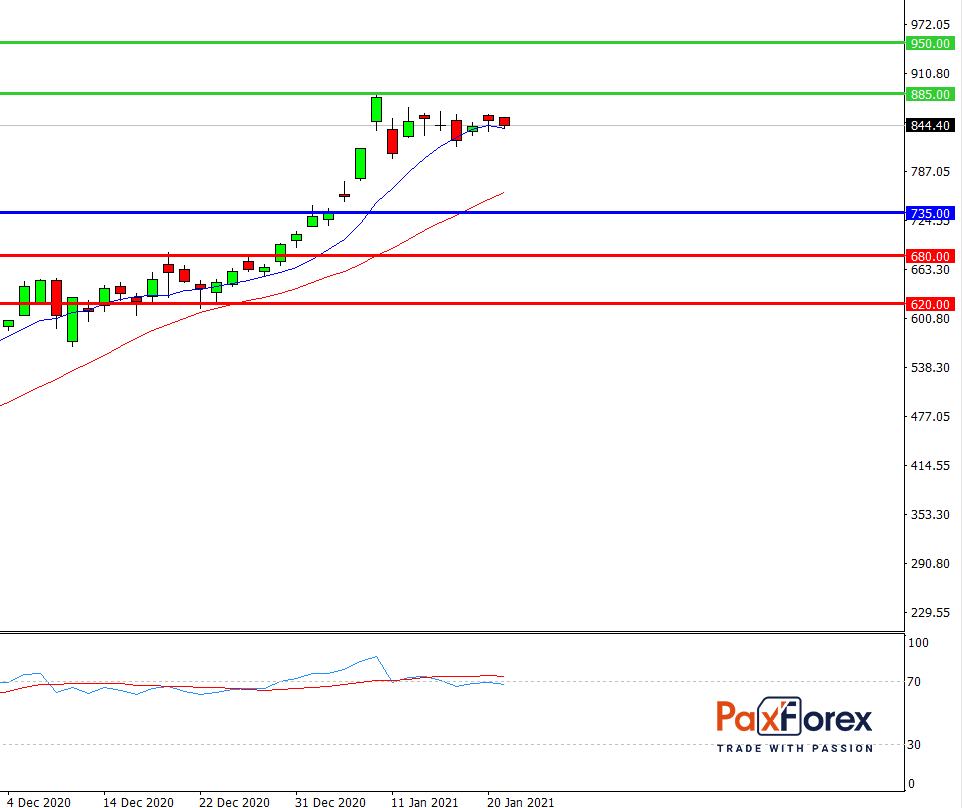 While the price is above 735.00, follow the recommendations below:
Time frame: D1
Recommendation: long position
Entry point: 845.00
Take Profit 1: 885.00
Take Profit 2: 950.00
Alternative scenario:
If the level 735.00 is broken-down, follow the recommendations below:
Time frame: D1
Recommendation: short position
Entry point: 735.00
Take Profit 1: 680.00
Take Profit 2: 620.00