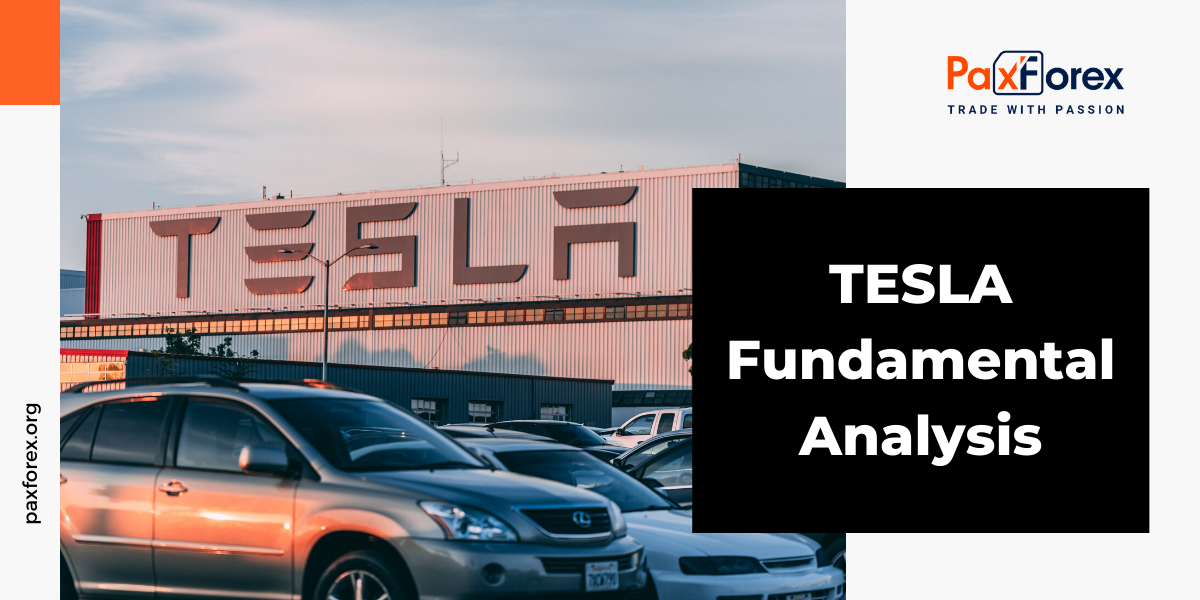 Source: PaxForex Premium Analytics Portal, Fundamental Insight
Elon Musk, CEO of Tesla, has challenged everyone and everything since he took over the management of the electric car company in 2008. Now, after stunning everyone again with the third-quarter profit report, should one buy Tesla shares?
It was the fifth consecutive quarter of profitability for Tesla. The company reported adjusted earnings of 76 cents per share as revenue skyrocketed 39 percent to $8.77 billion, higher than Wall Street estimates.
As usual, sales of emission allowances to other automakers designed to boost sales of electric vehicles contributed to quarterly earnings. Since cars made by Tesla boast zero emissions, the company has earned a significant amount of regulatory credit. Tesla reported sales of $397 million in credits per quarter, money that goes directly to the total.
Among the key figures in the earnings report, Tesla still expects to achieve an annual supply of 500,000. To achieve this goal, it will have to supply 181,000 cars in the fourth quarter against 140,000 in the third, which, according to some analysts, will be difficult to achieve.
"Tesla remains a Juggernaut in the electric car space that deserves to be praised for its vision and willingness to challenge the status quo in automotive manufacturing," said Canaccord Genuity analyst Jed Dorsheimer in a note to customers. "Many will doubt the scalability of this market, especially in a competitive environment along the way.
Jed Dorsheimer raised his Tesla share price target to 419 from 377.
Tesla is in the midst of a massive expansion. Mask wants to eventually build 20 million electric cars a year over the next decade - more than twice as many as other car giants are making now - so he now faces the challenge of rapidly expanding his production capabilities. Tesla shares have soared rapidly this year, but the road ahead may not be easy for the company.
Tesla has made a big step with its third production plant, which is now under construction near Berlin. This plant is expected to be completed in March 2021, where model Y will be produced.
Then in July, Musk confirmed that his fourth plant will be built near Austin, Texas. This plant will be the largest, built on 2000 acres of land. It will produce Cybertruck and its large Semi truck as well as Model Y and Model 3.
When Tesla begins producing cars in Germany, it will go head to head with such famous German names as electric cars: Volkswagen Group, BMW, and Mercedes Benz division of Daimler AG. It will be a difficult battle, as all three car companies have a reputation for quality cars.
Among other serious competitors are Ford Motor Mustang Mach E, I-PACE from Tata Motors Jaguar, and Audi eTron. Audi belongs to Volkswagen.
Tesla also faces stiff competition in China. The rivals in China are Xpeng Motors, supported by e-commerce giant Alibaba, as well as Nio and Li Auto.
Despite increasing competition, the Musk company has maintained a high level of trust.
"We're getting a lot better at making cars," he said in an earnings conference call. "You can see it in Shanghai. You'll see even more in Berlin," he said in a quarterly conference call. The fundamental architecture of Model Y will be different in Berlin, fundamentally more efficient.
On September 22, the long-awaited Battery Day took place, which did not meet the high expectations of analysts from Wall Street, which led to another sharp fall in the company's shares. The company told us that they plan to both increase the battery range and reduce the cost of new generation batteries. But this did not bring instant satisfaction to the audience, instead of pointing to more complex, multi-year goals.
No mention was made of the million-mile battery that many analysts had expected. However, the company said improving battery technology would allow it to run a cheaper car.
"In about three years, we are confident we can make a very attractive $25,000 electric car that will also be fully autonomous," Musk said at the event. He said Tesla could achieve a 54 percent increase in range. Besides, it also aims to reduce the cost per kilowatt-hour by 56 percent.
Wall Street analysts have written about this event with different views. But one thing seemed obvious: Tesla has not exceeded all expectations.
"While we welcome the company's ambitious plans, we believe it's a risky move with steep execution and operational challenges," wrote analyst Rajvindra Gill in a report to clients.
A fifth consecutive quarter of profitability could give Tesla an added boost to its S&P 500 index, which it recently failed to achieve. The Tesla stock plunged on September 8 after it was denied index inclusion.
"We view the third quarter Tesla report as another major step forward in the company's delivery of the Model 3 as well as its profitability in 2021," Wedbush analyst Daniel Ives wrote in a note to customers. Ives rated Tesla shares as neutral with a price benchmark of 500.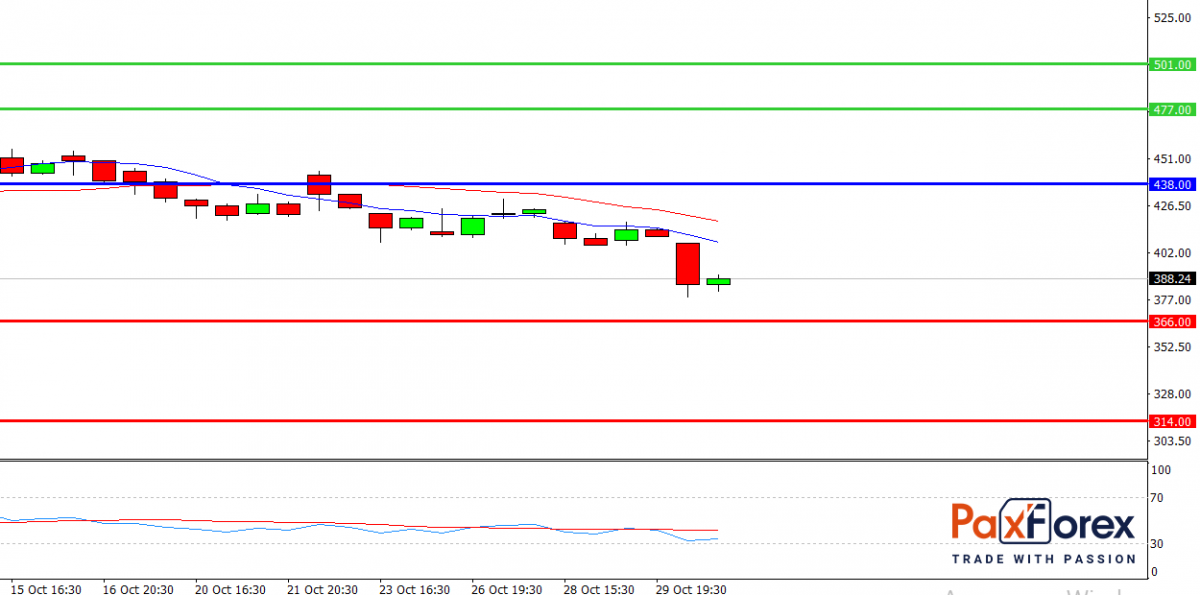 While the price is below 438.00, follow the recommendations below:
Time frame: D1
Recommendation: short position
Entry point: 388.04
Take Profit 1: 336.00
Take Profit 2: 314.00
Alternative scenario:
If the level 438.00 is broken-out, follow the recommendations below.
Time frame: D1
Recommendation: long position
Entry point: 438.00
Take Profit 1: 477.00
Take Profit 2: 501.00