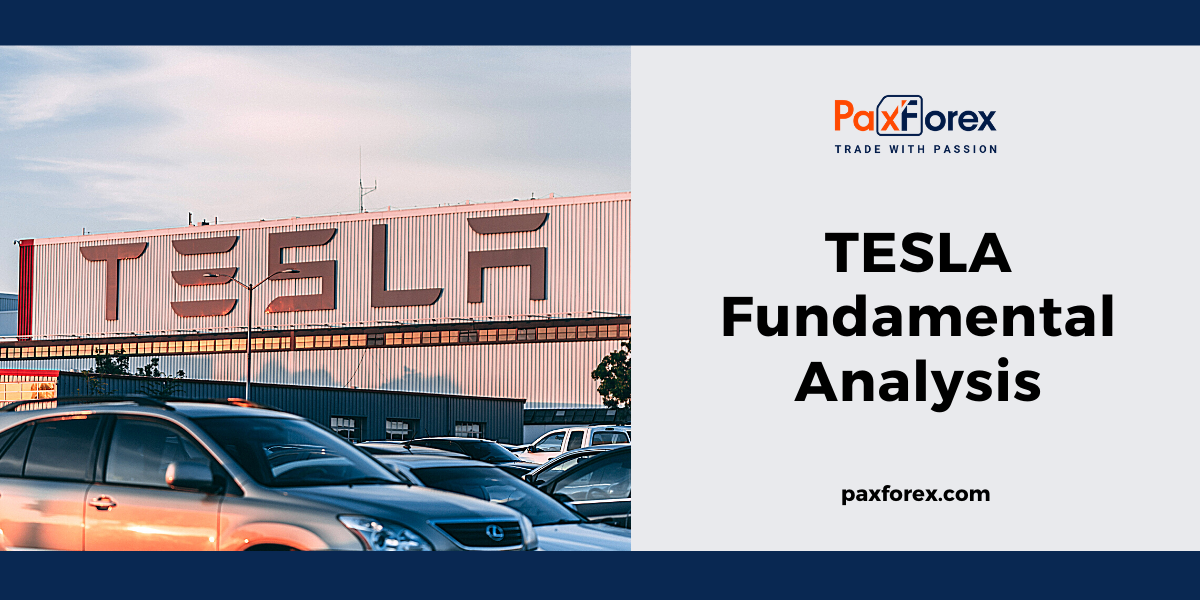 Source: PaxForex Premium Analytics Portal, Fundamental Insight
The shares of the car manufacturer Tesla skyrocketed this year. Although it was a big event for shareholders, it also means that expectations are high. It is especially true for the carmaker's deliveries in the third quarter, which Tesla is likely to announce in the coming days. Will the carmaker be able to meet the high expectations of the market?
Investors will monitor quarterly deliveries of Tesla to return to significant growth in Q3 after the sluggish second quarter. Although the company's shipments in the second quarter were much better than analysts expected, they still fell by 5% year on year. The company's electric car plant in Fremont was shut down for almost half of the quarter, which had a negative impact on total shipments for this period.
It should be noted that in the third quarter of 2019 the automaker delivered about 97,000 cars. This figure increased by 16% year on year. In order to demonstrate year-on-year growth in the third quarter of 2020, Tesla will need a significant and consistent increase in delivery volume in the second quarter. About 91,000 vehicles were shipped in the second quarter of 2020. However, there are several reasons why Tesla is likely to return to annual growth in the third quarter.
First, if Tesla could have delivered 91,000 vehicles in Q2 and its main plant had been closed for more than half a quarter, it would have been quite easy to achieve more than 97,000 deliveries in Q3.
Secondly, Tesla has one more car in its model range this year. In March, Tesla began shipping its new Model Y. Model Y's contribution to Q3 deliveries was probably significant as the company said that production was running at full capacity on its Model Y production line. Although Tesla did not accurately report on the production capacity of its line, the automaker noted in its Q2 update that the Model 3 and Model Y combined production capacity of the Tesla plant in Fremont, California, is 400,000 units per year.
What does all this mean for potential Tesla shipments during the quarter? Record quarterly shipments - even higher than the company's record quarterly shipments of approximately 112,000 units in the fourth quarter of 2019 - seem quite achievable in the third quarter.
Tesla plans to make 500,000 shipments for the entire year, up from 368,000 last year. With around 179,000 vehicles shipped in the first half of the year, achieving this figure will require a very powerful conclusion of 2020.
If Tesla's third-quarter deliveries are impressive enough to meet its target of 500,000 vehicles by 2020, the company may be able to meet high investor expectations after all. Underscoring how ambitious this goal is (especially in a year when the coronavirus proved to be a major setback), half a million shipments in 2020 are expected to grow by 36 percent year on year.
As a rule, Tesla reports on its quarterly shipments within three days after the end of each quarter. Therefore, the management is likely to report on deliveries to the car manufacturer in the third quarter not later than October 3.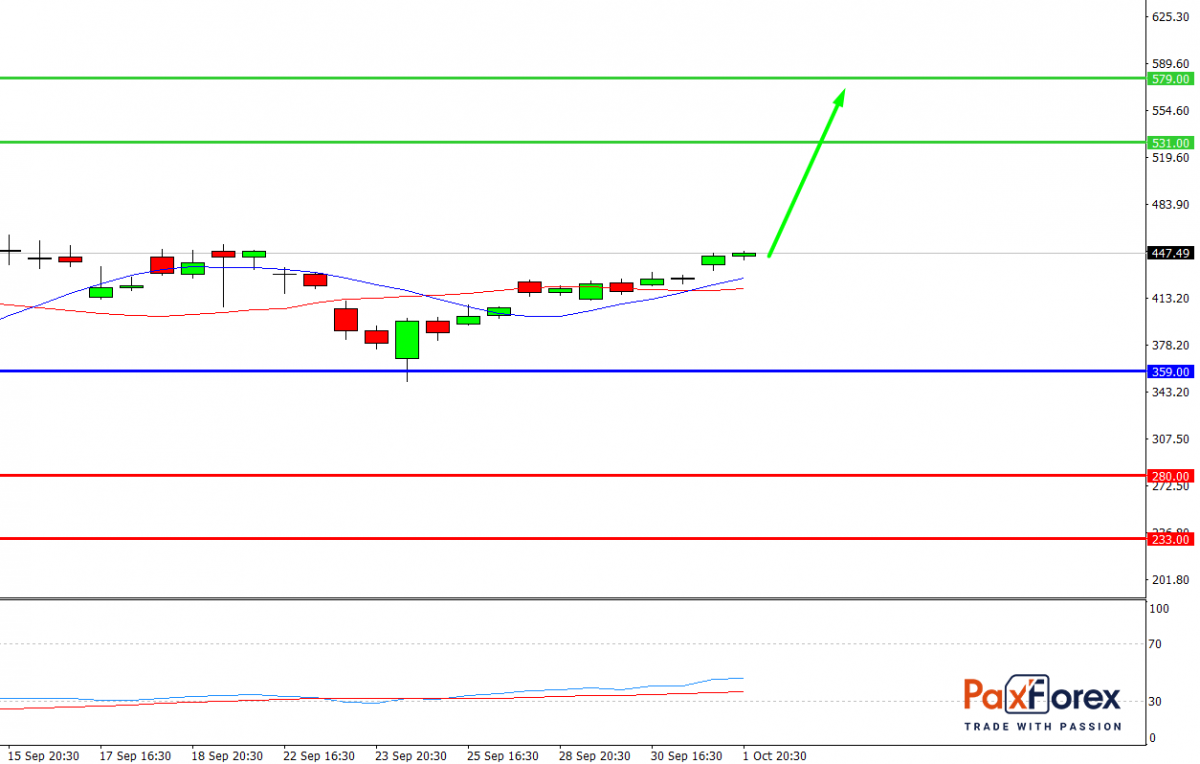 While the price is above 359.00, follow the recommendations below:
Time frame: D1
Recommendation: long position
Entry point: 429.00
Take Profit 1: 531.00
Take Profit 2: 579.00
Alternative scenario:
If the level 359.00 is broken-down, follow the recommendations below.
Time frame: D1
Recommendation: short position
Entry point: 359.00
Take Profit 1: 280.00
Take Profit 2: 233.00