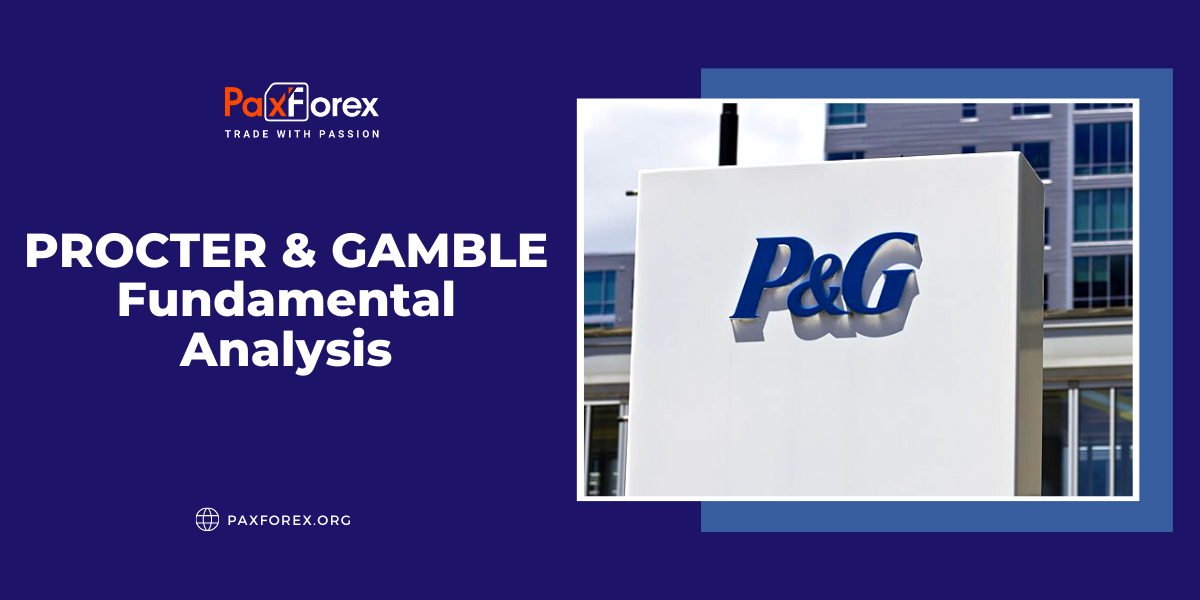 Source: PaxForex Premium Analytics Portal, Fundamental Insight
Procter & Gamble is about halfway through fiscal 2023, and investors are already seeing clear themes about its growth opportunities. On the positive side, P&G expects strong sales growth even after two consecutive years of above-average growth. However, risks are rising as consumers become more price-sensitive and costs continue to rise.
Given this backdrop, let's take a closer look at the consumer products giant's outlook for 2023 and beyond.
Procter & Gamble's latest earnings figures show a 5% growth in organic sales for the period ending in late December. This growth gave the company a strong market position. By comparison, rival Kimberly-Clark reported similar 5% growth.
A deeper look, however, reveals that both companies are experiencing serious difficulties related to currency fluctuations, rising costs, and slowing demand. P&G executives said in late January that they were in a "very difficult environment from a cost and operational standpoint," but were encouraged by broader growth trends. At the end of last year, the company managed to raise prices by 10%, offsetting a 6% drop in sales. These results reflect Kimberly-Clark's performance at the end of 2022.
P&G's premium market position becomes more apparent when key financial metrics such as profitability are included. Yes, the operating profit margin is down from a 2021 high of 24% of sales. But the market share leader in categories such as lingerie care and diapers is still ahead of Kimberly-Clark with a 22% margin to date.
P&G's cash position is also strong. Although annual free cash flow is down from previous phases of the pandemic, the $14 billion the company generated in fiscal 2022 far exceeded the $12 billion shareholders saw in 2019.
These wins give company executives ample opportunity to return cash to investors. P&G plans to pay about $16 billion to shareholders this year, roughly evenly split between dividends and share repurchase expenses.
P&G's outlook and valuation metrics suggest that the company's stock could perform relatively well amid continued stock market volatility. In January, the company's management raised its 2023 growth forecast to a range of 4% to 5%, compared with Kimberly-Clark's 2% to 4% target. P&G's earnings will grow faster thanks to strong and stable profit margins. Total returns are boosted by the consumer sector giant's dividend, which is now just under 3% and has been rising for the past 66 years.
Compared to Kimberly-Clark, the stock doesn't look cheap. Investors are paying 4.3 times more sales for P&G stock than its smaller counterpart, about twice as much sales. That premium makes sense given P&G's larger sales volume and its control of key consumer niches such as cosmetics, home care, and laundry.
Overall, investors looking at P&G stock for 2023 have a good chance of generating earnings above the market. P&G is unlikely to make huge gains, given that sales and cash flow are shrinking. But its recent results clearly demonstrate why Wall Street loves this business for its balance of steady growth and earnings. Assets like this become even more valuable during times of market volatility, which will likely continue to affect investors through 2023.
As long as the price is above 140.00, follow the recommendations below:
Time frame: D1
Recommendation: long position
Entry point: 144.95
Take Profit 1: 150.00
Take Profit 2: 154.00
Alternative scenario:
If the level of 140.00 is broken-down, follow the recommendations below:
Time frame: D1
Recommendation: short position
Entry point: 140.00
Take Profit 1: 136.00
Take Profit 2: 133.00